Sapporo
Sapporo was a great relaxer after the bustle (and 
zombies
) of Tokyo. Jenn and I were put up in a great apartment of our own thanks to 
couchsurfing
, and nearby we we found a great coffee house with even better waffles.
Sapporo Beer Museum
Our main touristing consisted of a run through the Sapporo Beer museum. I've heard that the beer use to be free, and that that was also a great way to derail any and all ambitions you may have about what you'll be doing in Sapporo.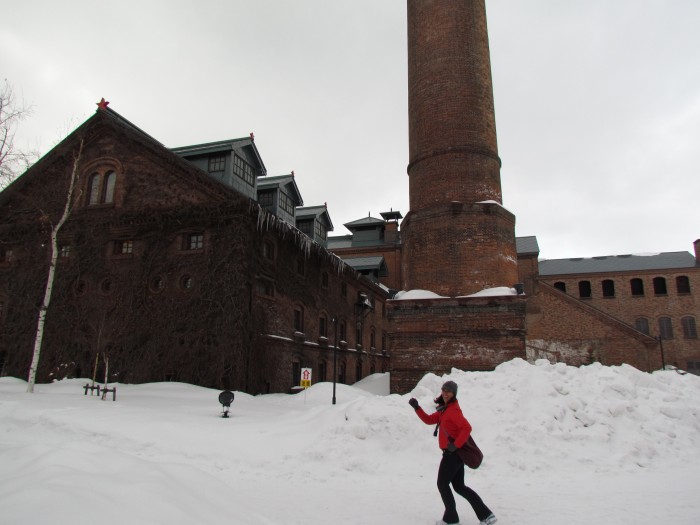 It was a great place to get your boogey on outside, and there were interesting displays, particularly the advertisements used by the company throughout the ages. The paintings of smiling geisha holding beer on a tray gradually gave way to sports heroes enjoying a post-victory thirst-quencher. The building itself was history, and had some rather neat features inside.
Finally, while the beer may not have been free, it was still cheap and plentiful. The local specialty beer was even pretty tasty!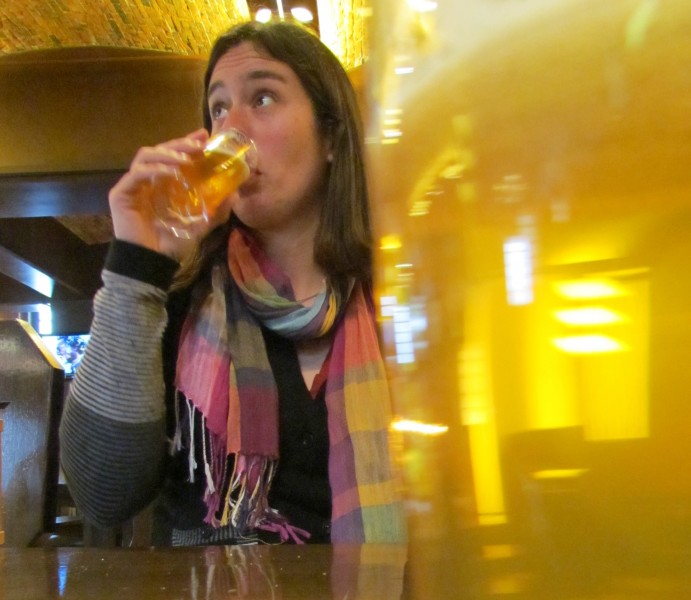 Niseko
This was where all this Japan trekking had started so long ago - with a talk to snowboard the unreachable mountains of Japan. Jenn, Maciej, Brian and I all sat down and talked about all the fun we could have off and on, but in the end only Jenn managed to make it out and find out what the snowy slopes of Japan had to hold. We met up with Niseko veteran Hiro, stuck him on a train, switched over to a bus, and were on our way to the Annupuri Youth Hostel.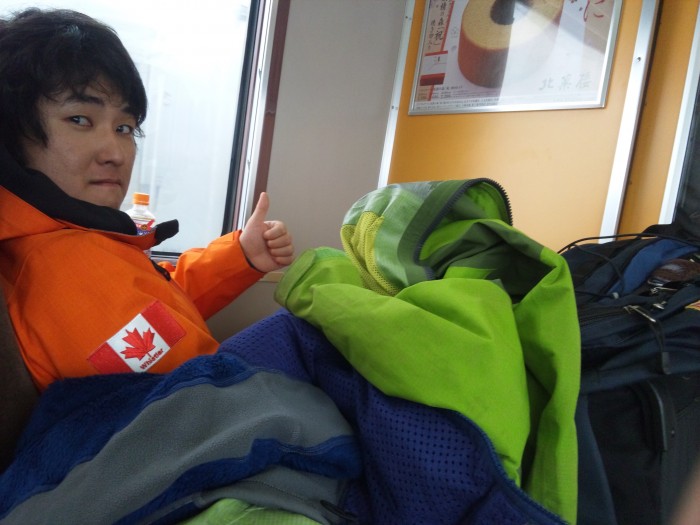 The hostel ended up being a pretty international place. There were some auzzies, an American, some Korea gents, and at some point a gaggle of Japanese school girls was there too. The American was a nice lady who just happened to be named Jenn, and who had been snowboarding pretty much since it existed. We ended up spending a day, and that night, out snowboarding with her.
After getting photographed together with the world's biggest snow-covered pimple, we went out and got some dinner at a "cook-it-yourself,-dammit" sort of place. I'm pretty sure I hated myself by the end of the night, but I think I was still enjoying it when we took this photo.
Also, here's one more random photo of the trip before we launch into the snow stories. Look ma', an ice house!
Weather wise, we didn't get so lucky. It was sunshine the whole three days we were there, so the groomers were well groomed and powder-free. It was clear days and clear runs to the bottom, which was quite a ways below where the lifts would drop us off, and gave us quite a view.

However, though our youth hostel may have been surprisingly international, the resorts were still in Japan. Translation: no one hits the trees. Jenn and I took it upon ourselves to enlighten Hiro as to what fun tree-runs could be, as well as the benefits of a life off-piste.
The snow back there
was
amazing.
We got a case of the giggles.
Getting to the best run required a hike up from the last lift all the way up to the peak. It, uh, it was fairly breathtaking (and I'm not just talking about the hike).
Have a peek for yourself.
Click on the photo above to drag it around and see a 360 degree view at the top. Better yet, full-screen it by clicking on the icon in the top-right corner. When you see the bright green and red jackets you've found Jenn and I, scoping out our line.
I decided to enjoy the view from the top at a slightly different angle. Or it could just be that I have an inferior bladder. I've learned how to take care of that, even when there's no trees to hide behind.
Anyways, the runs were good. It was all smiles
On the very last day of boarding we finally got the beginnings of snow.
Hokkaido was a time of winning, and here's the group photo to prove it. We all went back to the airport together, and then Jenn and I got on a flight to Kansai, where my family would touch down in Japan twelve hours later...