Trip Ticker: Iris on the Fourth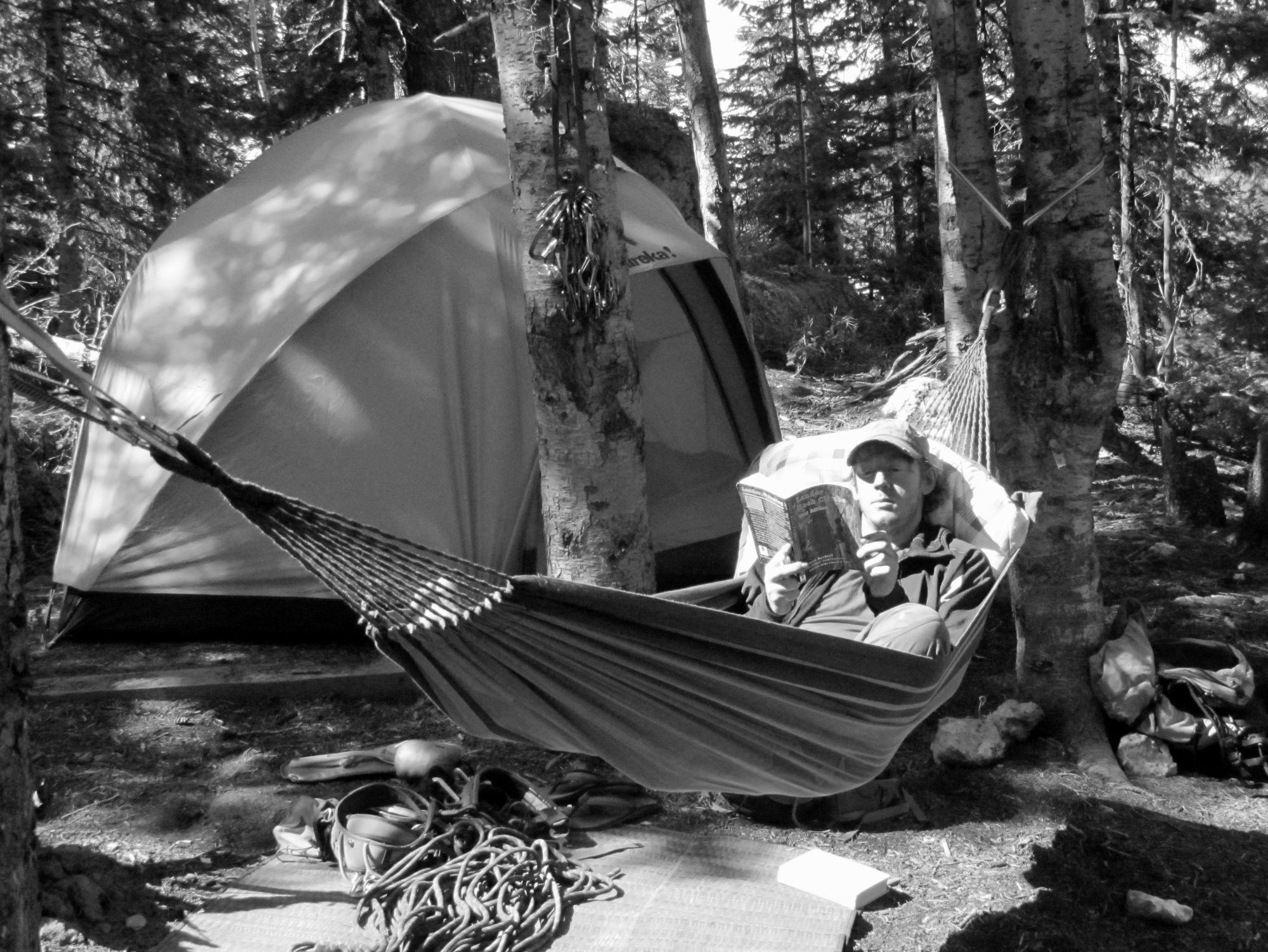 Alyssa and I had a three day weekend of climbing after a stupendous Fourth of July in Lander with a bunch of friends. Thanks for the fun guys, and particularly the accommodations Leah =)
After the show, Alyssa and I set up camp at the best-located campsite at Wild Iris, right behind the outhouse. Good thing too, 'cause we brought the french press.
Friday - OK Corral
We started climbing only after we had finished setting up camp, sometime after 2 in the afternoon. The wall was packed with families and the classics had massive queues, but we squeezed in what we could.
Trying to find an easy warmup with a star on it that was available, we stopped at the 7 Sam and Leah had done last weekend on Claim Jumper Wall. From there, we went over to Blooming Rose Wall and got on a bunch of  moderate routes I remembered having done with Ken a year earlier on my first trip to Iris. Funny story about that -- check the climb notes for more.
There was a large group of older climbers here running ropes on a 10d and an 11a near us. The routes looked pretty fun. I kept them in mind on the chance we'd be back at the wall later on in our trip.
There was also a guy with a mat I knew had to  have come from Thailand. He confirmed as much, and admired the shininess mine still retained. I'll use that to measure when I need to go back to Thailand (for trip #3): when my mat's as decrepit as that guy's was.
We ended our afternoon by hiking over to see if there was still a line to get on Red Ryder; there wasn't.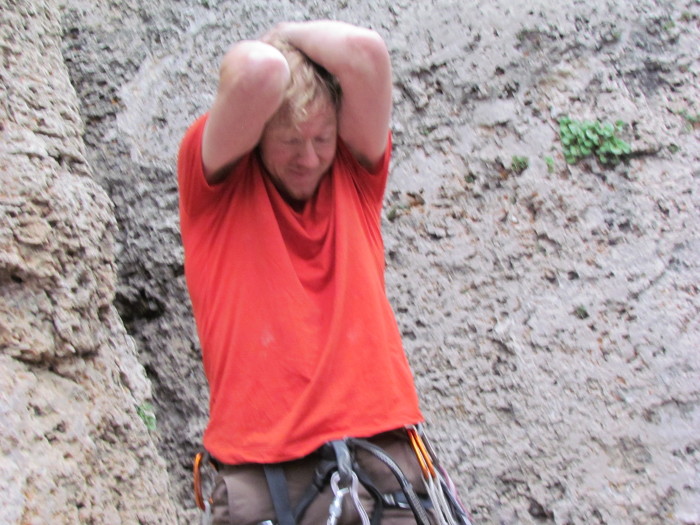 Greenhorns in Velvet - 7 *

I made out with a girl under this once. Not much else to say about it, a not bad 7.

Phat Phinger Phrenzy - 8 *

Stemming! Stem stem stemming! My long limbs allowed me to stem up the chimney this route hides behind for far longer than most climbers would've, meaning I got through the first five bolts without actually having to climb the route. I love chimneying, and thus this route. Alyssa had to actually climb it, poor girl.
When I first saw this route, I realized that it was one I had been searching for since Ken and I first climbed out here. I thought Red Ryder was this guy, glad to finally remember what that fun corner route was.

Brown Dirt Cowgirl - 10a

Two bolts into this route, I started giggling. Alyssa asked me what was so funny, and I told her I'd let her know when I got back down. Three bolts up the climb, I took a big, calming, yoga breath. Letting go of the rock, even with one hand, to clip the anchor, was very nerve-wracking.
Back on the ground, I filled in Alyssa on my giggles. A year earlier, I had gone to make that last clip on the top of this 40ft route and fallen far enough that, when I opened my eyes again, I was face-to-face with my belayer (I had flipped upside-down along the way). It was at the second bolt that I realized this climb was that climb.
Alyssa TR'd it. The book gives this route two stars; we both agreed it deserved none.

Never Sit With Your Back to the Door - 10b **

The guidebook says "Tricky long moves up to a small ledge." My notes underline the "small ledge" bit and have some Japanese next to it:天国, "heaven". (Japanese notes take up less space.)
A fun, slabby climb, and oh man does it feel good to stand up on that ledge.

Stacked Deck - 10b **

I can't put it better than the guidebook did: "Starts on big jugs, getting tricky higher." Alyssa adds: "Fun! Balancy and technical. Tricky at the bulge." In other words, Alyssa's sort of climb. Lots of fun, we came back later.

Red Ryder - 10a ***
Saturday - Main Wall
After breakfast we made the trek to Main Wall. Alyssa decided she was going to get back to leading today, and started out on Dynamitic (7). After that we left Five Ten Wall to look for a 9 at Hot Tamale Wall. We kept finding climbs to do there, and ended with my first Lander 11a.
Steve Bechtel, author of Lander Rock Climbs, was there with his family. Yeah, turns out that's a real person.
Afternoon thunderstorms looming, I tricked Alyssa into leading her first 10b, which was also her first 10 (someone had to get my gear off the rocks, rain or no). We raced the storm back to camp and took a substance abetted nap (mm, Grand Marnier).
Our two hour power nap had us all built up for one last climb in the evening, and so at 7:30 we were in front of a classic 10c over at Zorro Wall, something I'd always meant to do but hadn't due to scarcity of climbs (in my range, that is) and distance from the high-density areas. So. Glad. We. Went.
Dynamitic - 7
Wind River Rose - 9 **

Alyssa attempted to draw a thumbs up; it didn't go well. I wasn't super taken with it though. By the end of the weekend, our very different styles (and fortes) became pretty apparent.

Windy City - 9 **

This one, on the other hand! I enjoyed. Juggy crack climbing that starts 15ft up a ledge system. Alyssa was still rooting for Rose afterwards though.

Popo Agie Pocket Pool - 10a *

This 10 shared anchors with Windy City and started on the same ledge system. It was an immediate, awkward crux to easier climbing above.

Osita - 11a **

A one trick pony of a climb: a big reach from tiny, offcenter pockets had me struggling for a bit, but once I managed to caterpillar my middle finger into the shooter pocket up top, the climb eased up and turned off vertical.
Alyssa's tinier frame (and better climbing skills?) allowed her to get a high foot on the crux and breeze through it after an initial fall.
Also: My first 11a in the states! I'm an 11s climber? Read on, dear reader, read on.

Latex Cowboy - 10b **

Alyssa's first big-league lead!? She did what you'd expect her to do (fly up it all graceful like). There's one tricky move right at the start that I got to, realized what the beta was, had to down climb to set myself up, and climbed back up to and bagged. Alyssa also got the beta, but her stature didn't let her just breeze the subsequent reach like my stick-clip arms could.
From the crusher herself: "It wasn't as much of a one-hit-wonder as Osita, but it definitely just had that one hard move and then was just sustained, challenging climbing." Alyssa doesn't realize it, but the "sustained, challenging climbing" on Latex Cowboy is solidly 10 the whole way up; there's no 9 non-sense on this great route. Fun.

Gaucho - 10c ***

My only tickmark on Zorro Wall, a definite *classic* that's well worth the time and hike to see (gorgeous scenery as well). 10c climbing from the start, where a sequence of long reaches would classify as a crux, to the end, as you pull on pockets up a steep, long wall all the way to the anchors. At 60 feet, it's one of the longer routes at Wild Iris, which really brings out the pump and helps you appreciate just how sustinuous the climbing is (that is, how continuous and sustained it is).
I can't wait to get back on this route.
Sunday
Two solid days of climbing that had ended with a pump machine had sated my appetite for climbing for at least twelve hours, so Alyssa and I had a leisurely Sunday morning.
She went for a trail run with Grady, while I lay in the hammock and re-read "Brainwave" for the umpteenth time. It's a fun short sci-fi novel exploring the ramifications of an exponential increase in human (and animal) intelligence across the Earth as it leaves, essentially, a galactic brain-dampening force field.
Alyssa came back from her run and joined me in the hammock as she read a birthday present from Reilly, written by one of her favorite singer-songwriters.
When afternoon came and we found our bellies full we decided to do some more climbing. We had been talking about a two star eight for a while, and Alyssa wanted to keep working on her leading head by putting up some climbs we'd done before. We hit up a few walls by the end of the day: La Vaca, Winchester, and Blooming Rose walls.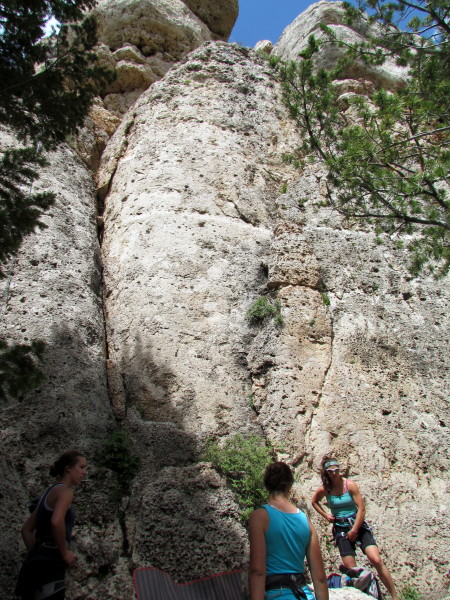 La Vaca Peligrosa - 8 **

We figured out just what makes this cow so dangerous: being such a good 8!
I don't know that there's a more "hey, I'm actually climbing, even though this isn't even a 9!"-esque route in Wyoming. It's vertical pocket pulling, easy, but still climbing. I don't know that an 8 could ever be better than this guy.

Red Ryder - 10a ***

Alyssa had expressed the last time how Red Ryder wasn't exactly her kind of climb, how its steep pocket pulling isn't quite her forte. We went back to it Sunday to prove that she could lead it anyways.
Her nerves got to her halfway up as she eyed the steep bulge climbing that lay ahead, but once she started it she pushed and pushed and fought her way through the pump right up to the anchors. It was great watching her push herself, and her celebration at the anchor poured out stoke of the most contagious kind.
I had fun running up it on top rope for the clean.

Winchester Pump - 11a **

Starts with a fun, moderate 10 slab up to a steep headwall that is reachy, pumpy, non-technical pocket pulling. The big brother to Red Ryder.
My left hand and left foot blew out just above a bolt halfway up the headwall. I gave the gut-reaction "FALLING!" call, but my right hand, middle finger and ring finger pushed an inch into a tiny pocket, held strong, and I somehow stayed on. "NEVER MIND!" I shouted.
Alyssa says it was then that she first thought I could onsight it.
For me, it was when, forearms afire, I clipped a bolt, looked up, and could only see one more. Oh my god, the stoke I had after coming down from my second 11a, which I had happened to onsight. Oh. Man.

Stacked Deck - 10b **

We came back so Alyssa could experience this climb again from the hot end of the rope. She lead it so damn smoothly you never would've believed it was a 10b -- surely that thing can't be any harder than an 8, the way she's exerting herself. I can honestly say I was pretty jealous of her style.
I went up on top-rope for the clean again, feeling as graceful as an elephant in a harness. It ended with a ledge that was super-comfy to clean on.

Alyssa sizing up Stacked Deck

Roll in the Hay - 11a **

What a way to end our weekend of climbing fun! To the left of Stacked Deck were this climb and a 10d that looked steep and pockety. Alyssa and I were debating, finish on the pumpy 10d or the technical 11a?
I wanted to see her tear up the technical route, and who says no to climbing their prefered style? so Roll in the Hay it was.
I had a blast working through the incredibly balancy moves, but a missed foothold halfway up sent me off on a nice lead fall. Working through a bulge killed my forearms, still pumped from Winchester, but thank god that after mantling over that there was just ten feet of 5.8 climbing to finish. Really terrific, technical climbing.
In what had become Alyssa's style for the weekend, she aced the technical climbing that had thrown me. She was on a top rope, but never had any tension the entire way (honestly, if she had, it would've pulled her off the balancey moves). It was great hearing her say "I'm so pumped," and then watching her immediately throw herself through the bulge regardless.
Weekend in Review
I made huge growths as a climber this weekend, like I haven't felt since my last Thailand trip. I had been saying for a few months that I really wanted a weekend alone with Alyssa to do "hard" climbs, and it finally came together without us evening planning for it. But now "hard climbs" aren't really the same. I onsighted my first 11a, and realized that climbing 11s is something I can do. I became okay with the idea that I might struggle with something, but I know that my gear isn't going to get left on whatever route I decide to get on.
This weekend was just a huge boon to me as a climber; after a few weekends of not feeling like I was making any real progress as a climber, feeling that I was sticking to easy, known routes a bit too much, well, look at me know. I took a huge step forward, and am very excited to see what happens next time I'm out there.
A big thank you to Alyssa for the support (literally and otherwise) this weekend - I wouldn't've made these steps without her. Not to mention, it was inspirational to see her step up her leading - how could I not do the same?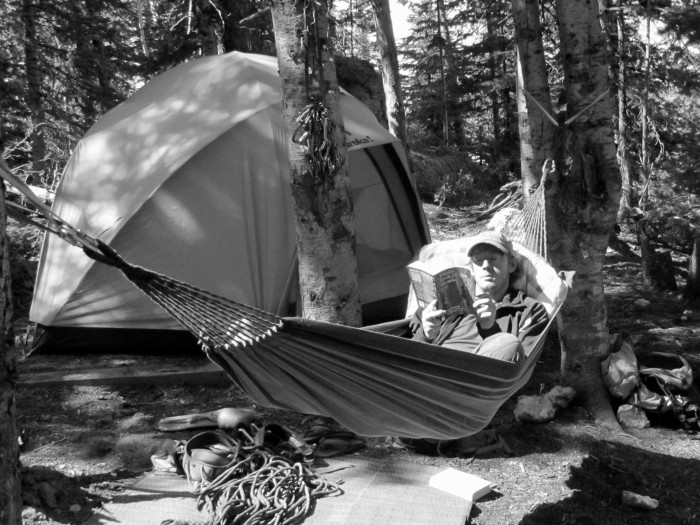 Weekend Stats
Just the facts, jack. Every route, listed once even if we climbed it multiple times, with the guidebook's ratings and stars and no commentary from me:
OK Corral
Greenhorns in Velvet - 7 *
Phat Phinger Phrenzy - 8 *
La Vaca Peligrosa - 8 **
Red Ryder - 10a *** (x2)
Brown Dirt Cowgirl - 10a **
Stacked Deck - 10b ** (x2)
Never Sit With Your Back to the Door - 10b **
Gaucho - 10c ***
Winchester Pump - 11a ** (ME)
Roll in the Hay - 11a *
Main Wall
Dynamitic - 7 * (AW)
Windy City - 9 **
Wind River Rose - 9 **
Popo Agie Pocket Pool - 10a *
Latex Cowboy - 10b **
Osita - 11a **
Numbers
2x 7
2x 8
2x  9
4x 10a
4x 10b
1x 10c
3x 11a
30+x *
Birds photographed: 1