A Return to Winter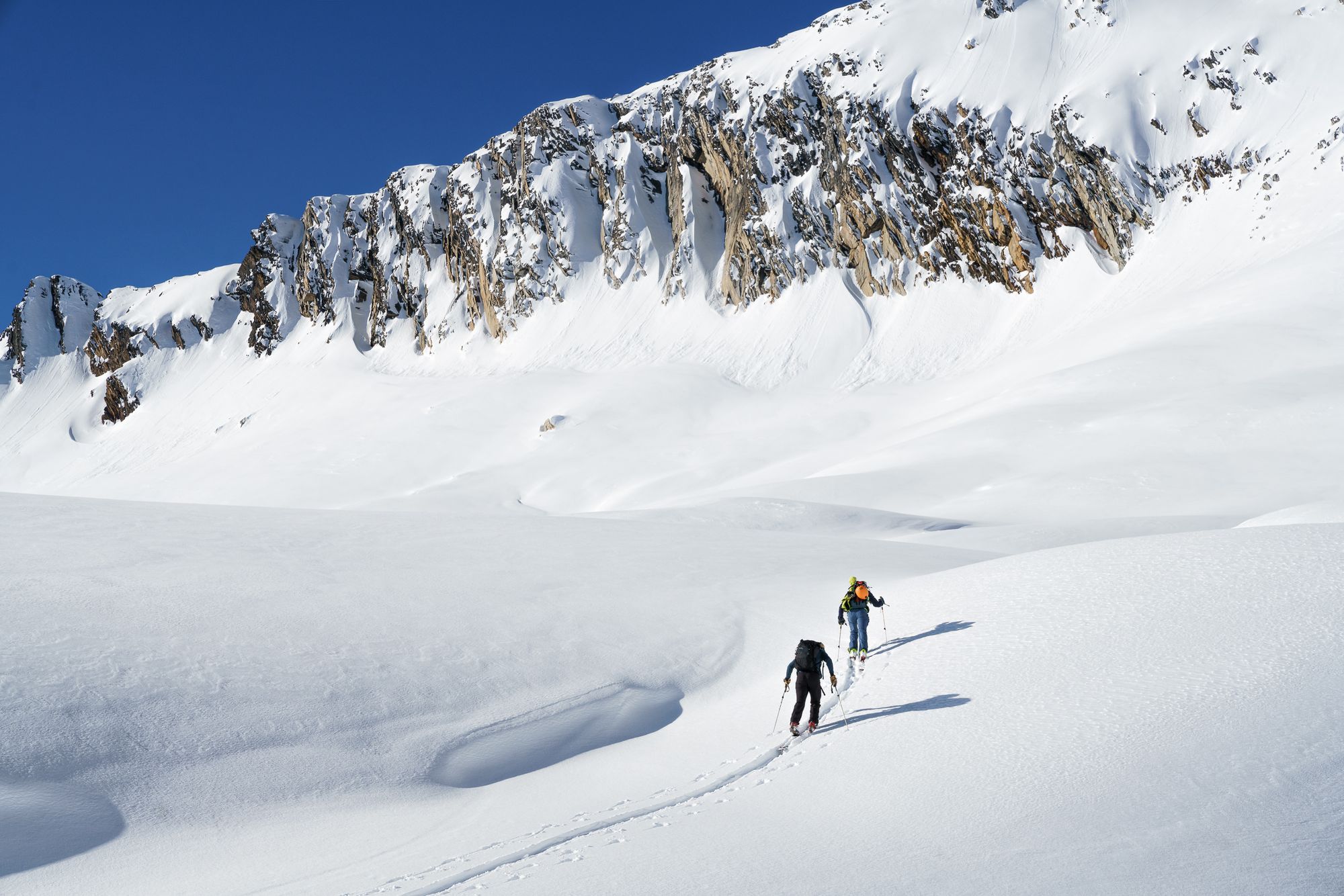 Ah, that time of year again huh? The little stretch where I'm reminded that my first taste of outdoor adventures came on a waxed plank with metal edges, not flailing around with colorful aircraft grade aluminum widgets jangling about my waist.
My return flight from Cuba got me to Denver at 2330 Tuesday night. Thursday morning at 0600 sharp I found myself in a big white van in Laramie next to Maciej, my long favorite partner in snow-based crimes, with sights set on Golden, British Columbia.
(That'd be Canada, don't-cha-know)
Joining us was James, or "Tele-James" as I'd heard Maciej refer of him for years. PhD, father to two young girls, Boise-based, James said he hadn't had the opportunity to sneak off for a good long ski trip in what seemed like forever. "Forever" was also how long he'd been hearing about Roger's Pass; he was glad to be there with us.
8812 Bowl
Our first day was marked with a frigid start hiking out of the clouds from the visitor center. Not until we were hiking up to the base of the Ursus Trees did we break out of the bleak, dark and wet air of the valley floor.
Joining us above the clouds was an old friend: Mount Sir Donald.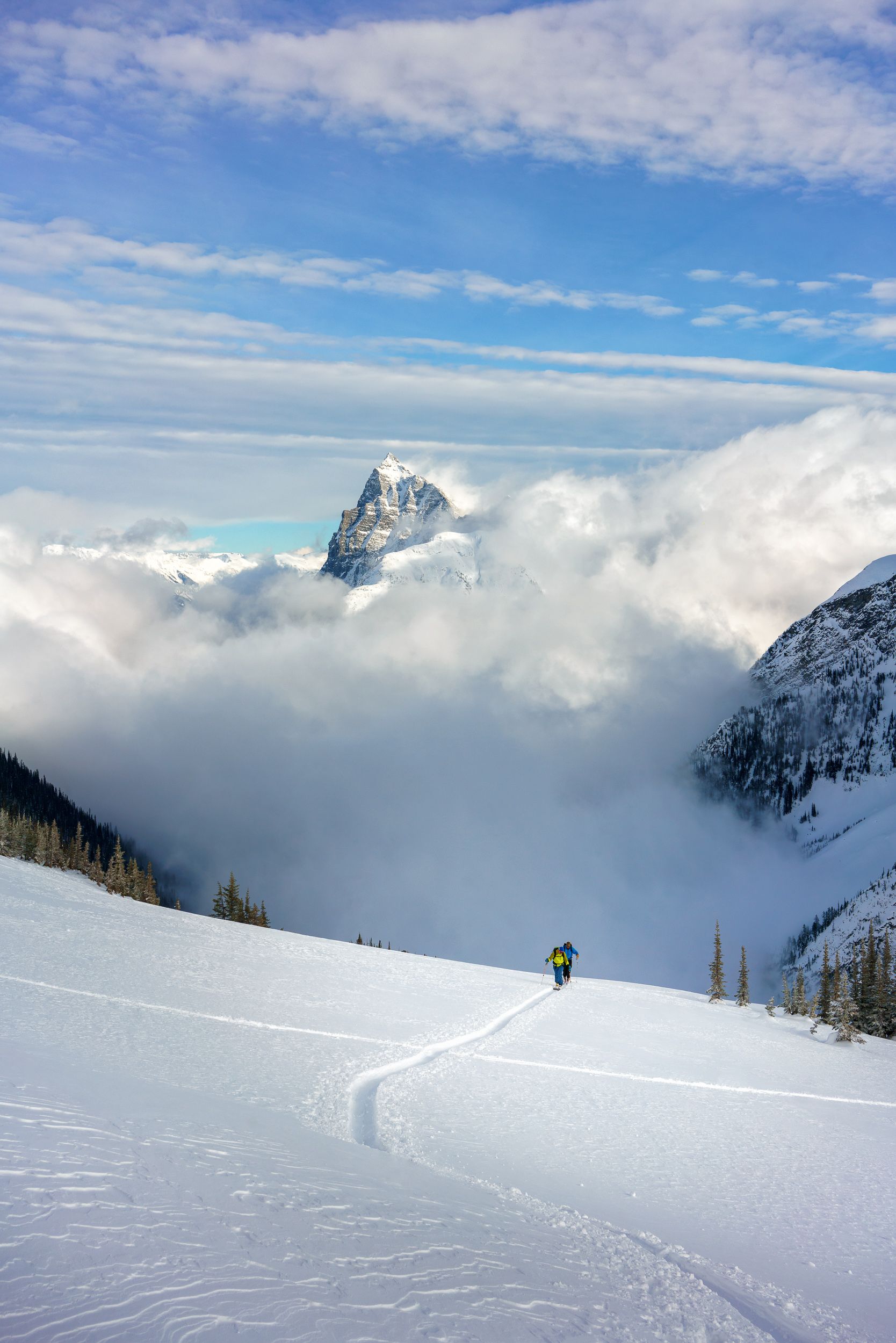 Our plan kept changing, but when we passed by one open shot we decided we had to take it. We snuck in a few hundred feet of skiing then skinned right back up to where we had dropped down from. From there, a ridge took us over to the top of 8812 Bowl, something I'd skied years ago without having any idea of this safer path in.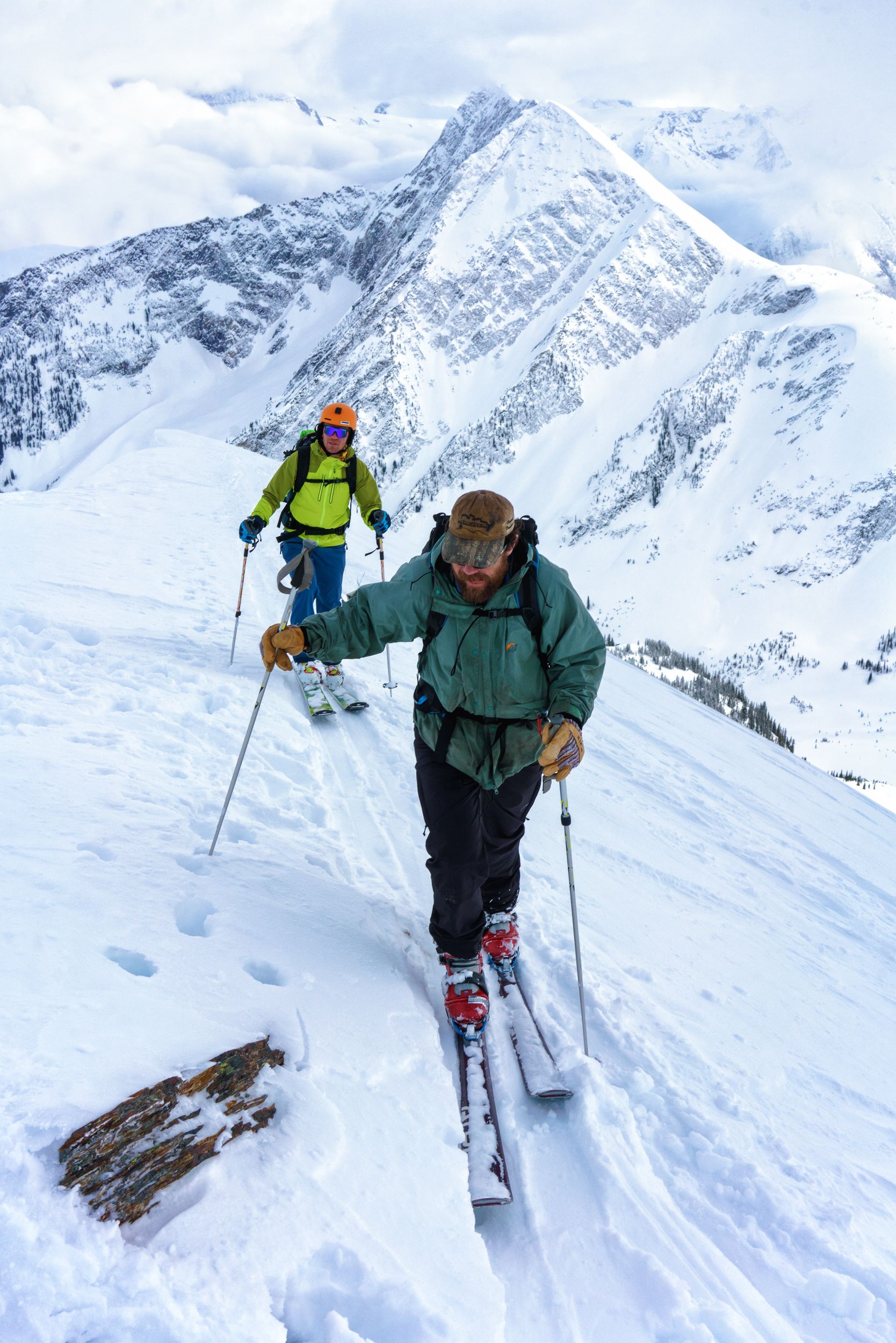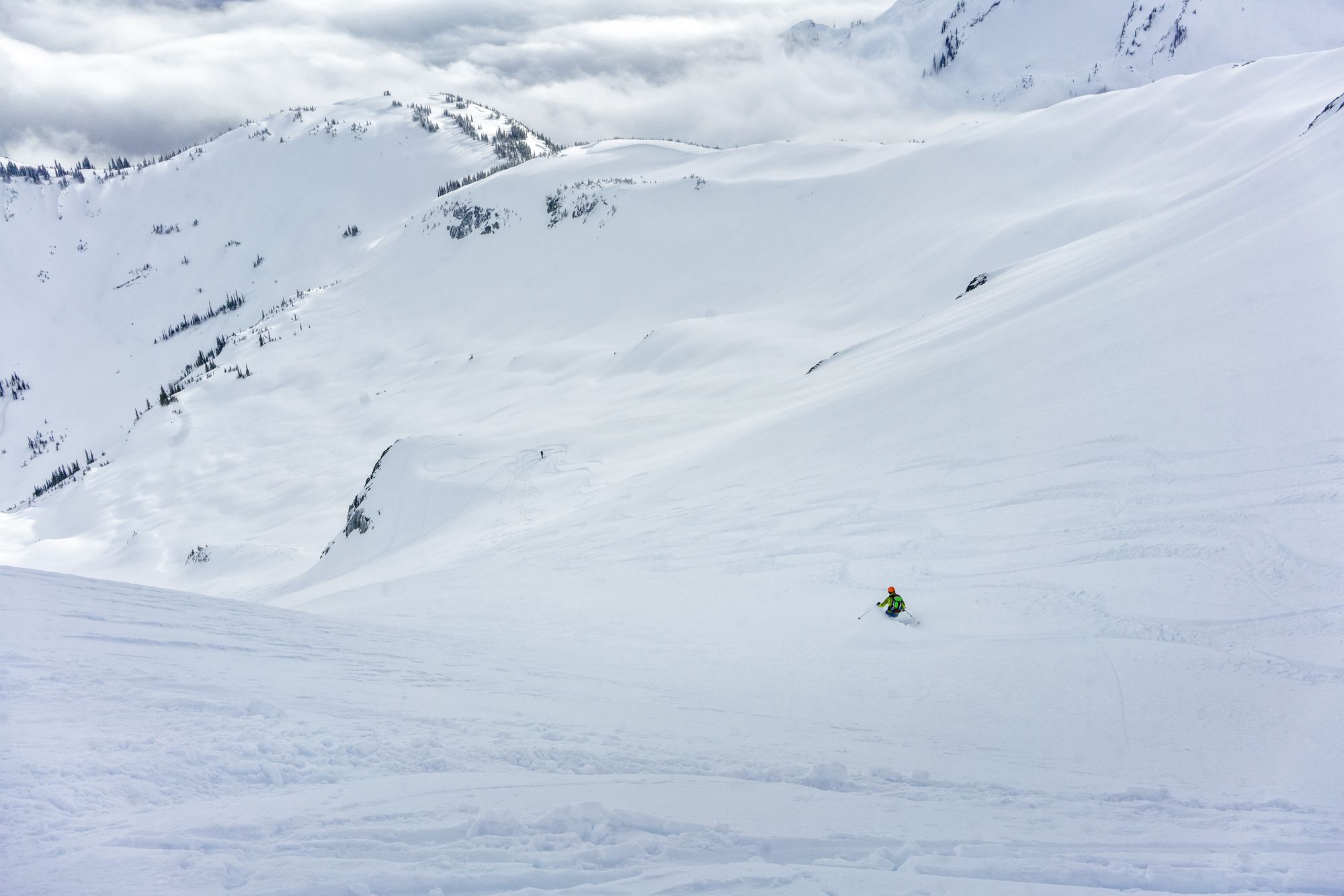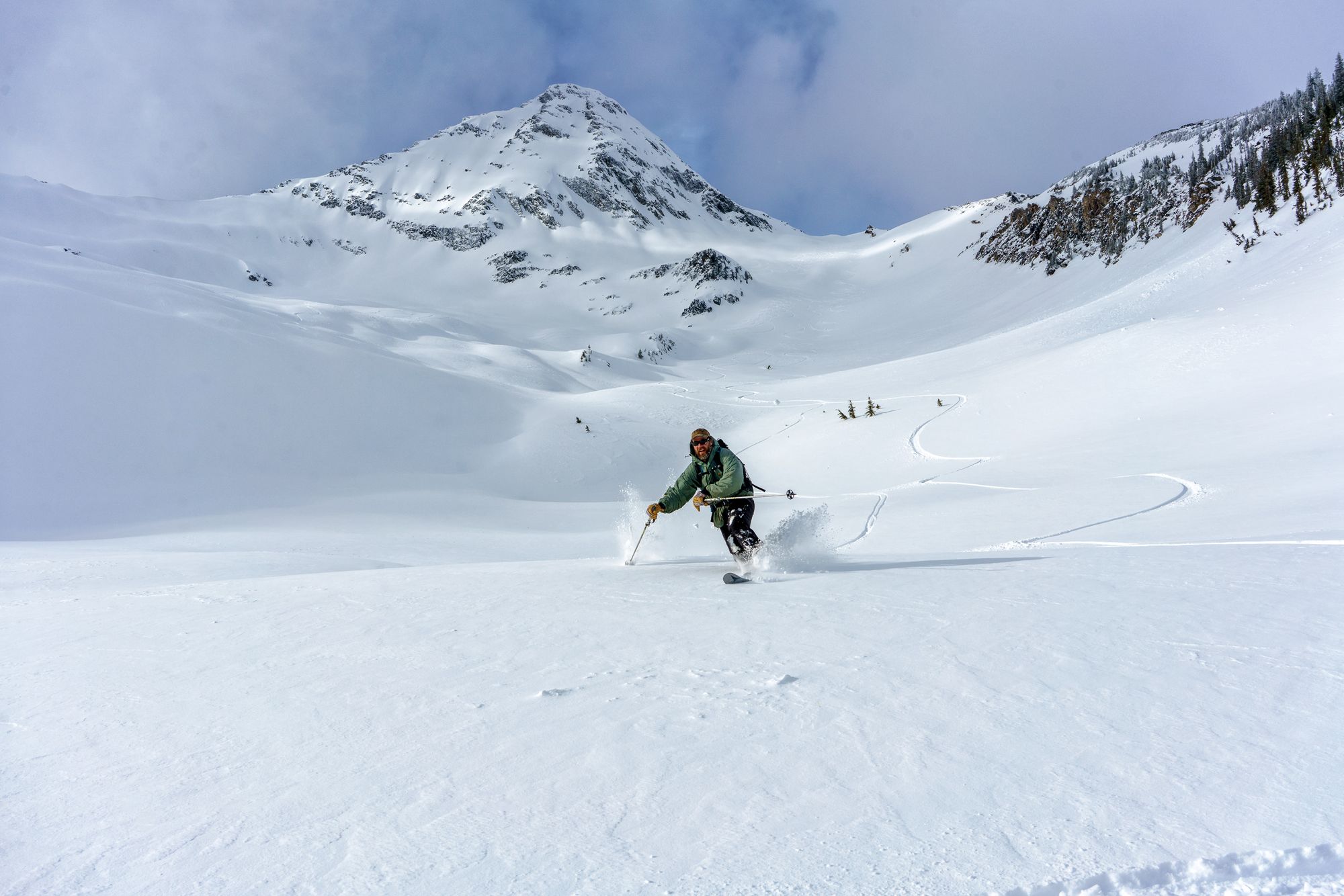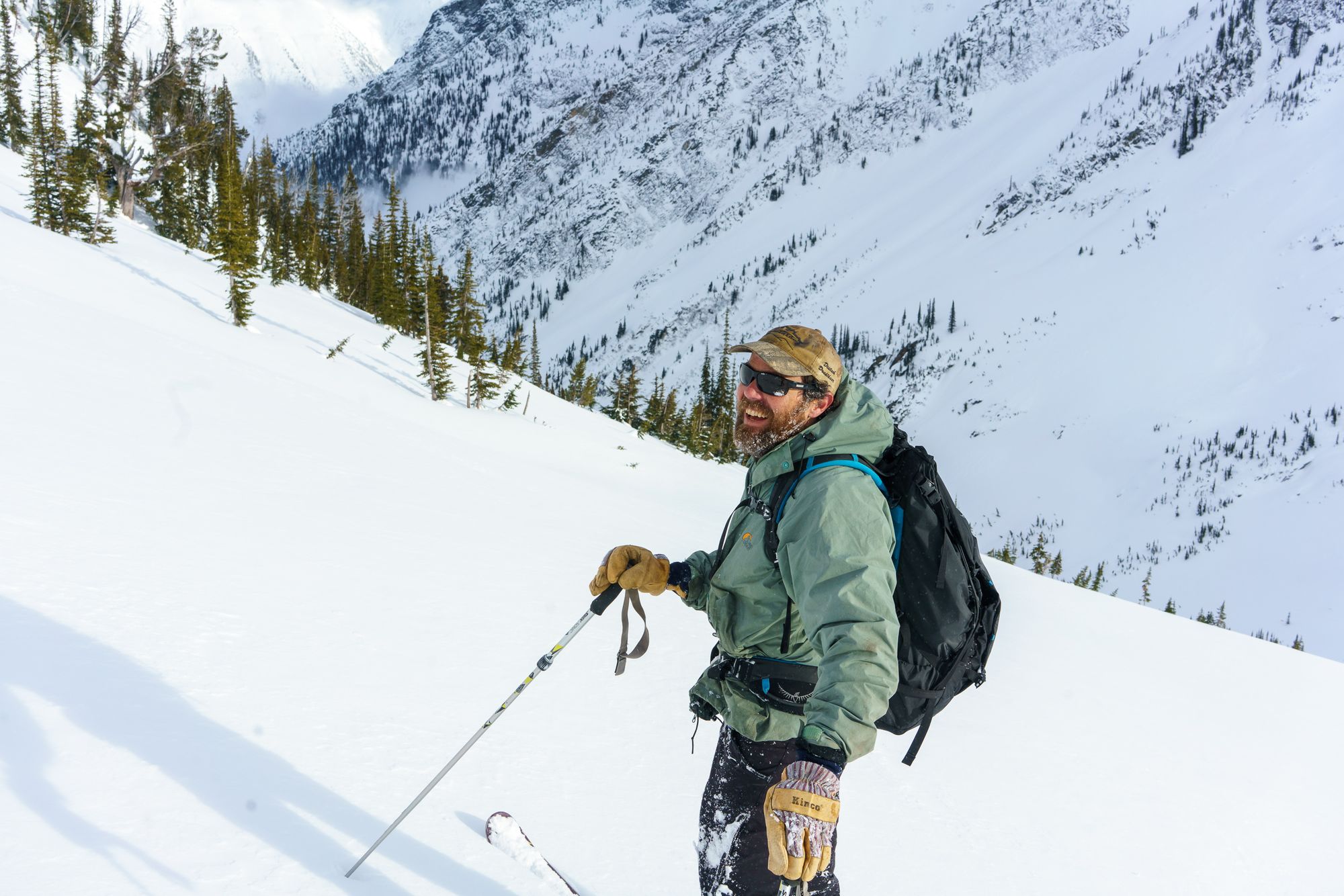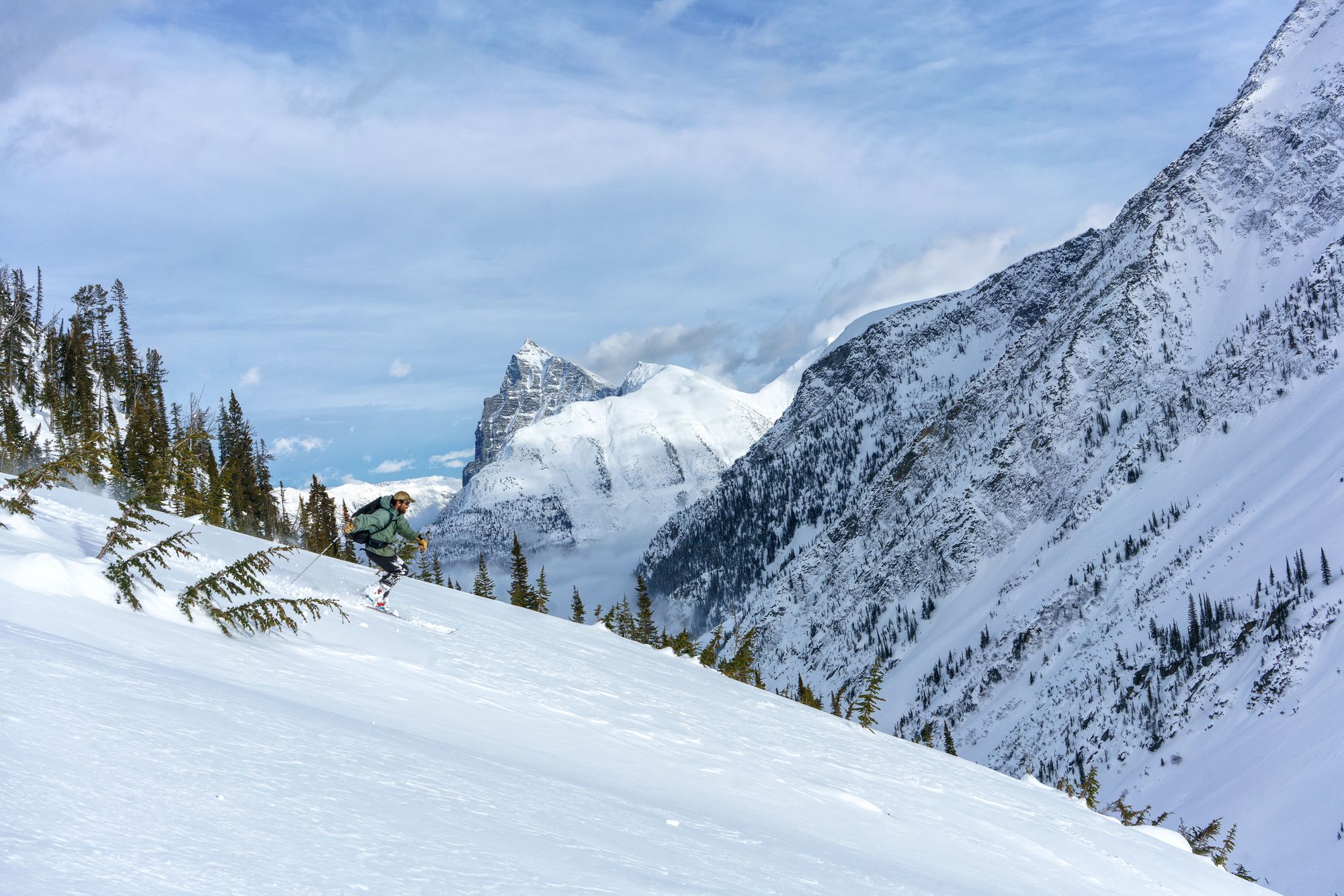 Mt. Field
Three months out from the trip, I can't recall if it was higher avalanche conditions or tracked out runs that got us thinking about ditching Roger's for new terrain. But new terrain is what we hit on the next day.
Mt. Field stands proud in Yoho National Park, the BC side of Alberta's Banff NP. The approach to the north face of the mountain (this makes me think we were hunting in Yoho due to aspects getting wasted in Roger's...) involved a slow slog up a road, two degrees at a time. The ice was in, ditto the views.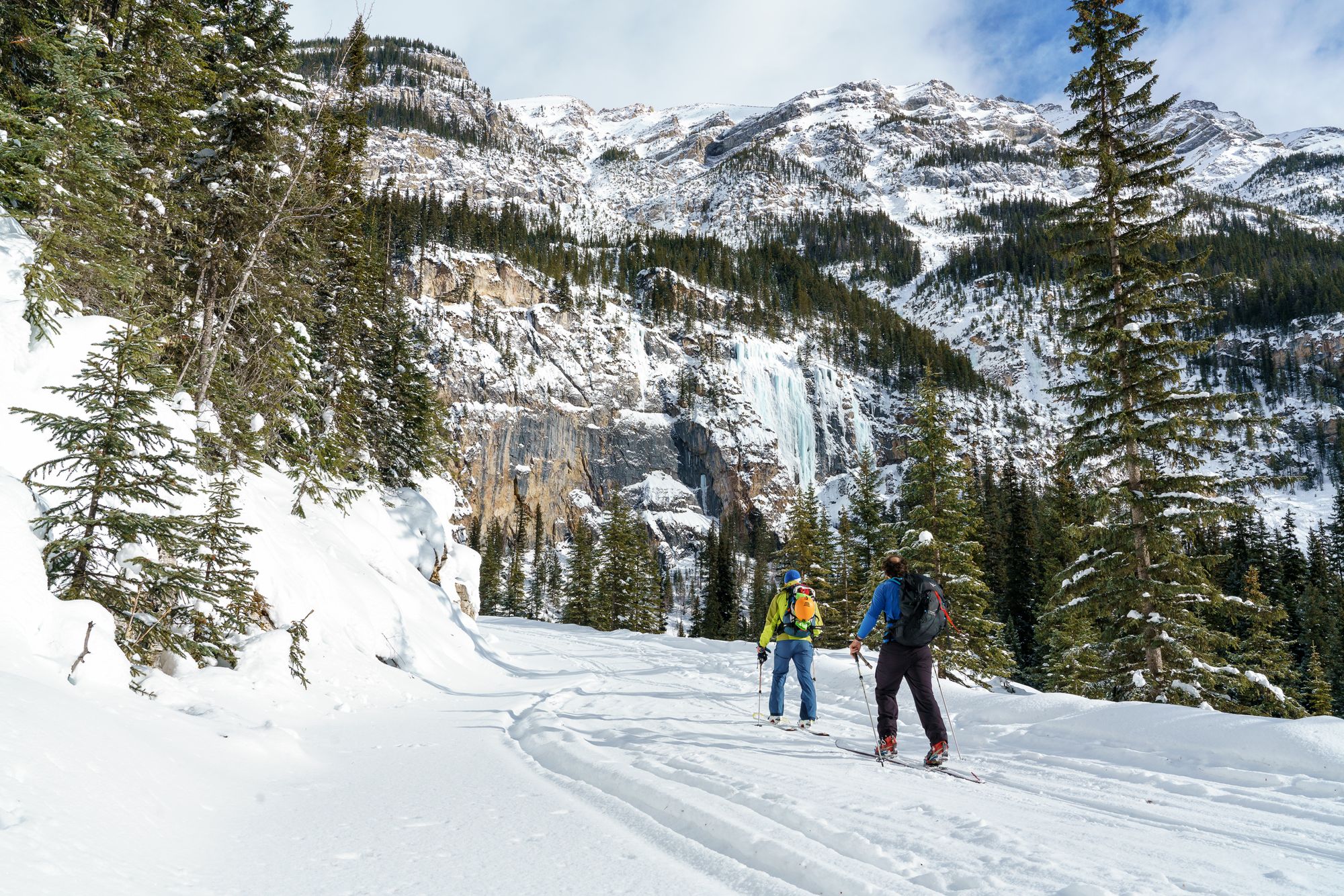 Five miles of just-barely-ups got us to the proper up-track. The way back down was one of the best runs I've ever gotten to ski, full of terrific pillows and tree skiing. Glorious enough I never even thought about getting my camera out; not when there was skiing to still be had!
Ursus Major
We'd planned on a big day for our third day on skis: Forever Young Couloir, some twenty miles round trip. When we asked the gents at the Visitor's Center what they thought of that plan, they weren't enthusiastic about it.
"Yeah, it's far out there, but the thing is, it's right by the Asulkan Cabin. People staying there will have run laps on it and skied it right out."
Dang. Any suggestions?
"Well, I haven't skied it, but check this out: Christmas Couloir, over on Ursus Major."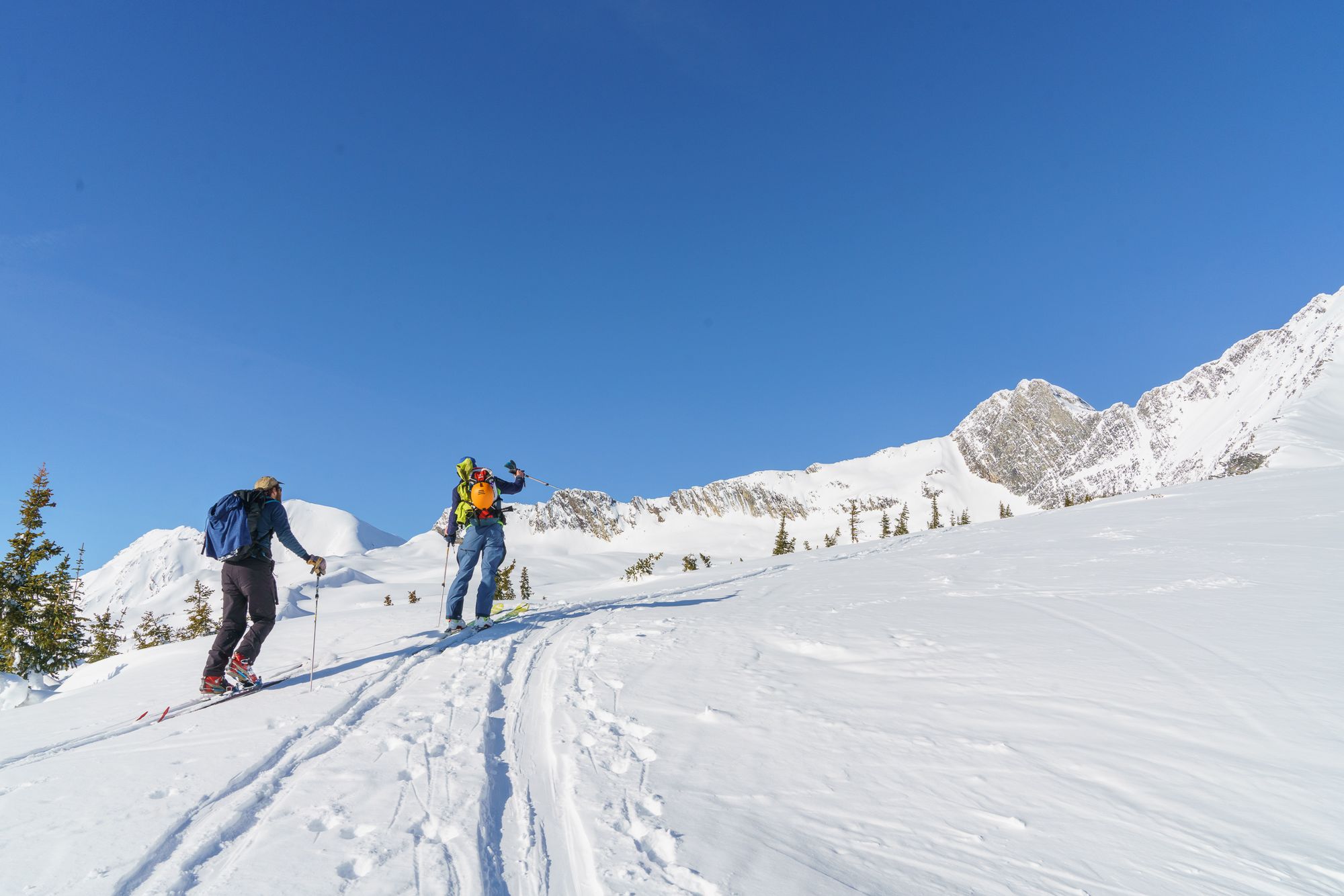 If that photo didn't give it away, we decided Christmas Couloir sounded like a fair alternative. After all, it'd be a Visitor Center start to the day and Hey! we were already there anyways.
This time, the weather was gorgeous: the temps perfect, the sky blue.
James seemed invigorated after two days back on skis. He took the lead on the trail and Maciej and I fell in line. We three blazed to the sunline just shy of Balu Pass, where we stopped and enjoyed the sun with snacks and water.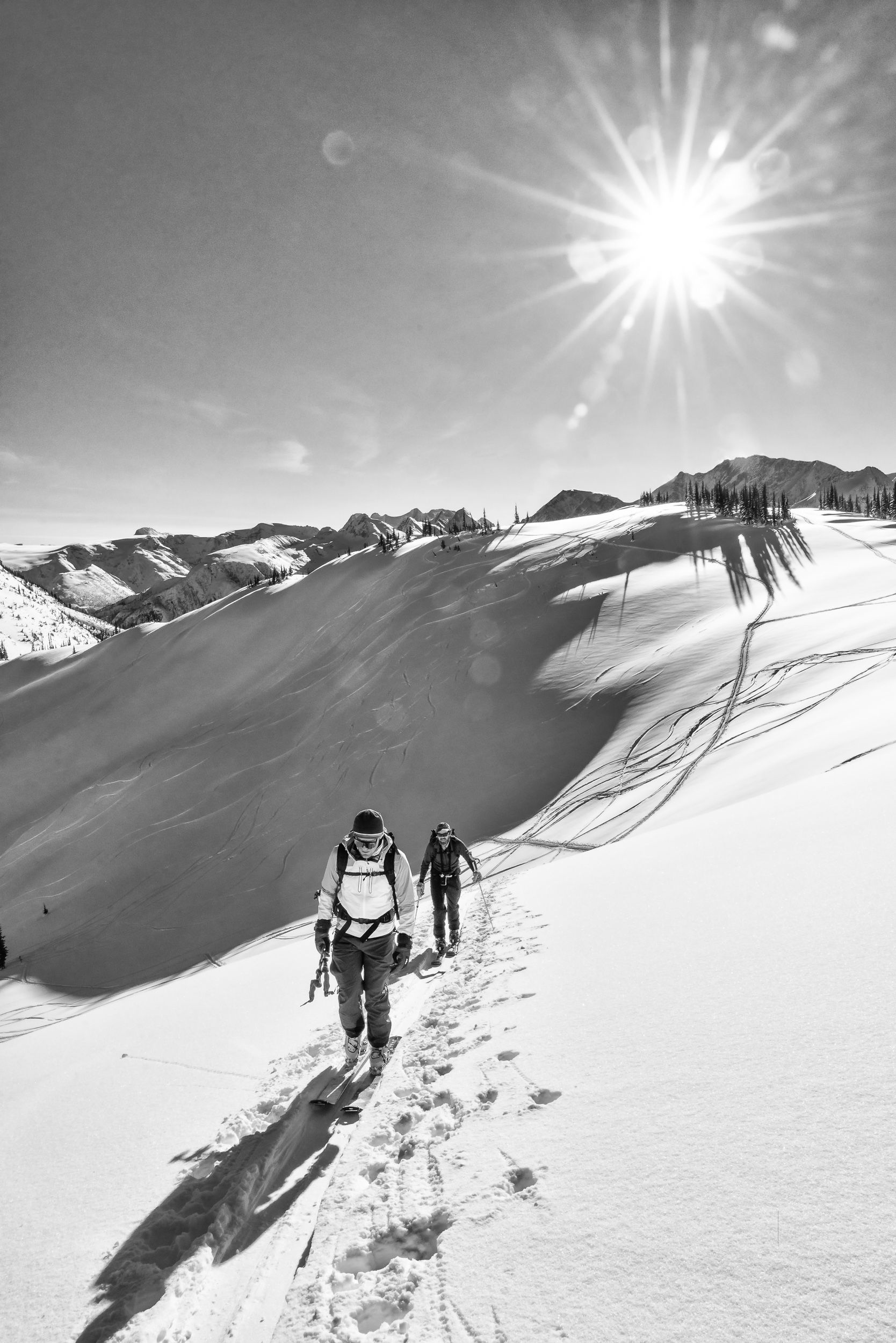 Atop Balu we had our first view of Christmas. Some mistaken assumptions about our approach to it killed an hour as we slogged up the ridge towards 8812 peak, only to realize there was no way down. We skied back to the shoulder of Balu Pass and dropped in there instead, then had to re-do our approach in the direction of Ursus Major itself.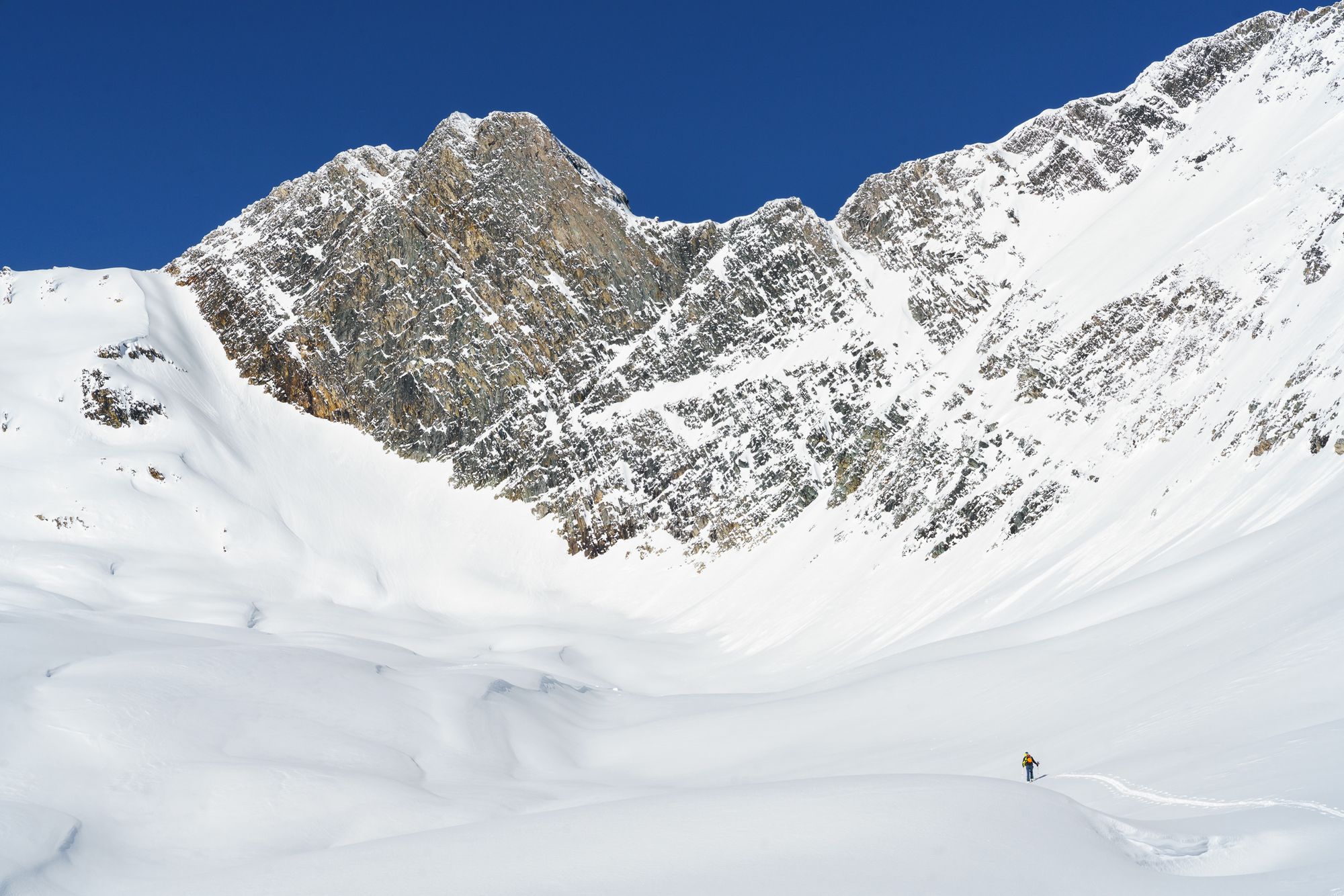 The approach took much longer than expected. The route we took to access the couloir took us up an exposed face steep enough to warrant bootpacking at one point. It was in fact much steeper than we'd thought, eyeing it from Balu Pass and then the valley floor.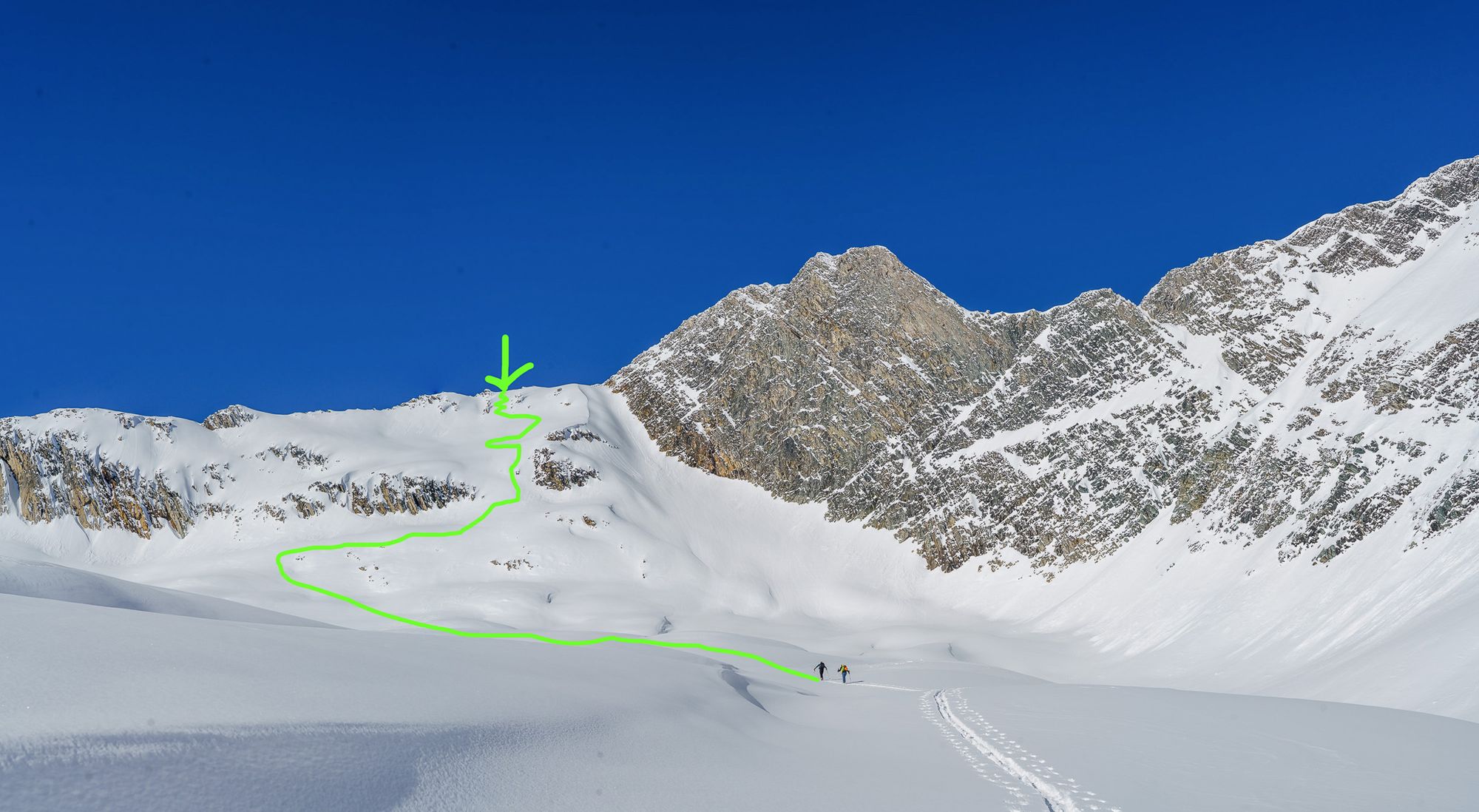 The sun had given up on climbing any higher in the sky and was instead traversing across it, unrelentingly blasting down on us. I remember hiding as deep as I could in the hood of my sun shirt, my ski legs unzipped from ankles to hip bones, moving slowly to keep from turning my boots into reservoirs for my sweat.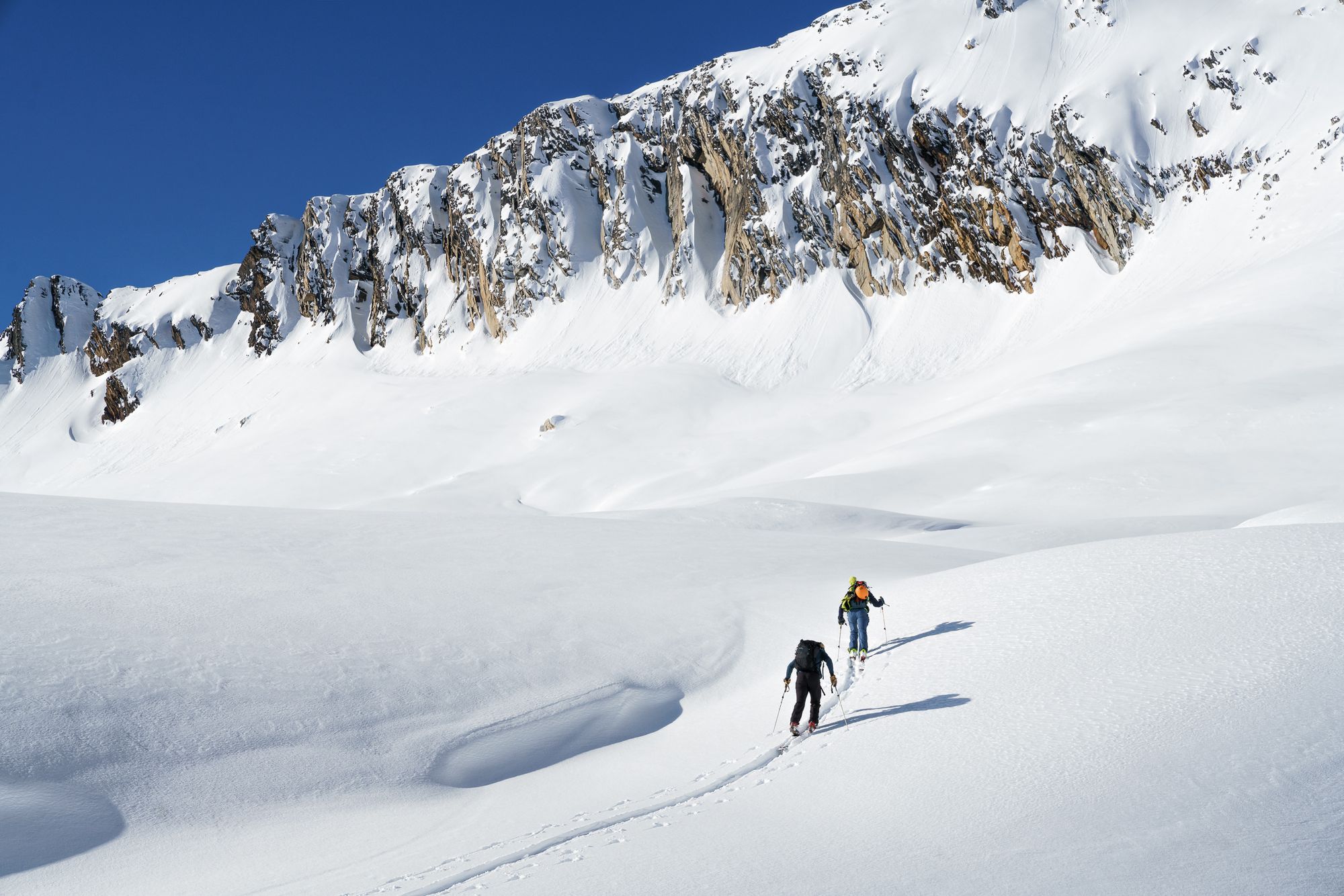 Moving slowly gave me a chance to stop and take it all in though. What a view we had up there! The Rockies seemingly just go on, and on, and on...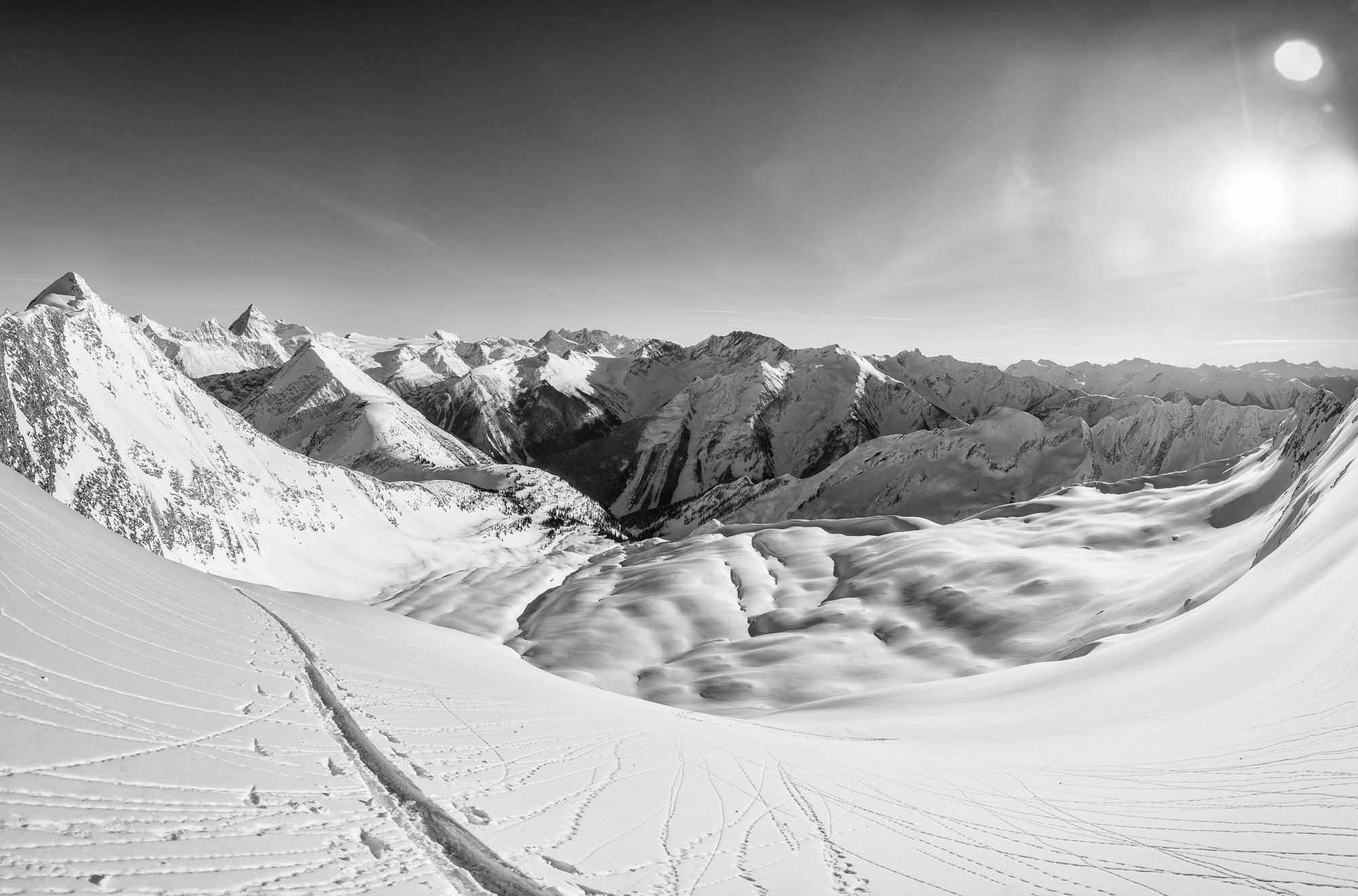 After a great deal of effort, and much later in the day than we would've liked (but no biggie, exiting to the Visitor Center was well rehearsed) we reached the final crux en route to the summit above Christmas Couloir.
James and I hung back, happy to let Maciej carve in the last few switchbacks on yet another unexpectedly steep face made of increasingly sun-affected snow. Maciej cut four zigs and zags up the tight chokepoint.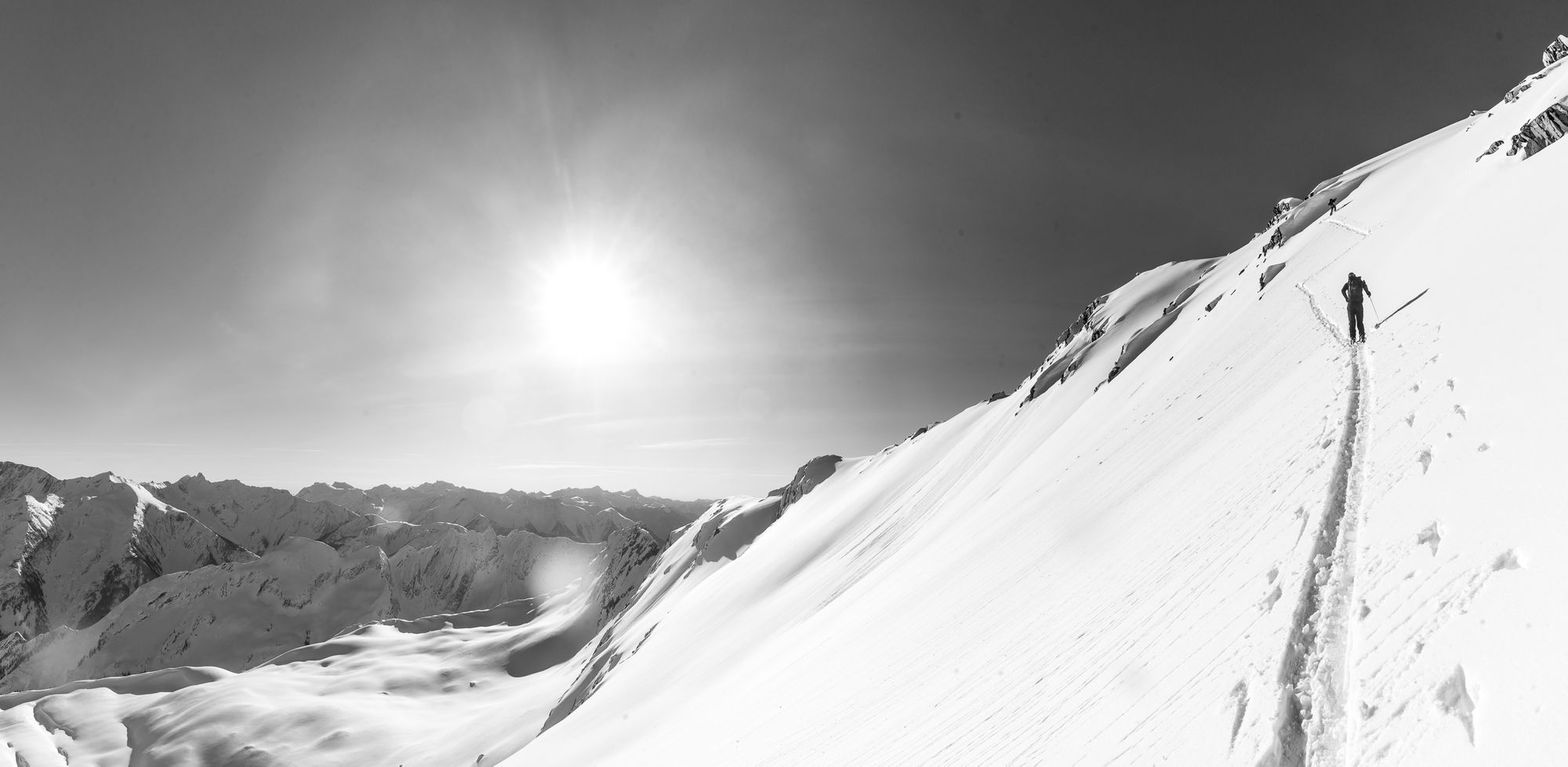 So it was just a few minutes after this photo here at the top of the mountain, with James having made the first switchback and facing me as I stood further back on the track, that a crack was felt more than heard and a frozen moment of silence passed in which our eyes met and grew wide.
Then the mountain shed its skin.