Friday
Dave and I went out to
get our red points
. We both were out of work by 4, and ran into each other biking home. "The rock is hot Matt!"
Isolate and Dominate – 10c *
Redpointed.
Boys of Brazil – 11c **
Got pumped, sloppy, and fell on the very last move. Nuts. Dave got his RP though.
We went out, had some beers, met odd people, and that was that.
Saturday
Jenn and Alyssa came in with their little sisters Friday night and the five of us went out climbing in an area I found out about thanks to
this County10 article
. We had a great time working top-rope, and one of the girls even learned how to rappel. For anyone wondering where this lovely Practice Boulder (as I've dubbed it) is located, it's the very large boulder on the trail to Addiction Wall from the main parking lot. It's one of a pair that lie just before Wave Mutilation Boulder. There's five or six anchors on top, all of which are reached by scrambling around the West side of the boulder.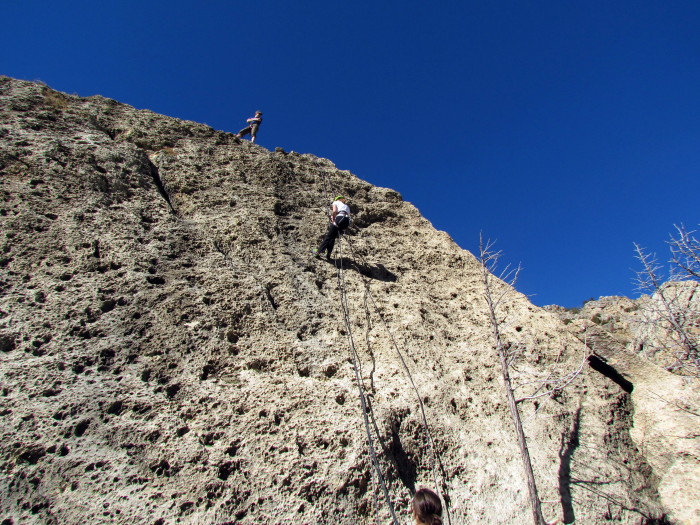 Sunday
Leah and I got out in the morning and got to work on a variety of climbing styles, from flake, to slab, to corner chimney stemming bonanza.
Go West Young Man – 7 ***

My first lead, I've now done it a hundred (?) times. Still fun. Great place for Leah to work on not using her arms, but using her hands, to climb.

A Beautiful Life – 9 **

A powerful flake start to a tricky, foot-intensive slab at the top. By the end of this, Leah had climbed all sorts of rock styles, and we weren't done yet!

Rokai Corner – 8 *

A funny little corner climb. Lots of stemming, pretty enjoyable. A steep finish if you only lead 5.8.

I'm fairly certain that Alyssa and I climbed this back in the winter of last year sometime.

The Guyver – 10a *

Over before I knew it. Very easy for a 10a, but not unenjoyable. I think this was my first time up it.

Central Pillar – 11a

This sucked.

Leah finally got to catch her first lead fall here. And then another. And then another.

The climb doesn't honestly start until you get the first clip, which is 20ft up a 5.5 romp. The start is diabolical, and the climb continues without feet just about the whole way up. Thin moves lead to a seam on a bulge (this is at White Heat Wall) where you have to use opposition techniques to keep your feet down. Once you finally crest the nasty bulge, you have an incredibly reachy headwall with poor protection to finish the 80ft climb.

Central Pillar left me broken and demoralized. How can I be one move from redpointing an 11c and then flail on an 11a like this? However, Dave had shown up by this point, and after watching him try the route, I didn't feel so bad. It's a technical beast, end of story. I have no plans to ever re-climb it.

Storm Warning – 9 *

A very demanding climb, very committing. White Heat Wall puts a plus at the end of its routes' difficulties. Still one I really enjoy though.
Six climbs, two over 80 ft, tired me out, and we called it a day after that. Now, after climbing without a shirt all of Sunday, Lander has decided to pretend it's winter and the ground's smothered in snow. Might be a little bit before we can get out again - but then again, it might not.