Into The Cirque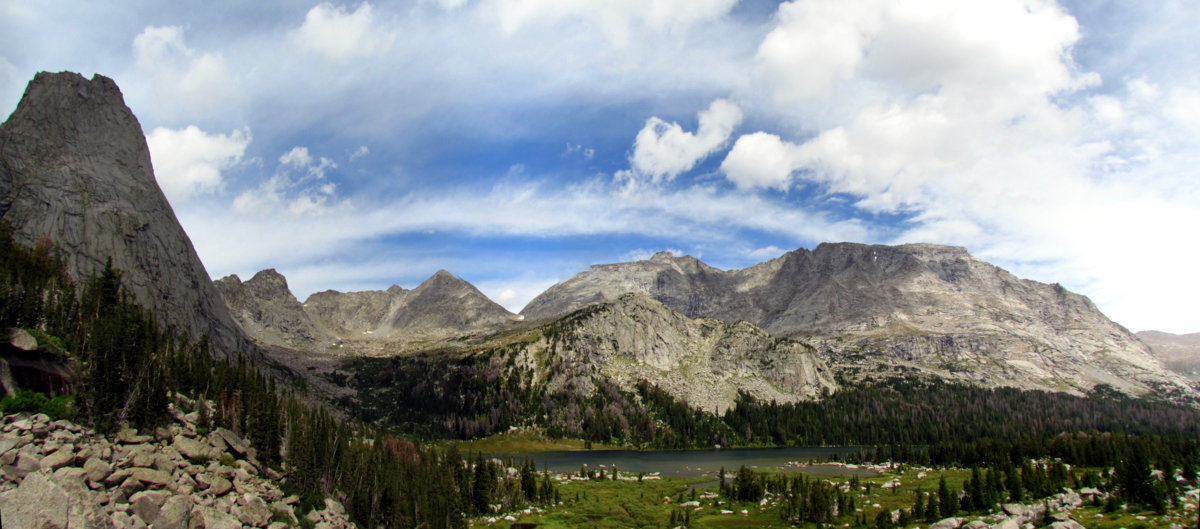 But before I tell you that story, let me tell you this one.
Exploring Wyoming's Outdoors
Four years ago, I was living a summer that ended with a month of Wyoming mountains. It was a month with no job, no school, and no responsibilities, and was my last chance to enjoy my home state before I left for Japan. I used the time to bike and camp in Curt Gowdy State Park, climb in Sinks Canyon, hike in Yellowstone and the Tetons. I wore the same shirt for far too long, showered far too little, and enjoyed the hell out of falling in love my with countryside one last time before I left it.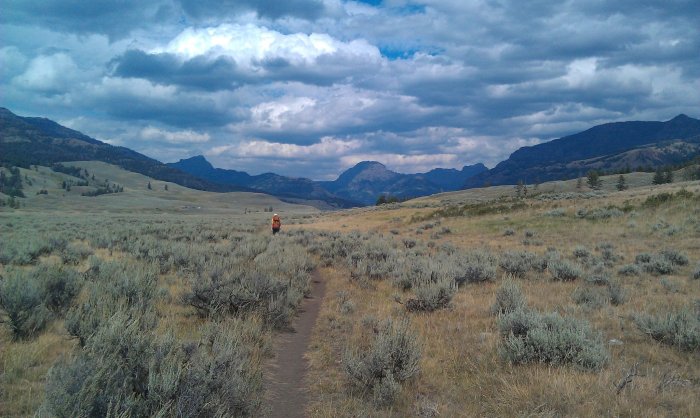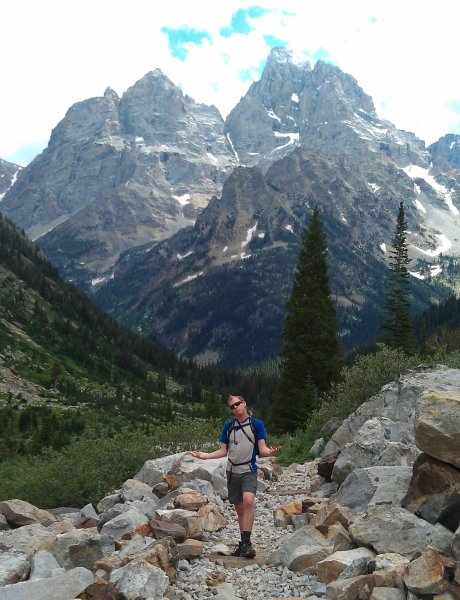 Then, at the end of it all, I backpacked into the Winds for the first time.
We entered the Winds at Big Sandy Trailhead, which was overflowing with cars on Labor Day weekend. We made came six miles in at Big Sandy Lake, and in the morning, I made the decision that I would do no more hiking. The Tetons had taken it out of me (and my feet), and nothing sounded so nice as just doing nothing in the mountains for a change. So that's what I did.
My fellow backpackers dayhiked to the Cirque of Towers, and told me all about the mountains that were back in there, and how gorgeous it was, and, and.... But I was content with my month of Wyoming, and knew I'd have a chance to see the Cirque in person one day.
Four years later, on another Labor Day weekend, that day came.
Preparation
Dave and I made plans to leave Lander after he was off work Friday, hike in as far as we could that night, get into the Cirque of Towers on Saturday, and hopefully bag Pingora on Sunday morning, with an easy hike out on Monday.
I was more than excited for this. I dug out my tape gloves and made sure they were still useable, and packed up my backpacking pack for something other than car camping or air travel for the first time in I don't know how long -- two years, actually, which was the last time I had gone into the winds.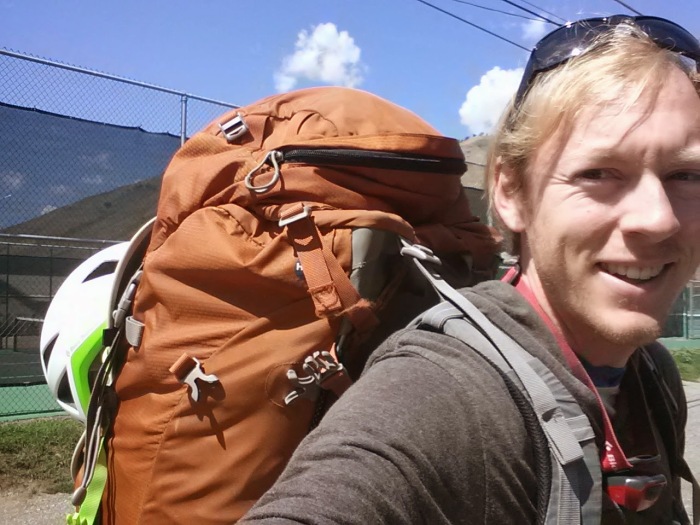 I was more than a little nervous as to how my knee and shoulder would hold up to their first bit of backpacking around since injury. A 70m rope is hardly light, and with everything else needed for the trip, I'd certainly be going through my paces. On the way through Lander, I stopped at Wild Iris and picked up a proper pair of hiking poles, something I can't recommend enough now that it's all over with. They saved me.
To the Cirque
Some time after ten in the evening, Dave and I set up camp on the West side of Big Sandy. I woke to a horse munching right outside my tent.
We talked with the people who had packed in with their horses and had been camping for about a week. They'd been doing a better job of keeping up with weather than we were, and predicted snow up on the higher elevations on Sunday. That wasn't exactly what Dave and I wanted to hear. Still, we had come out for a reason. We made breakfast, put our packs on, and got hiking.
It wasn't long before we got our first view of a member of the Cirque: Warbonnet.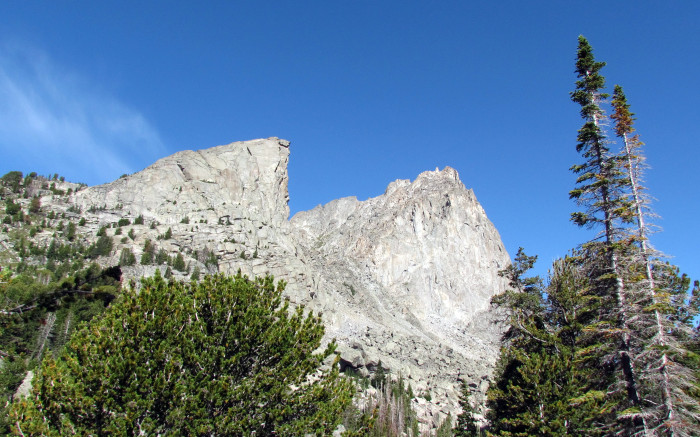 Pingora and the Cirque
When Pingora rose into view, we had ourselves something of a celebration.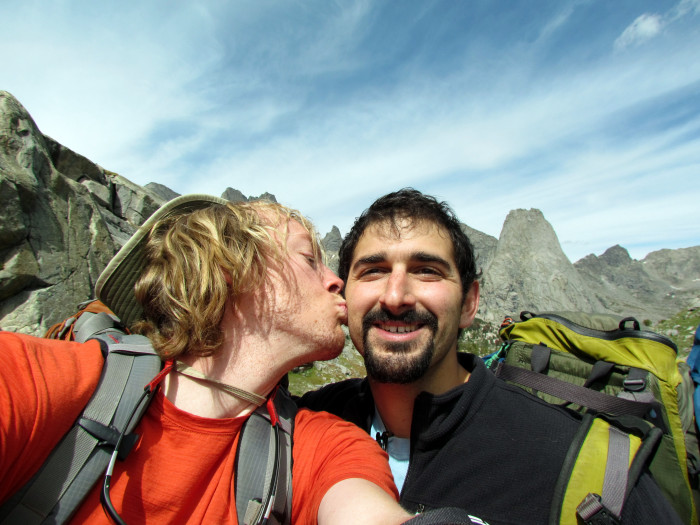 From here, I don't think I need to say much more.
The Weather at 10,000 feet
In the evening, small rain storms started to roll through. Dave and I made an early night of it, and passed out soundly in our tent.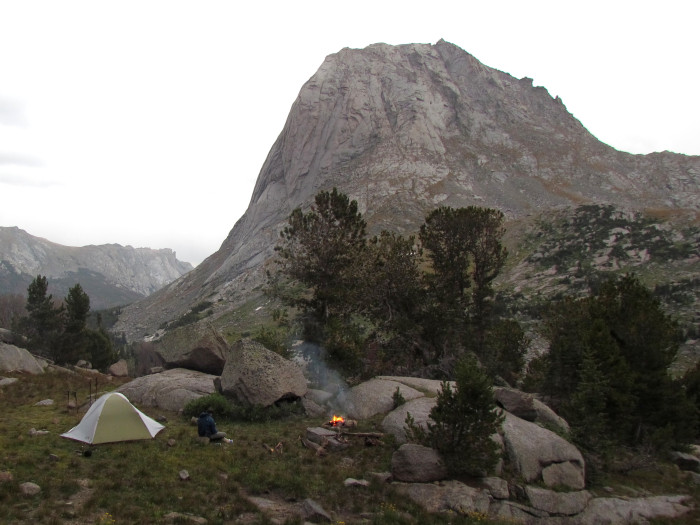 In the night, the light rain turned to thunder, and soon flashes of lightning penetrated my eyelids. Later, the raindrops turned to hail and their drumming woke me again.
At two in the morning, Dave yelled something and woke me up. The tent had nearly collapsed on us with the weight of the snow that had started to fall. Luckily, I had guyed it out against four heavy stones, and slapping the roof of the tent shook the snow off and it immediately pulled back into shape.
In the morning, it was obvious we weren't going to be able to make an ascent of Pingora. It wasn't even visible through the heavy clouds that had socked us in.
Leaving
And so, we hiked out and went home, dreams of climbing unfulfilled.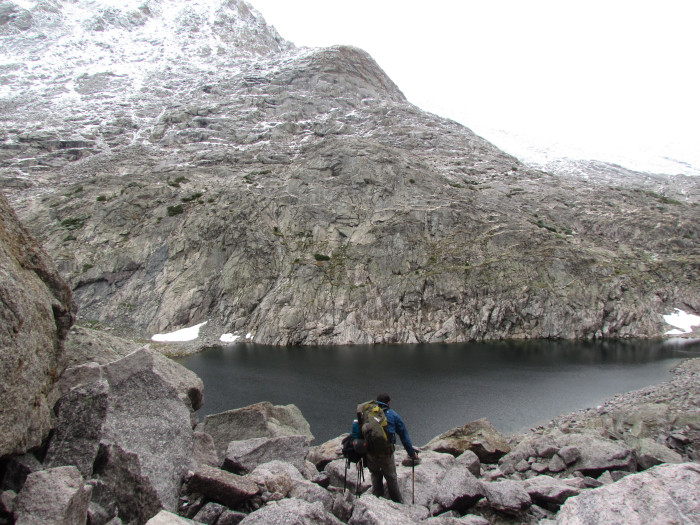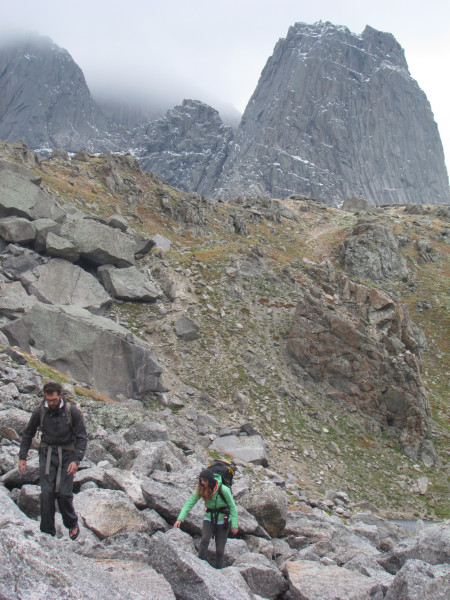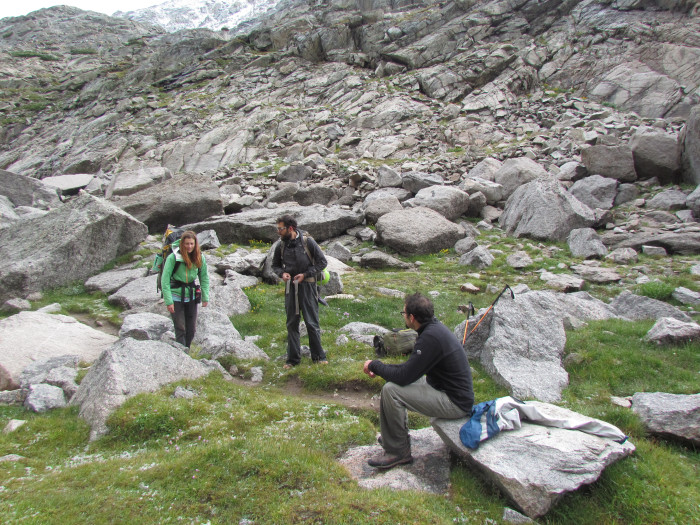 The hike out went quickly enough; by mid-afternoon our feet were out of our boots, and we were on our way back to Lander.
Conclusion
We may not have made our goal, but I got something more from this than bagging a peak would give me. I was alive again, and in motion, strong and fast. I'd lost what felt like a year of my life, but it was back now, and I remembered and felt how I want to live my life.
Time in the mountains is always time well spent.
Oh, and I got to enjoy the sun setting over the Tetons from Togwotee Pass on my drive home to Jackson.
Also: Dave's Morning Dance