Cologne & Amsterdam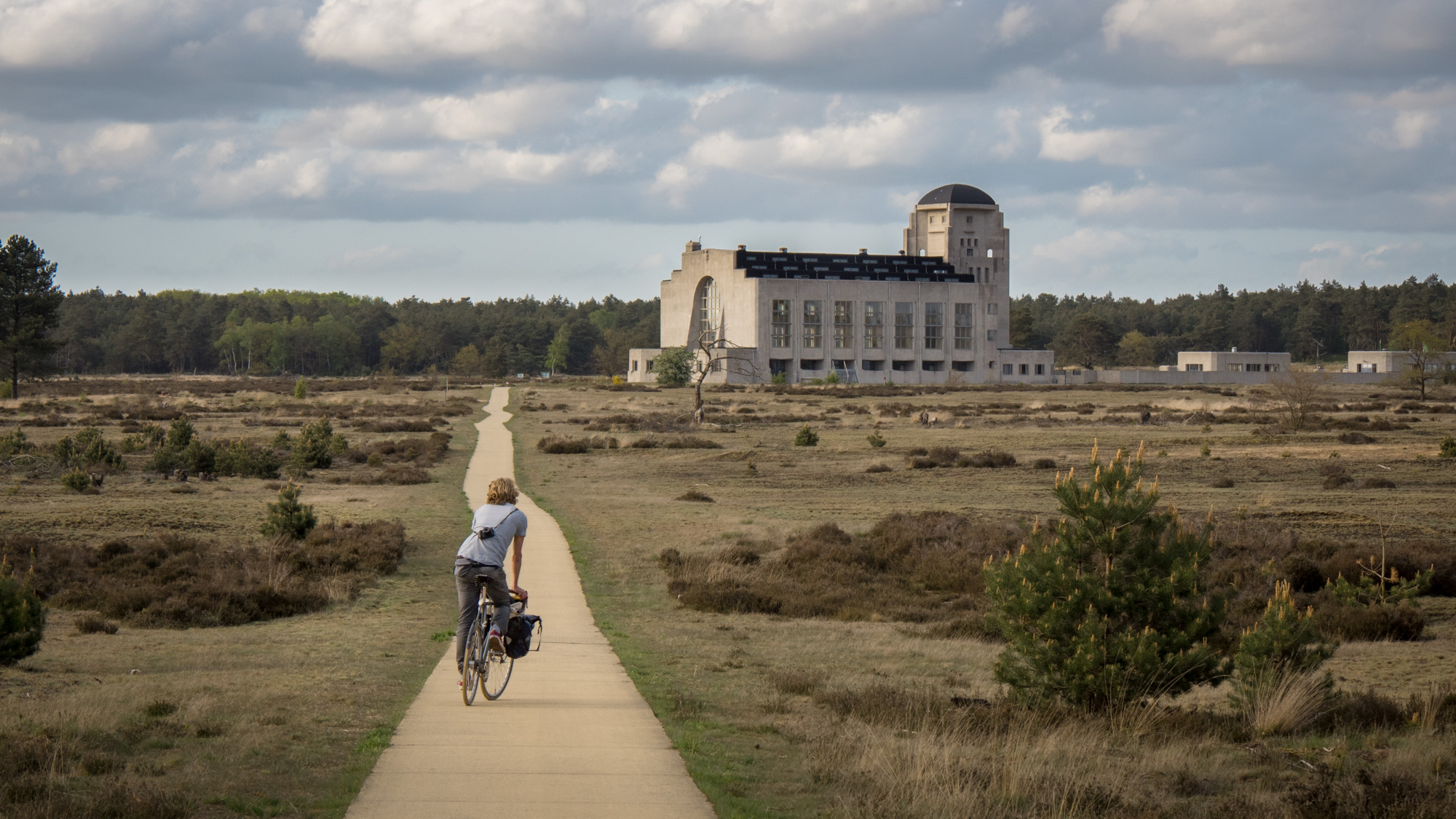 Hello! This post comes to you from beside a river in Umea, Sweden. It's not about Umea though; it's about the second and third of five countries I visited in seven days.
I characterize my stay in each country with these words:
which means that this is the story of Beer and Bicycling.
Cologne
Cologne, or Köln, was the quickest part of my week, with Friday being my only full day in the town. As with all of my trip, I was cursed with good weather.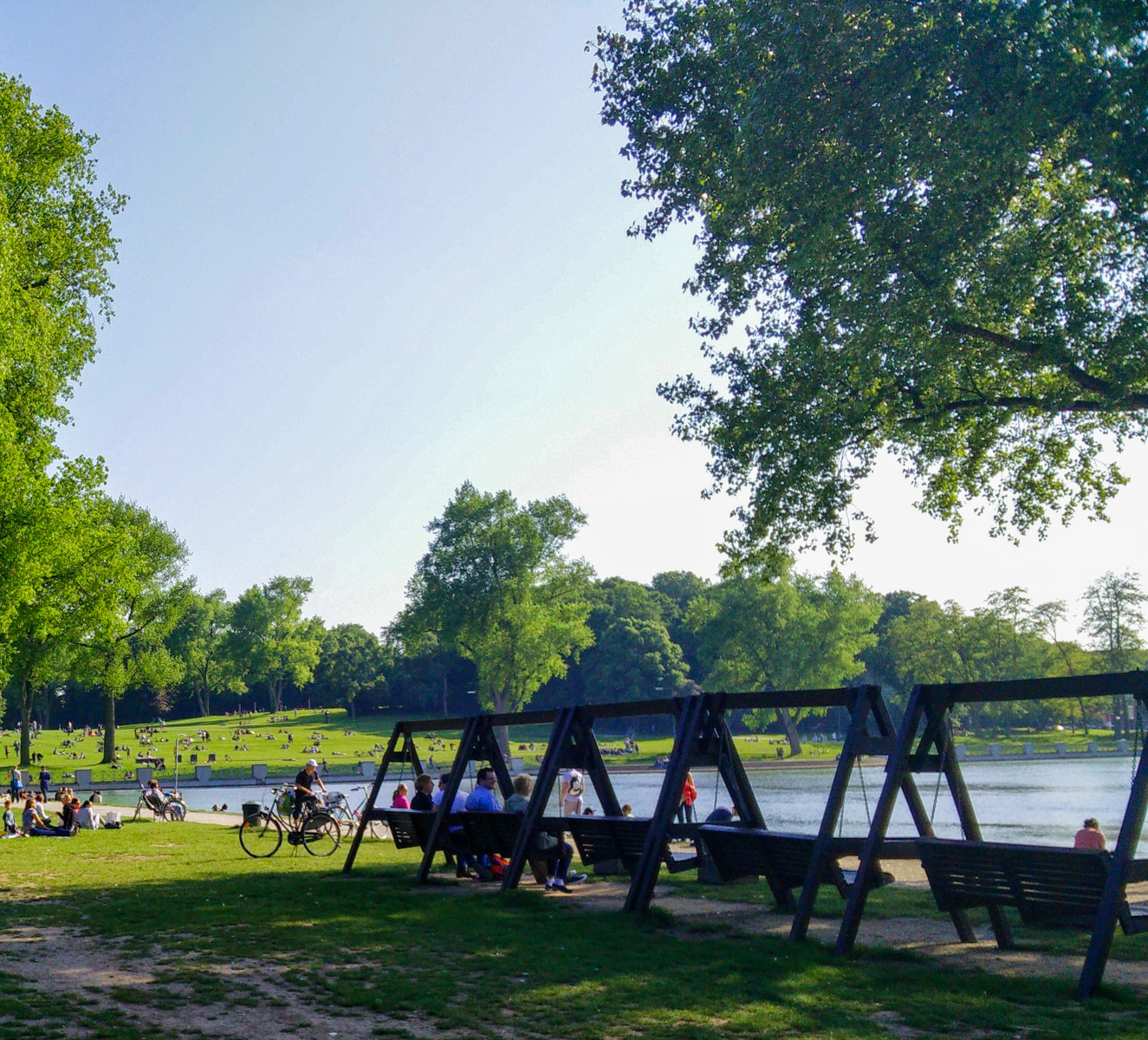 I spent the day with Fabian, who's another person I know through Ghost. Fabian and I hit it off quite well, swapping stories and putting back beers the way you only can with a stranger you've paradoxically known for the past year. It's a beautiful thing to meet someone for the first time and part ways knowing you've got yourself another friend for the long run.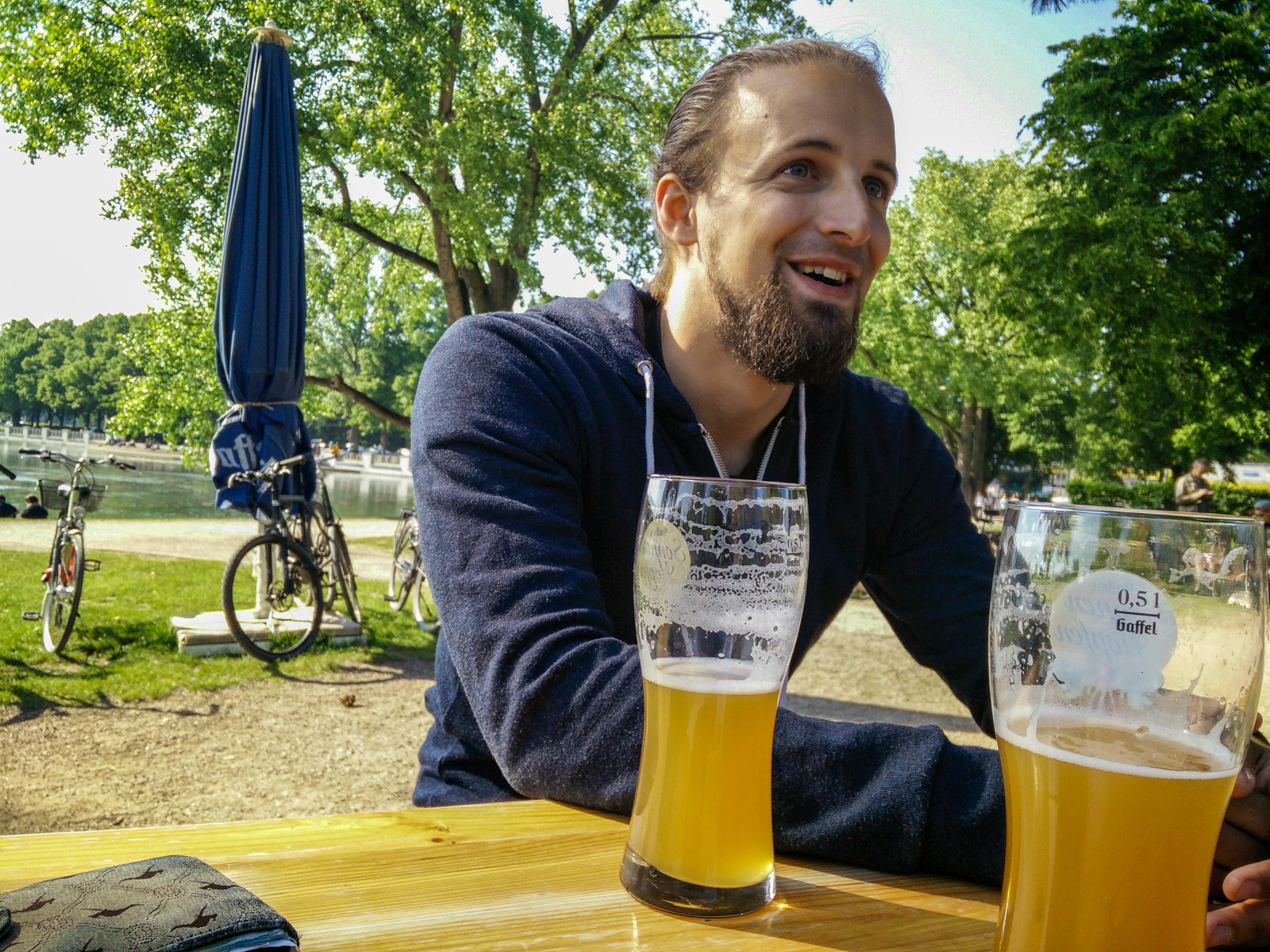 The evening I spent with my German coworkers. We went out and did it up locals' style. When 5AM rolled around, I excused myself from the festivities with hugs goodbye, frantically packed my bags and made for the 06:30 train to Amsterdam.
To cut the story of my train ride short: two men tried to steal my bags while I was dozing, which made sleeping anymore somewhat unattractive.
Amsterdam
Before you ask, no, that's not why I went to Amsterdam. I went because I know these two guys...
Bert and Luuk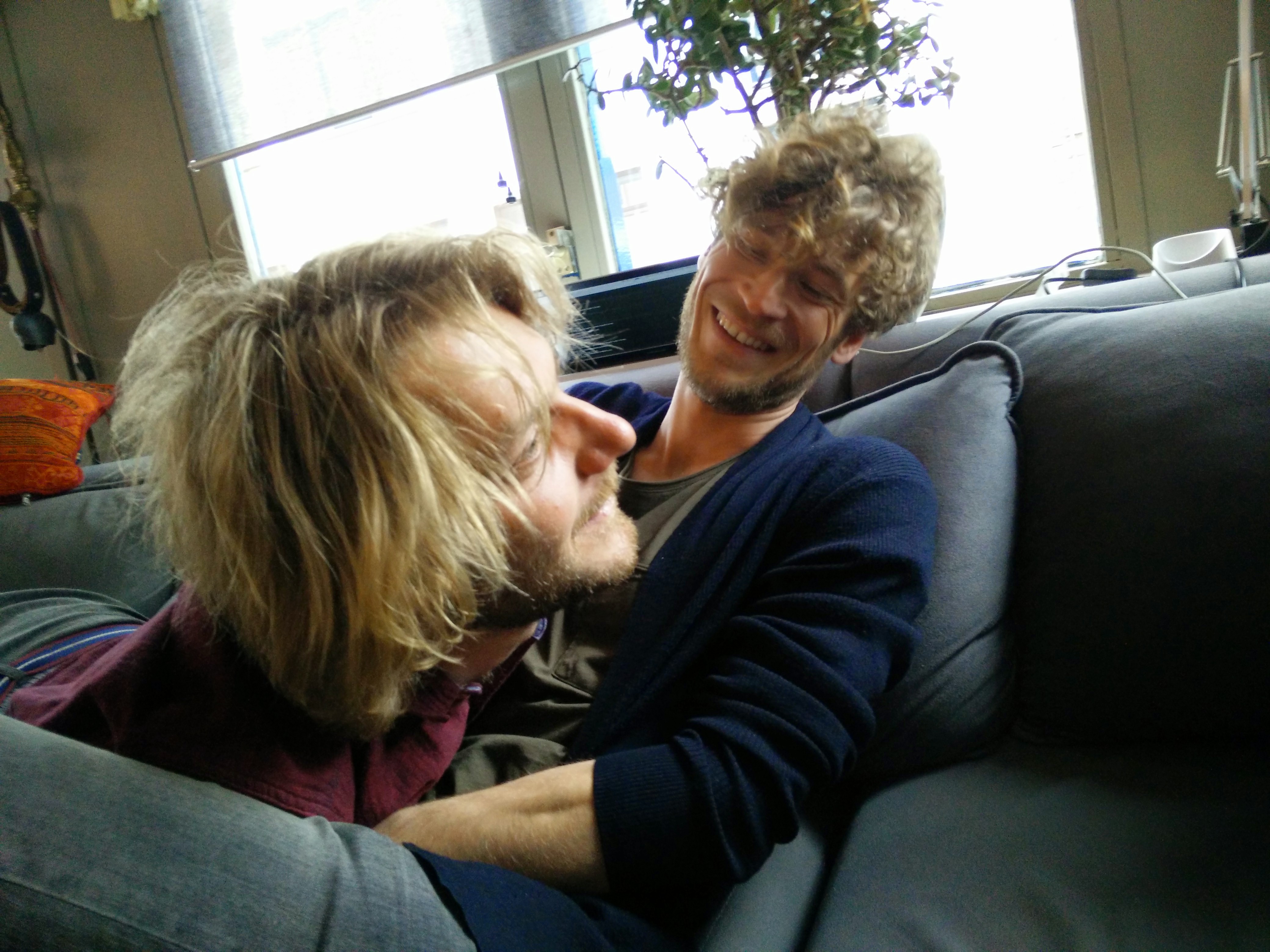 In the bright sunlight of an August afternoon, two men walked by my table on the cafe patio. One had a fresh road burn covering most of his arm and a T-shirt with a simple bicycle graphic on it. Both had terrific hair. I was pretty sure we could be friends. I started a conversation by asking about the burn, and learned that Bert and Luuk were transecting North America by bike over the summer.
We spent the day together and kept in touch after they rolled off on their journey. As soon as I knew I was going to Europe, I asked Bert if he might let me visit him. He graciously said yes, and so I did.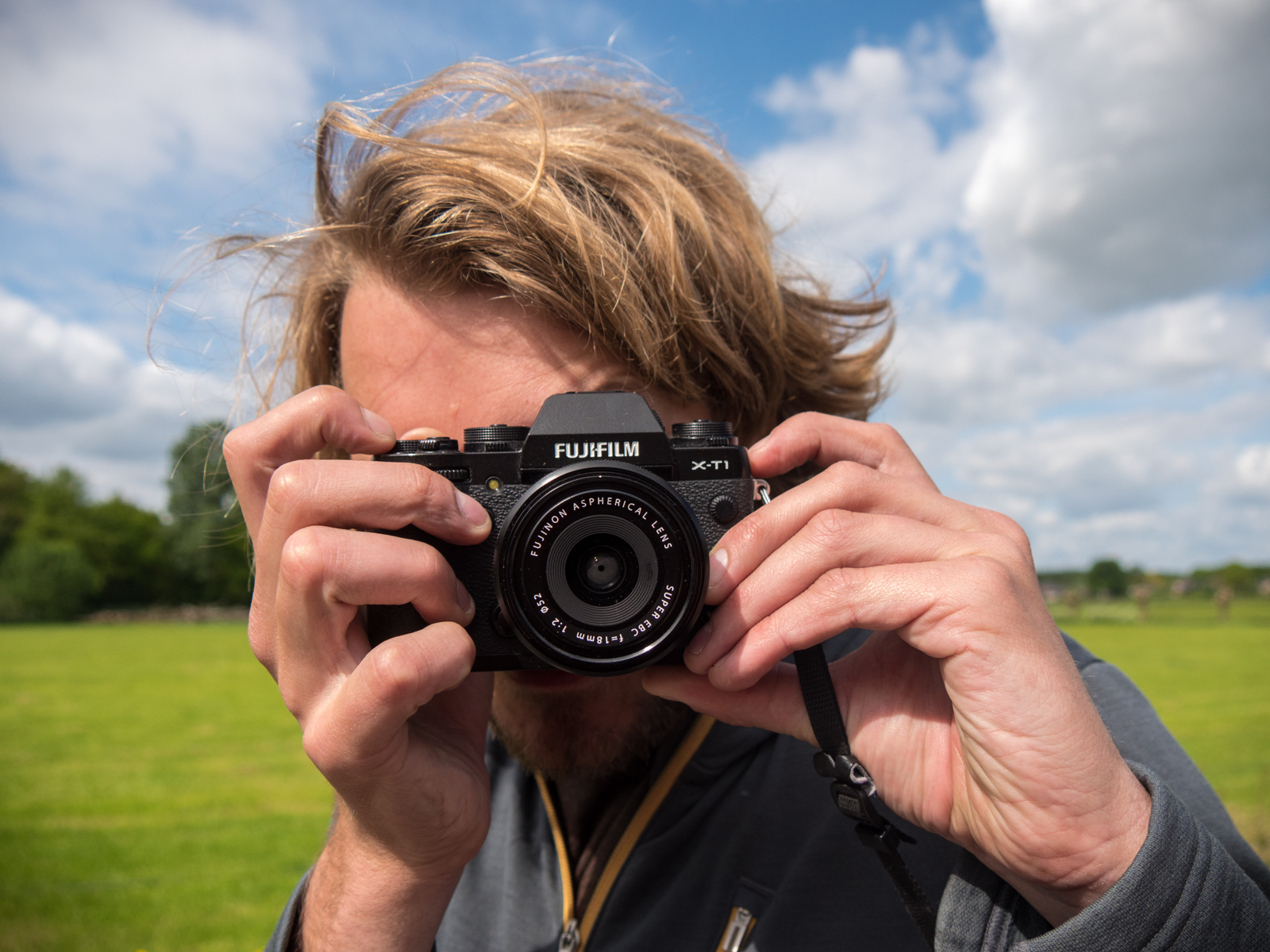 Bert
The Weekend
I arrived Saturday morning in a drizzling rain at Amsterdam's Central Station, slightly hungover and completely without sleep. I walked through Chinatown and passed through a market square to arrive at Bert's apartment, where he gave me breakfast and coffee to help me stay on my feet.
I perked up and we walked town with the idea of getting a cappuccino. At one point an undressed mannequin in a store window pulled at the corner of my eye. A second glance showed that while I had been correct as to its state of dress, the mannequin was a live woman. Oh my. Welcome to Amsterdam's famed red light districts.
Biking
The rain let off by around two and Bert and I went back to his apartment where we put hammocks and sleeping bags in panniers, put those panniers on his bicycles, and then proceeded to bike over 120km of Netherland's countryside.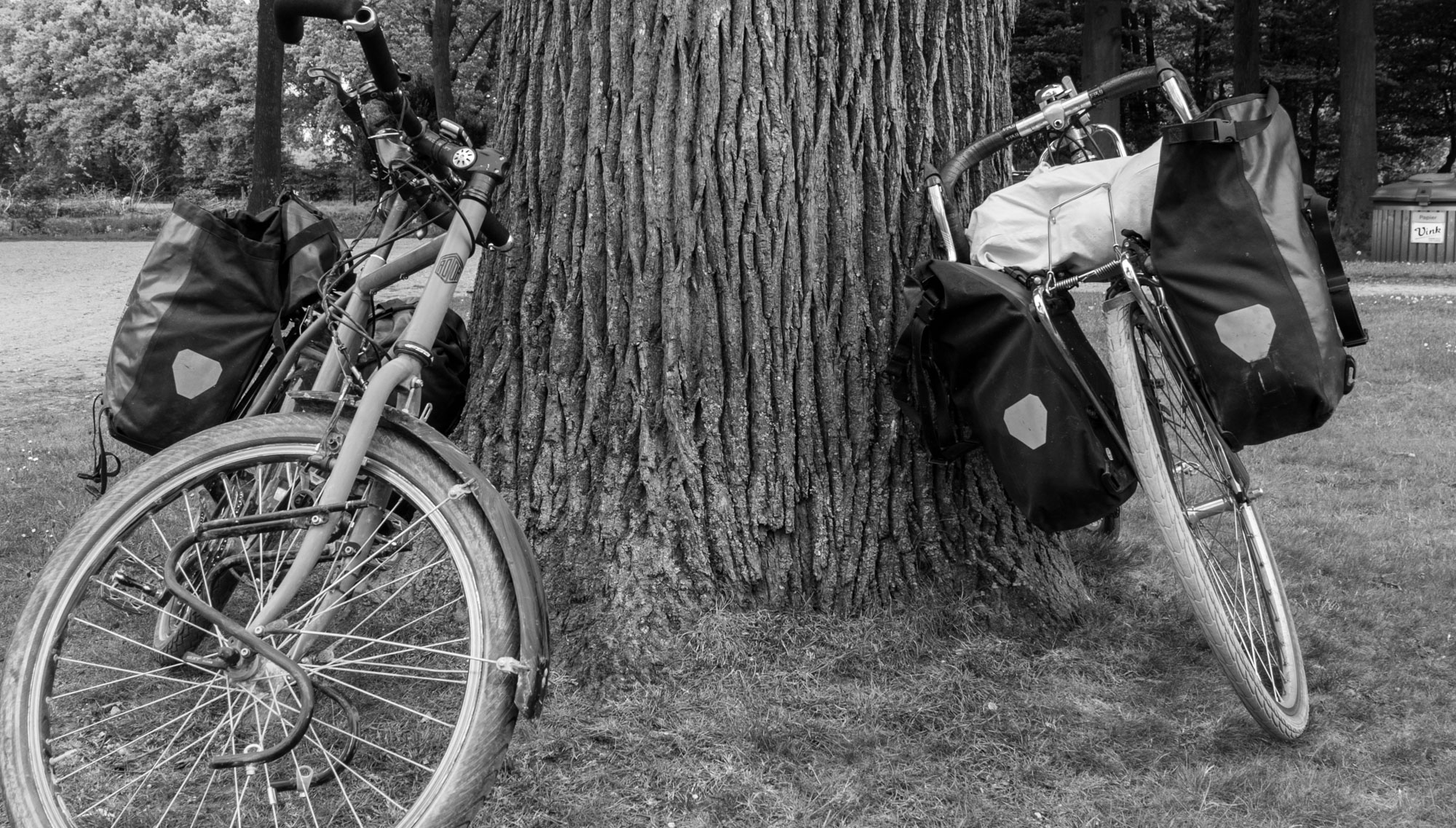 In jeans and t-shirts we set out across the flat country and its amazing bike network, laughing and smiling at the beautiful countryside we passed by.
Our route took us through forests, by fields, alongside chicken coops, over rivers, atop cobbled village streets, too near the smell of pigs, past iconic Dutch windmills, behind old world radio towers, opposite freshly plowed fields and to so many other places.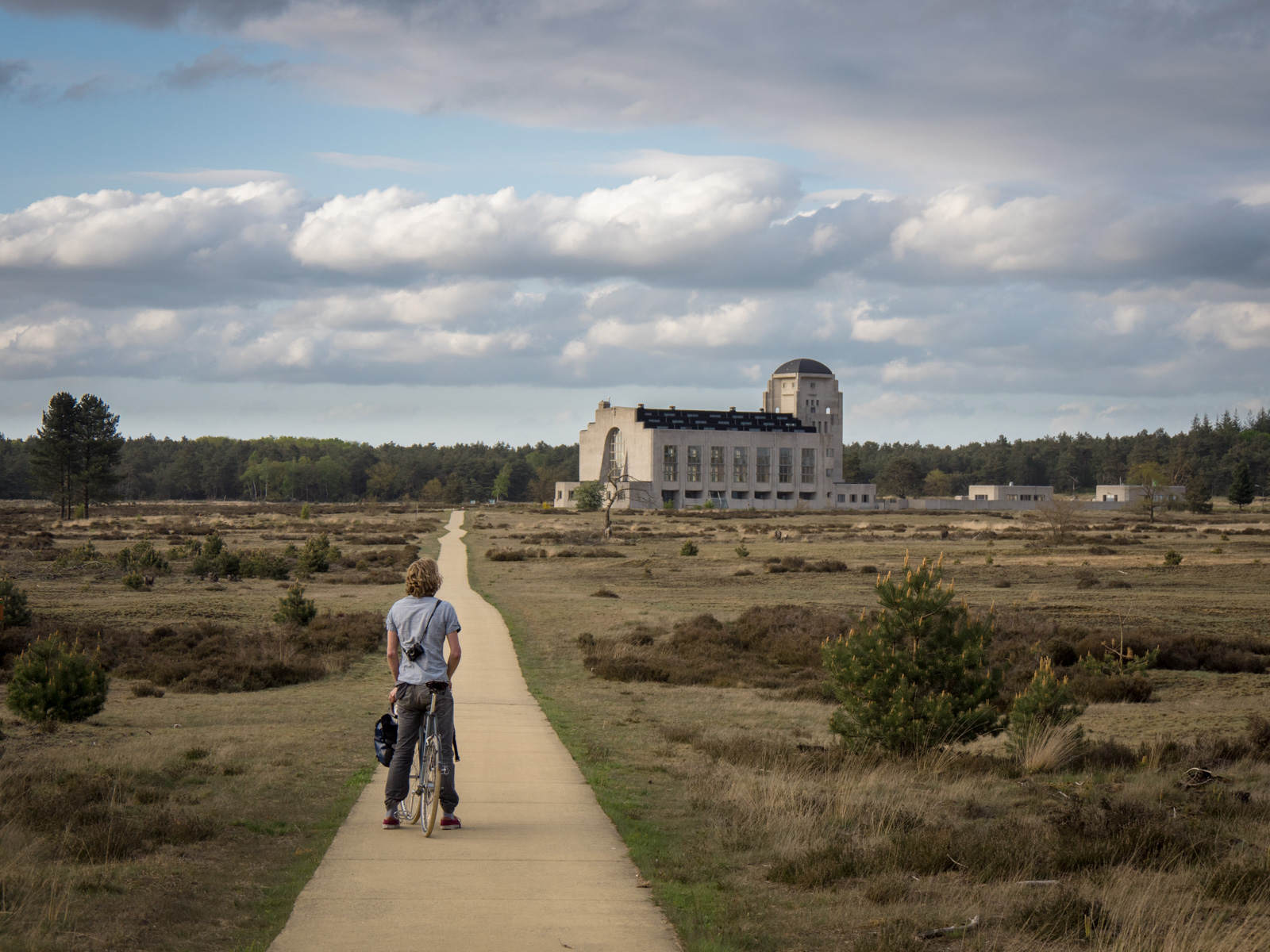 As the afternoon wore on to the evening and then changed to night, my legs started to tell me what I already knew - I'd never biked so much before in my life. My quads were on fire, and my speed started to lag behind the indefatigable Bert. We stopped and had dinner at a restaurant, where overeating and beer gave me the ability to push through our last 30km without the fire.
We navigated through a city in the dark to a park where two of Berts friends were. After enjoying some Balvenie Caribbean matured 14 I promptly fell asleep near a fire. Bert woke me at some point and we biked in pitch black out of town, me chasing his headlight in the dark, until we found a nice forest where we could put up our hammocks. It was a wonderful night's rest and a beautiful way to wake up to my first morning in the Netherlands.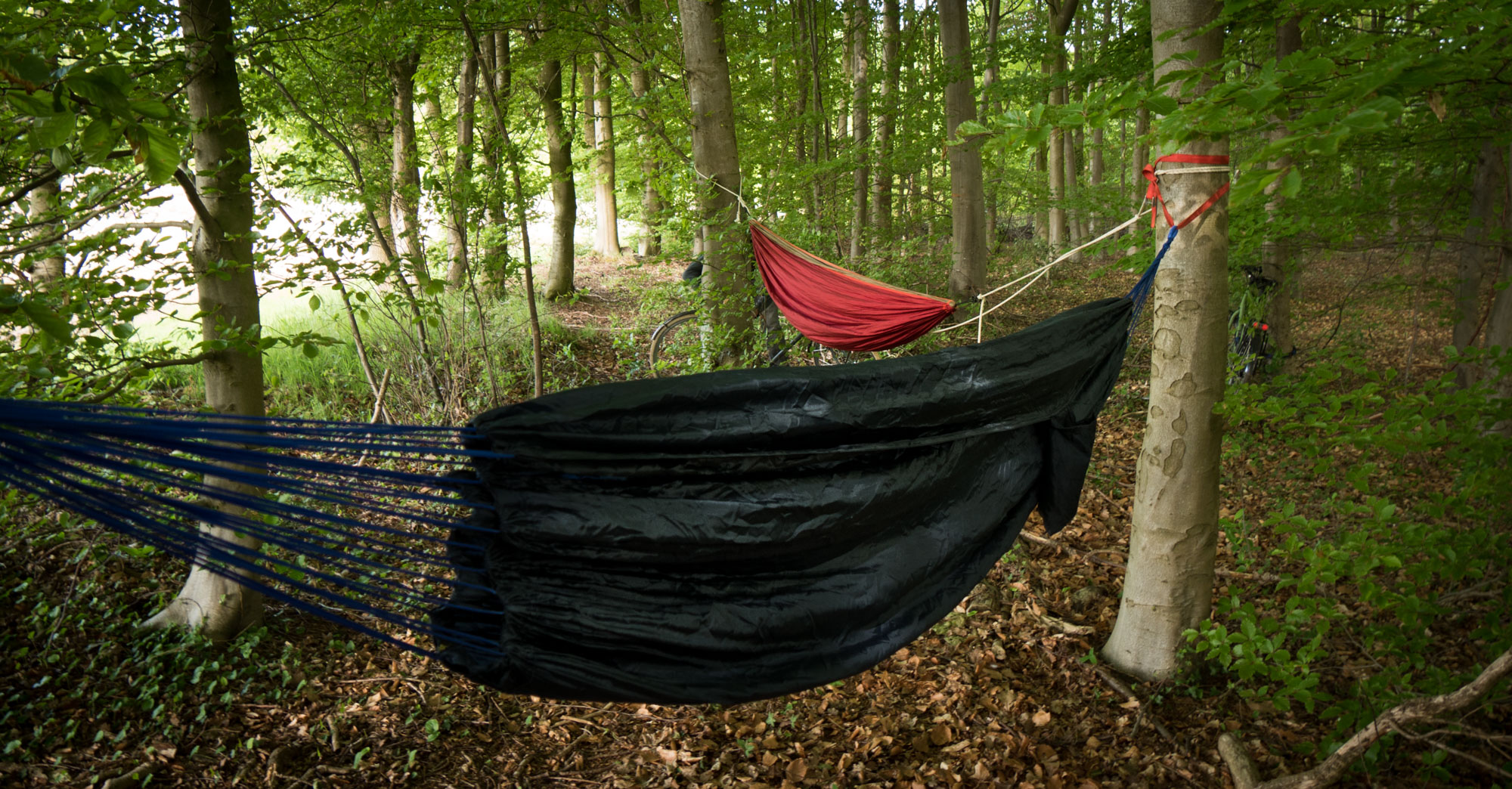 Wait, that was just my first day? Jesus.
Sunday morning we had breakfast with Bert's friends Kim and Juul, who had also biked out to camp that evening. Juul went her way before long, but Kim, Bert and I biked another 60km through the countryside. Having been broken down and rebuilt the previous day, my legs didn't really notice the additional biking.
This time we found actual hills, stopping at one with a sand dune at the top. Later we grabbed ice cream at a farm, rode a ferry across a river, and dozed in the afternoon sun. At the end of it all we loaded our bikes on a train back to Amsterdam.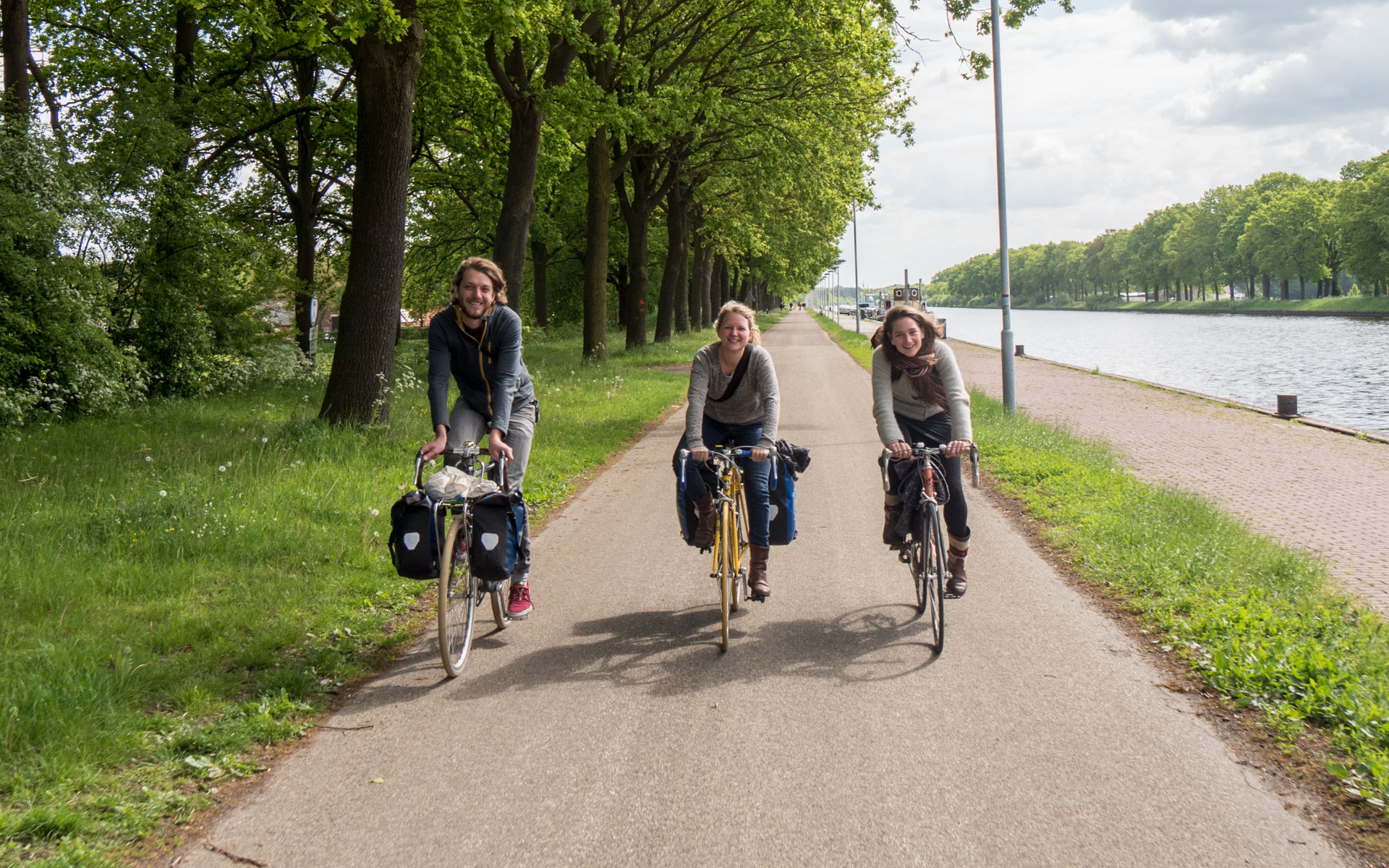 We navigated back to Bert's apartment, clocking in just over 180km for the weekend. That's my kind of tourism.
Bert and I had dinner at the sort of hip bar where all the staff are good looking, then finished the evening sitting on his balcony sipping scotch.
Life really doesn't get much better.
Weekdays
After such a full value weekend, I didn't have any qualms with working on Monday and Tuesday.(Where working is defined as editing photos and writing blog posts while maybe looking at code) Monday night Luuk came over, and the three of us had dinner at an Indian restaurant followed by coffee on the canal.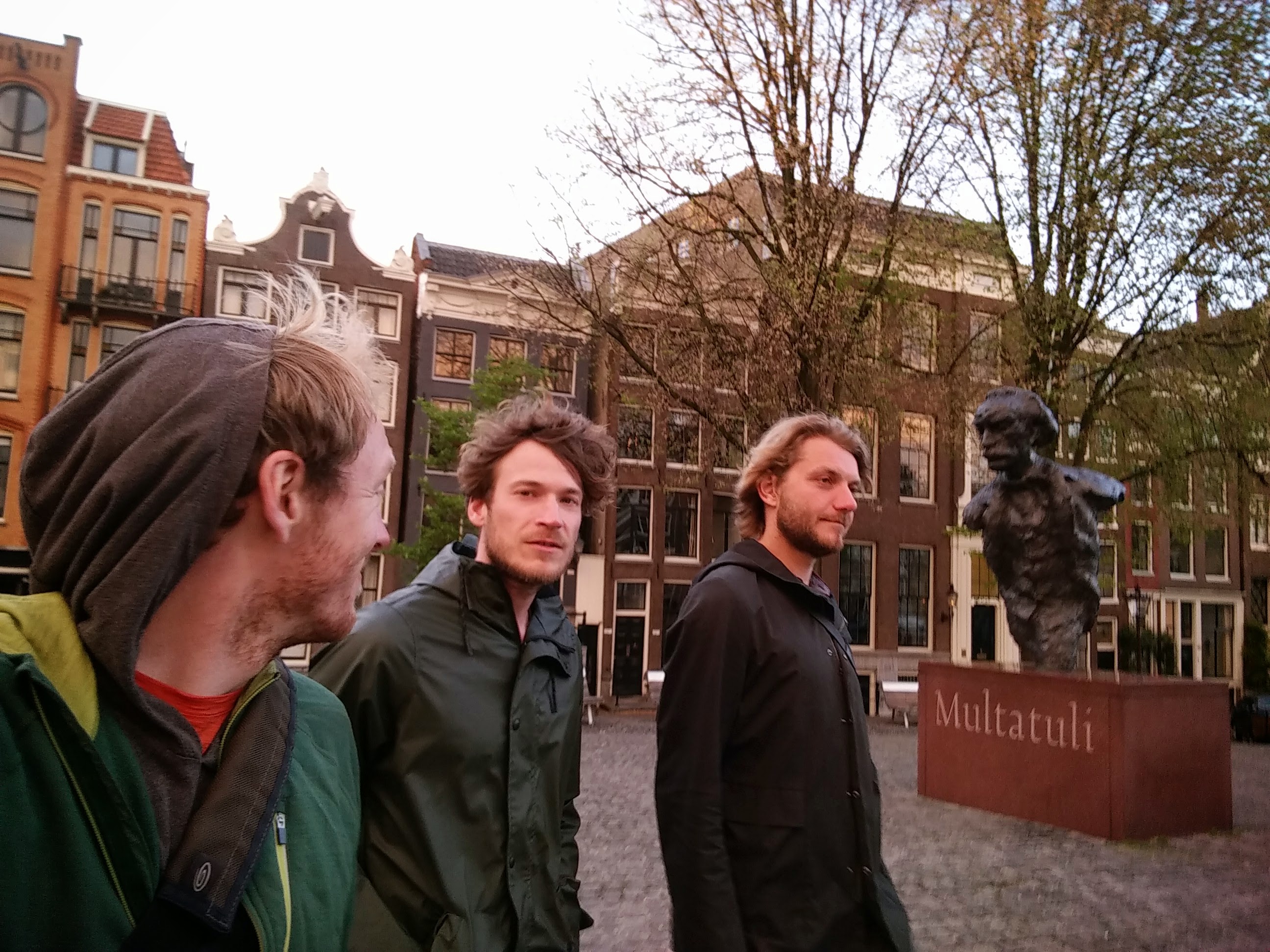 Thanks Bert for such an amazing stay in the Netherlands; I doubt any other traveler's ever had it so good.