May Climbing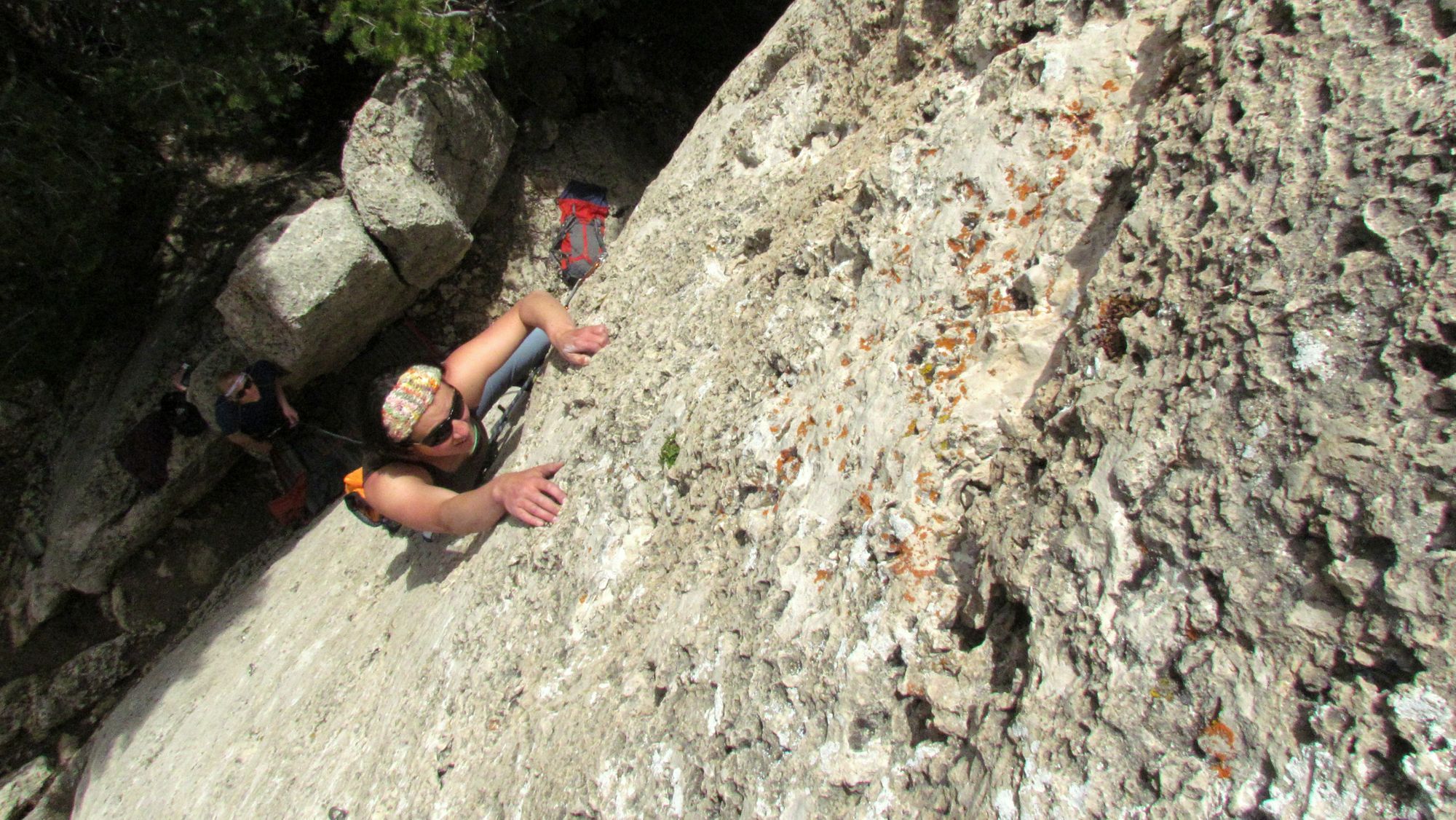 Not such a long wait after all!
Memorial Weekend Climbing
I went home to move out of Lander, visit Leah, and meet up with Luke over Memorial Weekend. Leah had
Bearded Ben
over for the weekend. The three of us went up to Wild Iris for the first time this year.
Saturday
It was a great day. Leah got in her first-ever leads, and I got to be outdoors and pretend I was a climber by being a belay slave.
Once I was out there, I started to get the itch, but neither Leah nor Ben wanted to be responsible for putting the cripple on belay.
They climbed around La Vaca Peligrosa (5.8), knocking off "R" Is For Rednecks (5.7) and Slave (5.8) next door.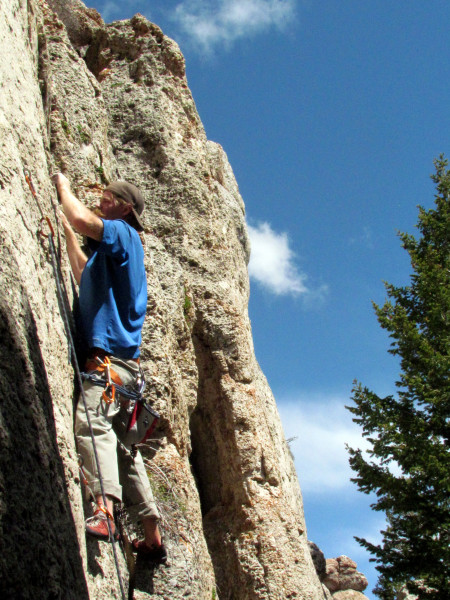 We went east towards Claim Jumper Wall and did Greenhorns In Velvet (5.7/5.9). The story behind its rating is, it's 5.7 in the book, but when I saw Steve Bechtel the next day he told me to tell my friends he was "Sorry" and "stupid", as it's really a 5.9. The start is cruxy enough that I'm not going to argue with him. It's fun to think of all my beginner friends I've tricked into leading a 5.9 then.
The day ended with my favorite 5.8, Phat Phinger Phrenzy, a hilarious climb that lets you climb it without ever touching the rock face thanks to some great stemming action on the rocks around it.
Sunday
Sunday we swapped out Ben for a Lukas, and the thing about the Lukas is, he had just broken his foot a few months ago and hadn't climbed since. That is to say, he knew what it was like to be injured and not climb.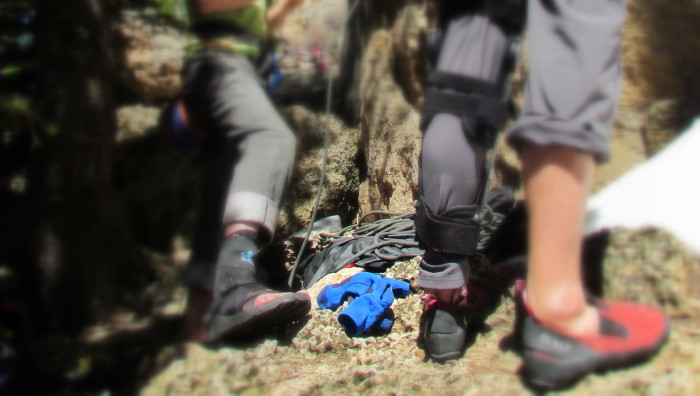 Luke didn't have a problem belaying me.
We started our day on Ticks for Chicks (5.8), which was my first climb in months, and ditto Luke. Actually, this was pretty well spot on one year since Luke and I first came to Wild Iris together.
Our tick list was something like this: Ticks For Chicks (5.8), Wind River Muzzle Loaders (5.9), and another trip up La Vaca.
Climbing without bending your left leg is a hell of a thing. I can put all the weight I want on it, but my choice of footholds was pretty limited. I had to climb some very strange features on La Vaca, even mantling at one point, which is strange for a route renowned for its sublime pockets.
Sunday was Leah's third day in a row of climbing, and she was starting to feel it. When we went for our next climb, she was nice enough to belay me but decided not to climb it herself. It was the beloved Red Ryder (10a).
Luke caught this shot of me fighting with my leg to get up it.
Anyways, after that nonsense, Luke and I went and finished the day off by doing Annie Get Your Drill (5.9), another area classic that was really challenging with a bum left leg - it's a right-facing dihedral to start with.
---
So, here I am in Jackson, where there's apparently a great climbing gym. I just met a guy (literally, while writing this post) who wants to go out and top rope it with me. Maybe I'll be hopping on 12s this summer after all, leg be damned!
...Dream on...
Thanks Luke, Leah, and Ben for a great weekend, and for the belays and rope-gunning.