Sendtember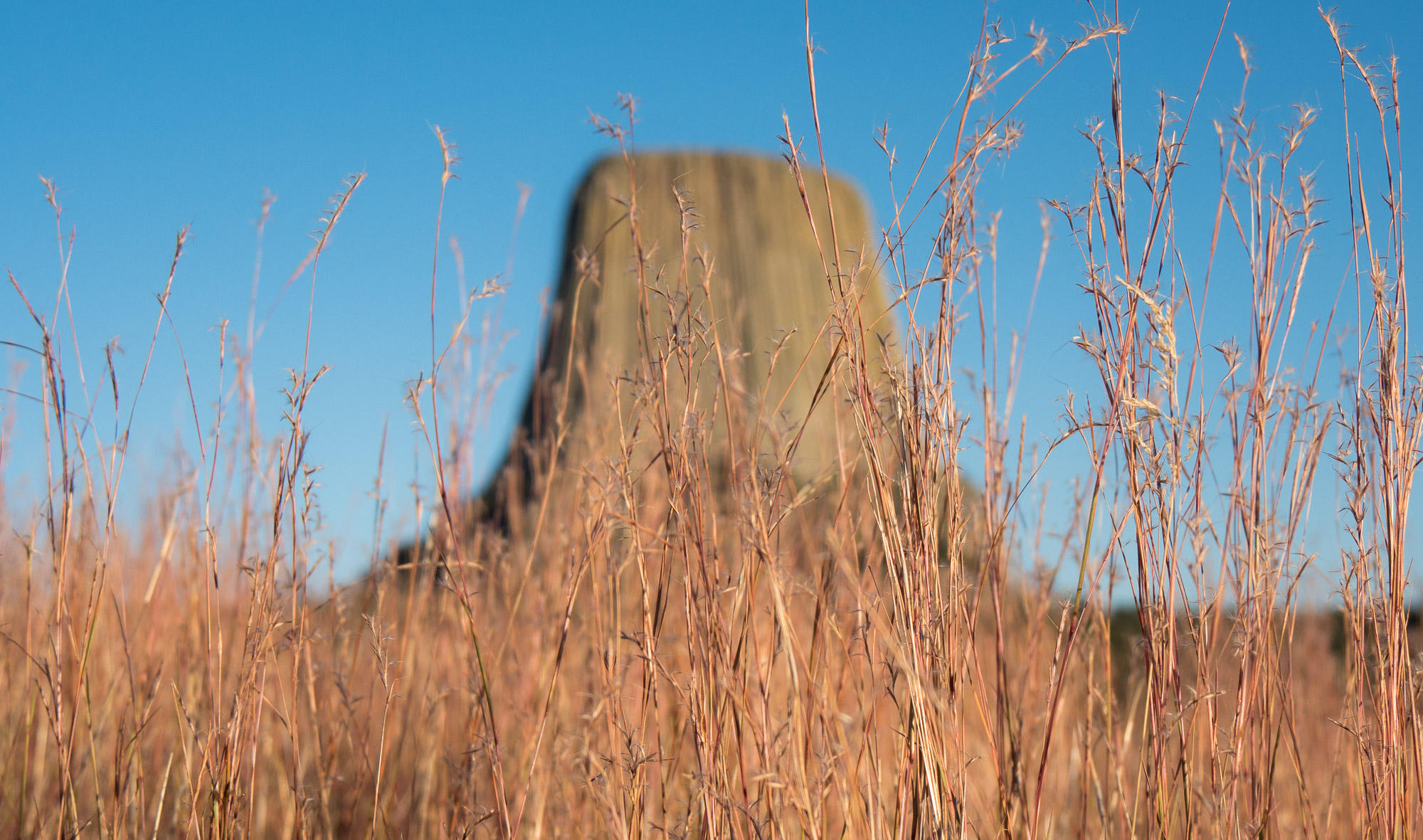 Not to be confused with September, this is the story of Sendtember: a ten day trip Trudeau and I took at the end of the ninth month of the year.
We played in northeastern Wyoming, with two days at the famous Devil's Tower, a jaunt over the Dokatan border for two in the not-so-famous Spearfish Canyon, one last day at the Tower before we realized our bodies just couldn't take it anymore and so a final two days in Ten Sleep.
The Tower
My third day at the tower, all I wanted to do was let go.
My feet hurt, my right hand kept trying to slip out of the crack because of all the blood running down my fingers, my feet hurt, I'd lost sensation in my left pinky, and man my feet hurt.
Come on, Enlow! Stay with it!
Awh hell. If Trudeau's cheering me on from the anchor, I must really look like I'm struggling.
That bastard, how does he do it? Chris put this thing up, pausing every meter-and-a-half to place a new piece and pull the rope up enough to clip - for forty meters, hanging only by knuckles and stubbornness, two hundred feet above the ground.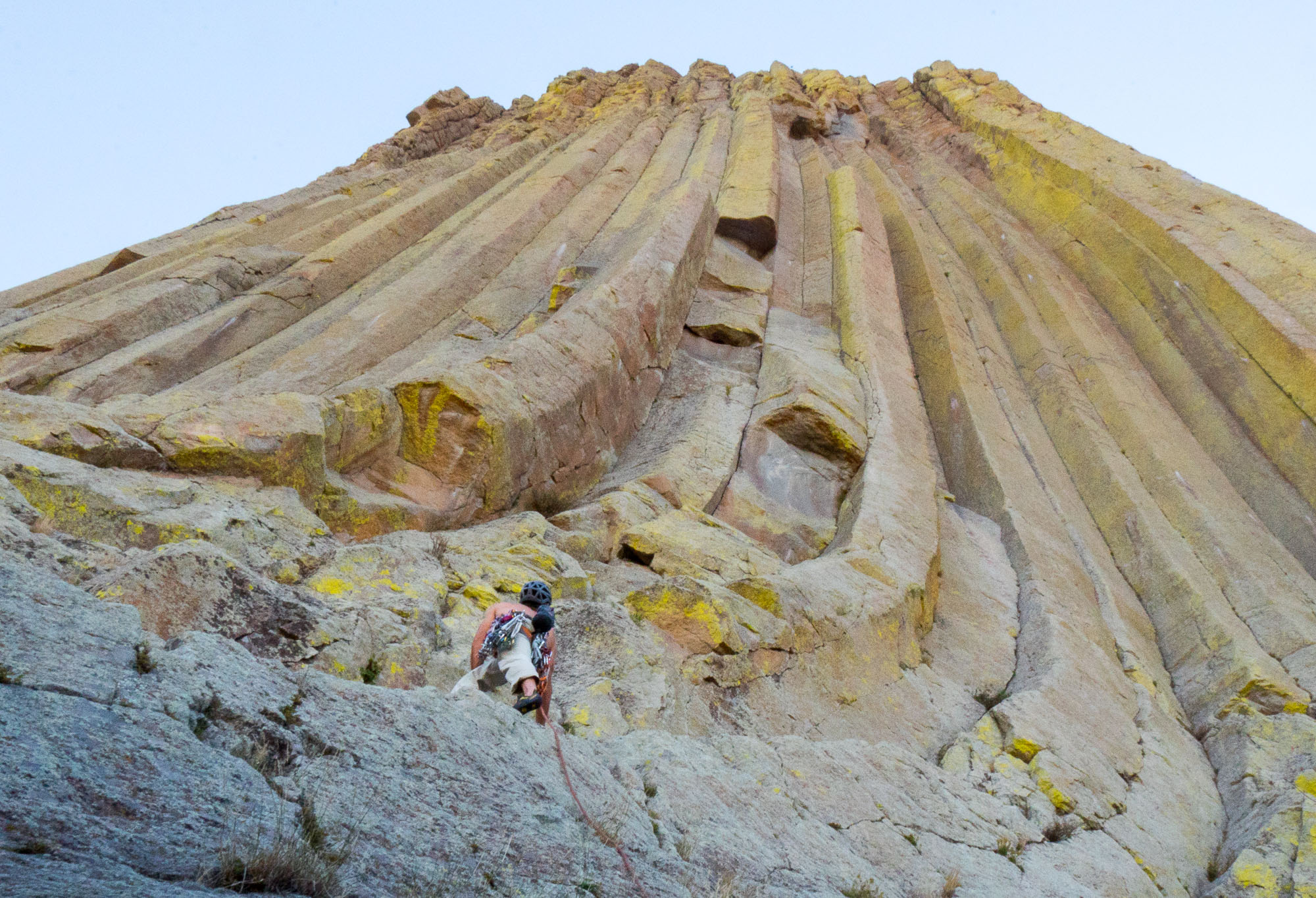 Also, he's twenty years older than I am. Gah. The nerve.
So, as much as I just want to sit on the rope and cry, I keep climbing. It would be rude to quit after the effort Chris put into this, even if it means I need to see a podiatrist as soon as we rap back down.
At the end of the climb, I had six or seven pieces of gear hanging from the rope. Pieces that I just didn't have the energy to move four inches to a gear loop. I slapped the chains, and immediately fell limp against the rock, hanging from my belay, panting.
The tower is rough. It's also amazing.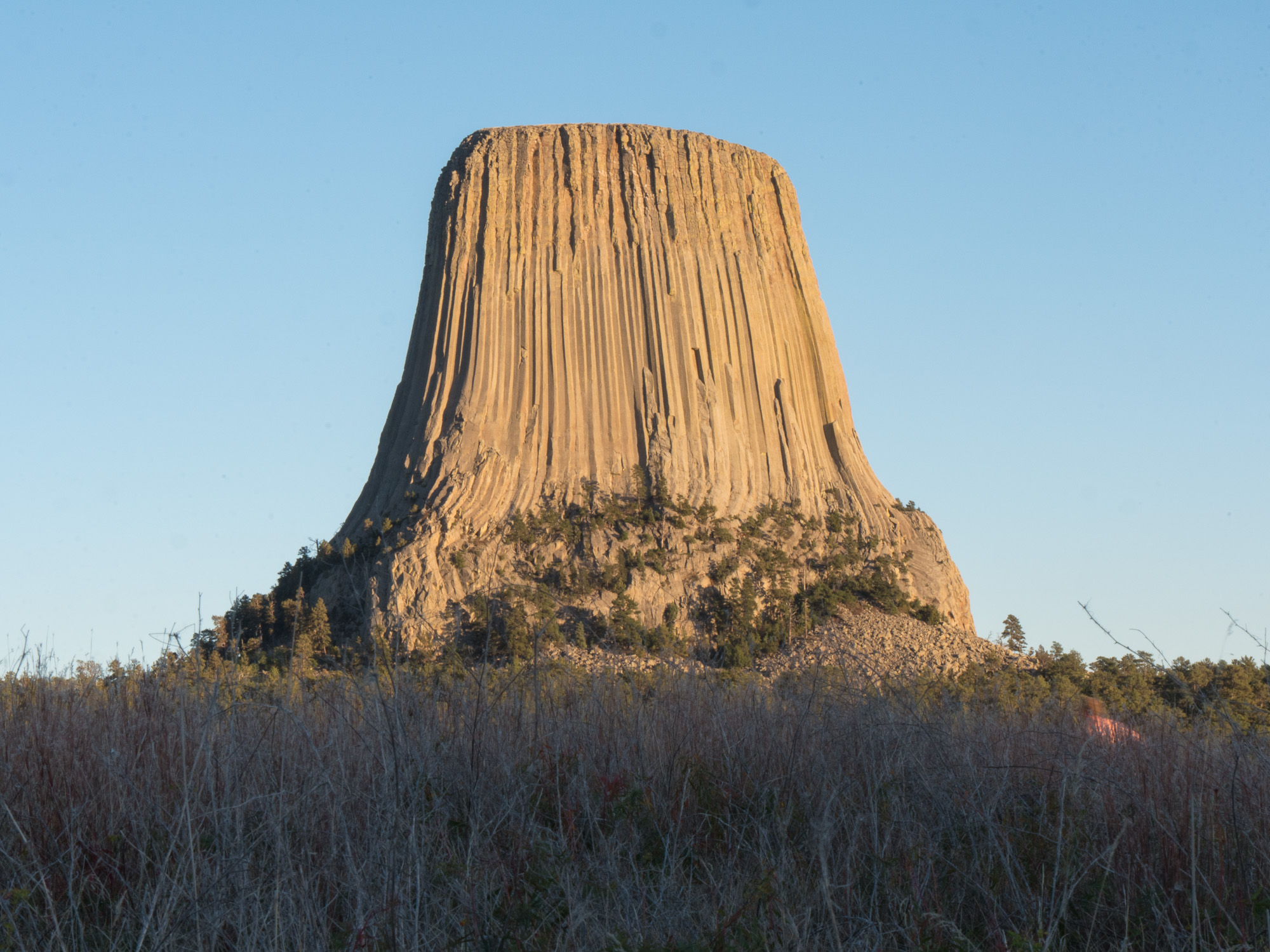 Running naked in the fields below Devil's Tower
I had no idea Devil's Tower had so many mind-blowingly aesthetic lines hidden between its large basalt columns. I thought it an obstacle you climbed to the top of, took your panoramic summit shot of, and then went your way from. Instead, Chris and I climbed at least ten routes up the tower and summited exactly zero times.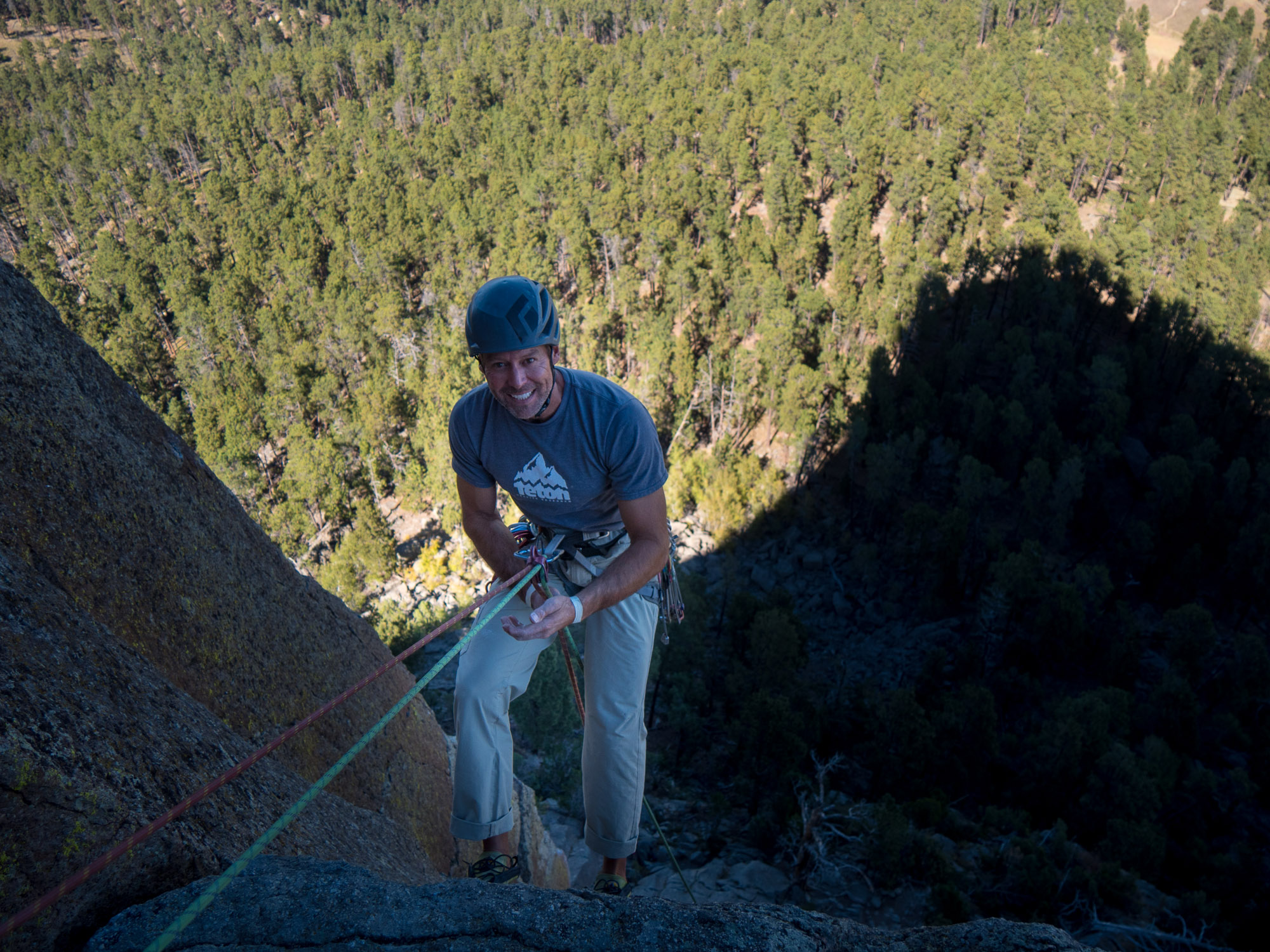 Those three days made me an infinitely better trad climber. (Just ask Ken Hilton after our three days in Indian Creek together this week.) I fell on gear (a lot), even hitting a ledge after a 30 foot fall 150 feet up a route (my ankles are fine, thanks), and with Chris on the sharp end got to climb fantastic finger cracks I never would have dreamed of attempting by myself. I learned that finger cracks are really freaking fun.
I really want to go on and on about the tower. I want to explain to you why my feet hurt so much on that last day, what it's like to lead a 75m pitch on a 70m rope, what climbs are locked into my memory... Augh. Ultimately, though, I want you to see my enthusiasm in person. So ask me about it sometime.
Actually, let me do that last one.
McCarthy North Face (11a)
Mr. Clean (harder 11a)
One Way Sunset (10c)
McCarthy West Face Variation (10b)
Oh, and stay at Frank's place.
Spearfish
Spearfish Canyon was recently featured in a (I think it was?) Climbing article. Although we'd heard mixed reviews of the place (and strong rumors of sandbaggery), Devil's Tower was probably the closest we'd ever come to South Dakota so Chris and I embarked on a two-day trip to check out the limestone in the tourist-clogged canyon.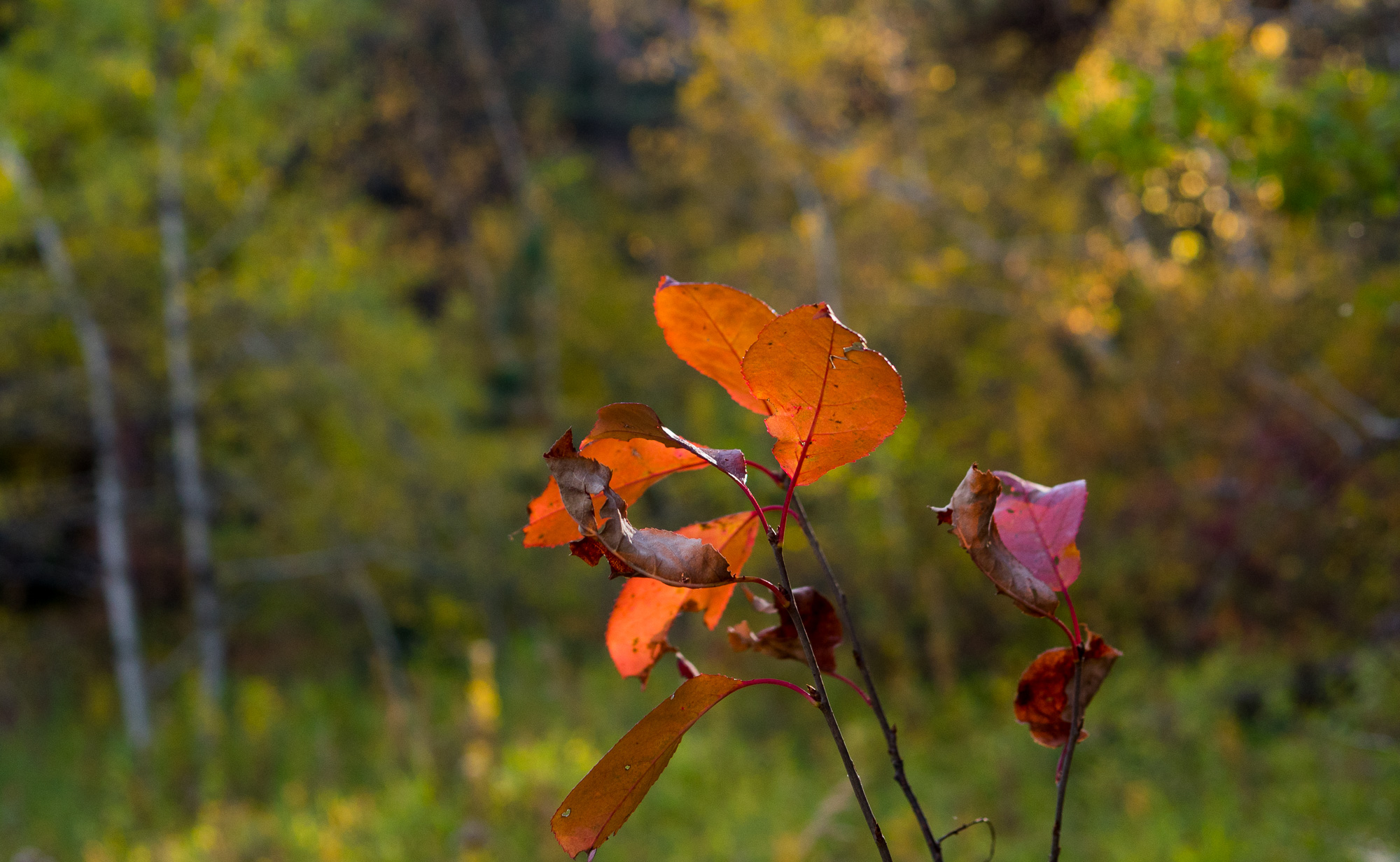 Some of the climbing was good, a lot of it wasn't. There were definitely a few fairly unique climbs, too. My ego suffered - my 11d climbing self is an 11a climber in Spearfish - but we were (mostly) prepared for that.
Ultimately, Spearfish would make a great backyard, but if I'm going to drive multiple hours for limestone you're going to find me in Ten Sleep, Sinks, or the Wild I.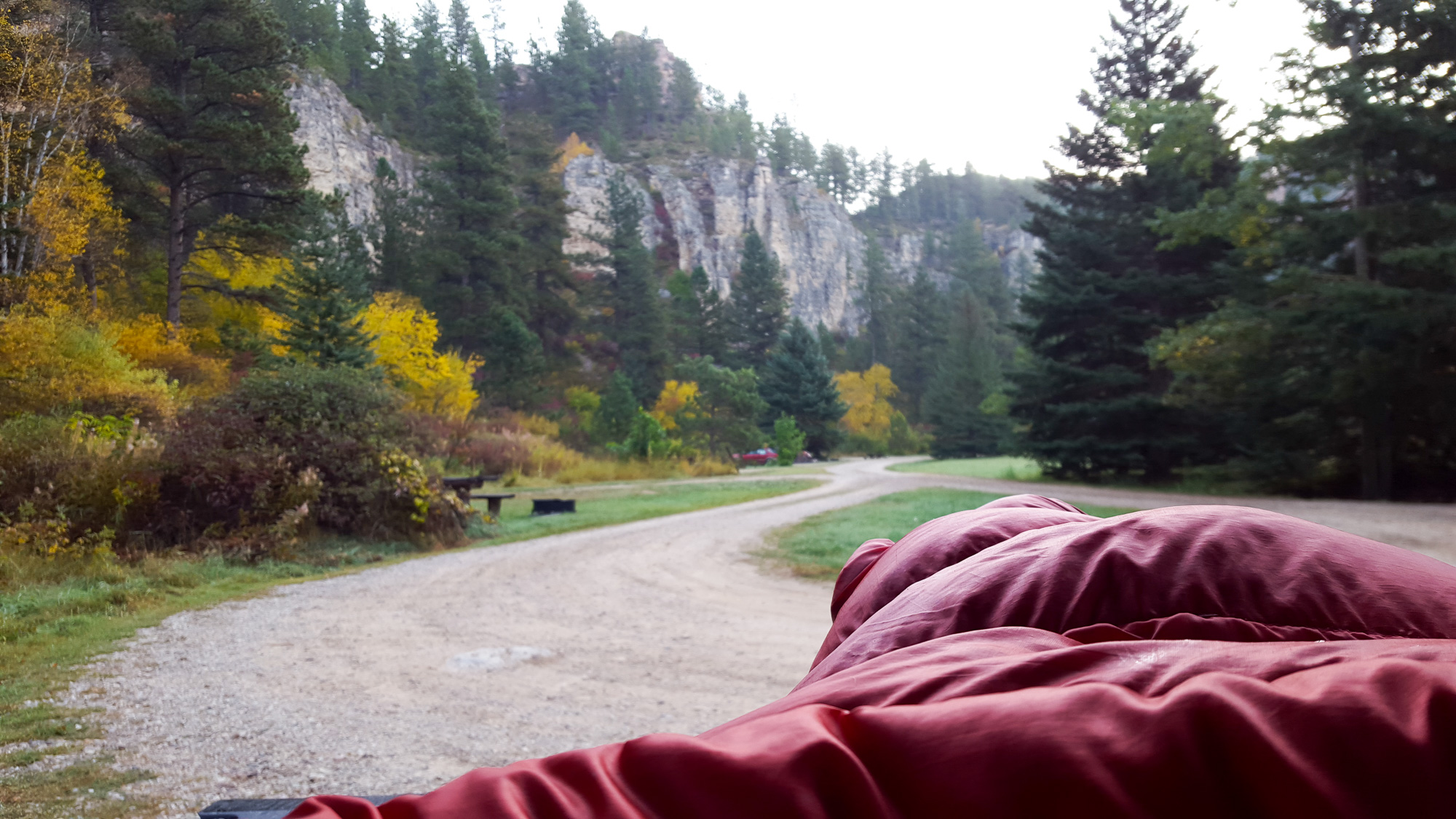 Waking up in Spearfish one day, I realized I'd spent over 100 nights in my sleeping bag so far this year.
Ten Sleep
After breaking ourselves down at the tower, Chris and I decided to have an easier go of it and just play in Ten Sleep again. We rolled in late at night, fighting our way through the crowds on the old road.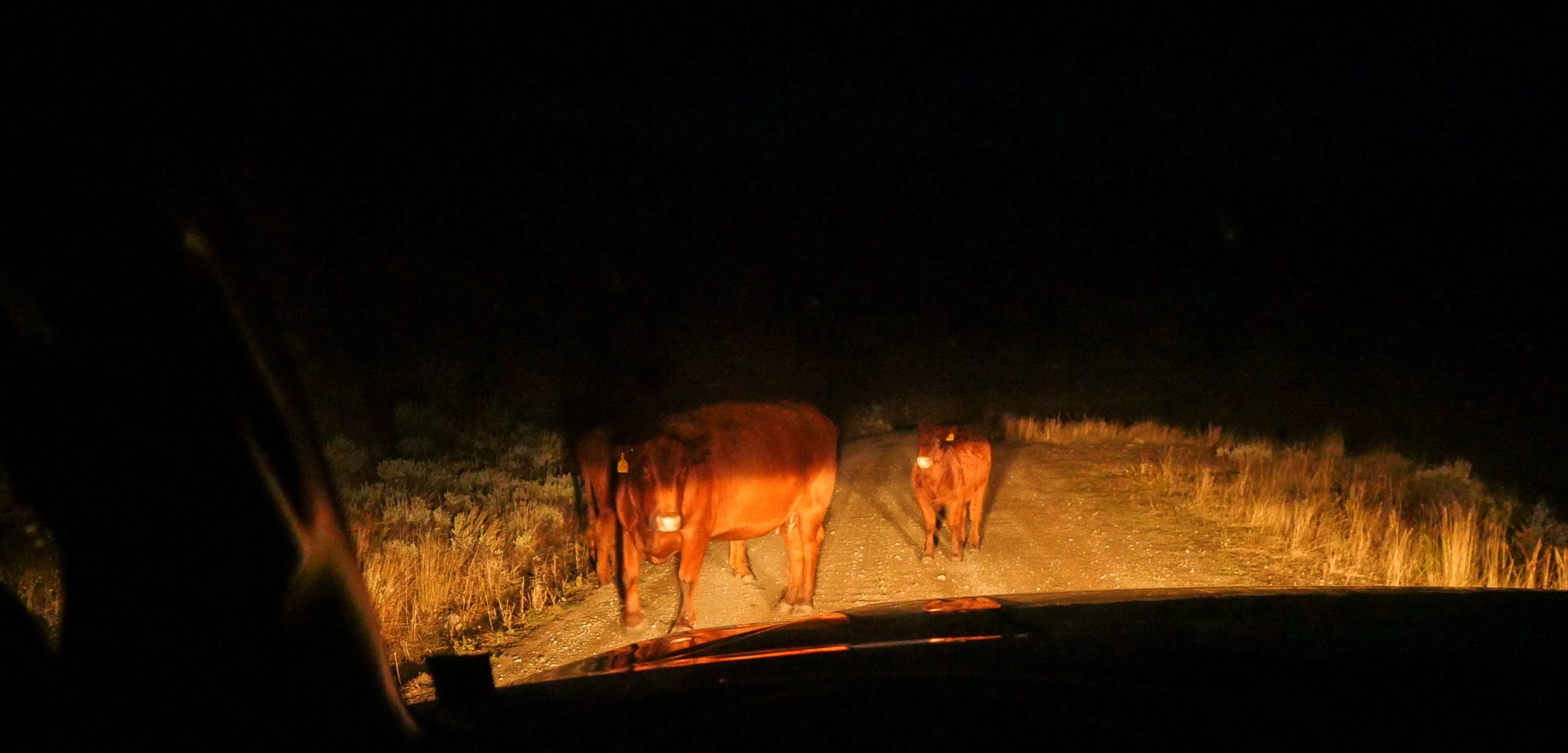 The cool nights made for great sleep in the back of the truck (even with the interruption provided by an intrepid field mouse), but the noisy neighbors had us up early both mornings.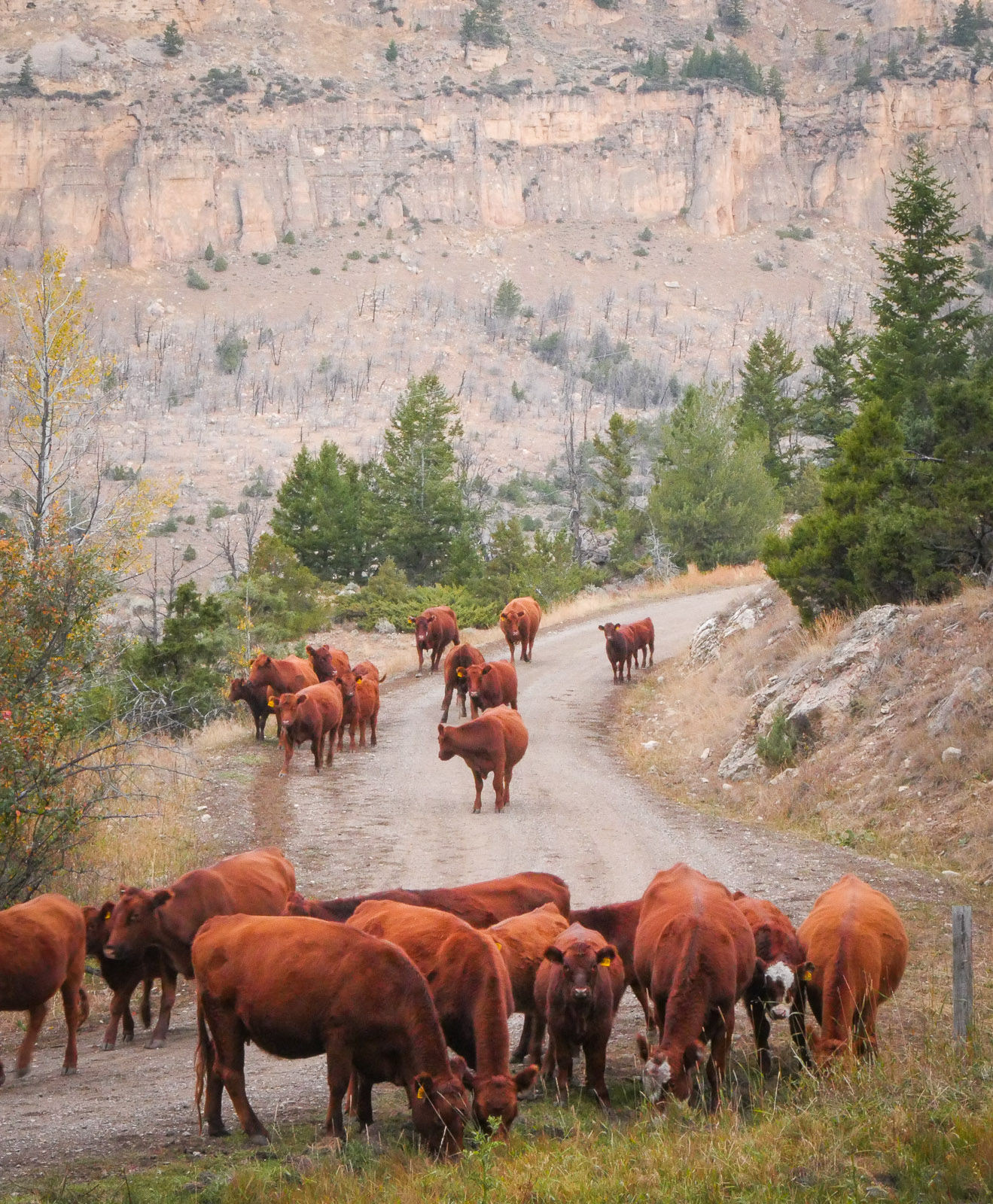 We climbed in the lower canyon for the first time, taking advantage of our late season. All the practice in Spearfish helped me nail a deadpoint on a fun 11b, from which I later took a premature victory whip. Classic Matt.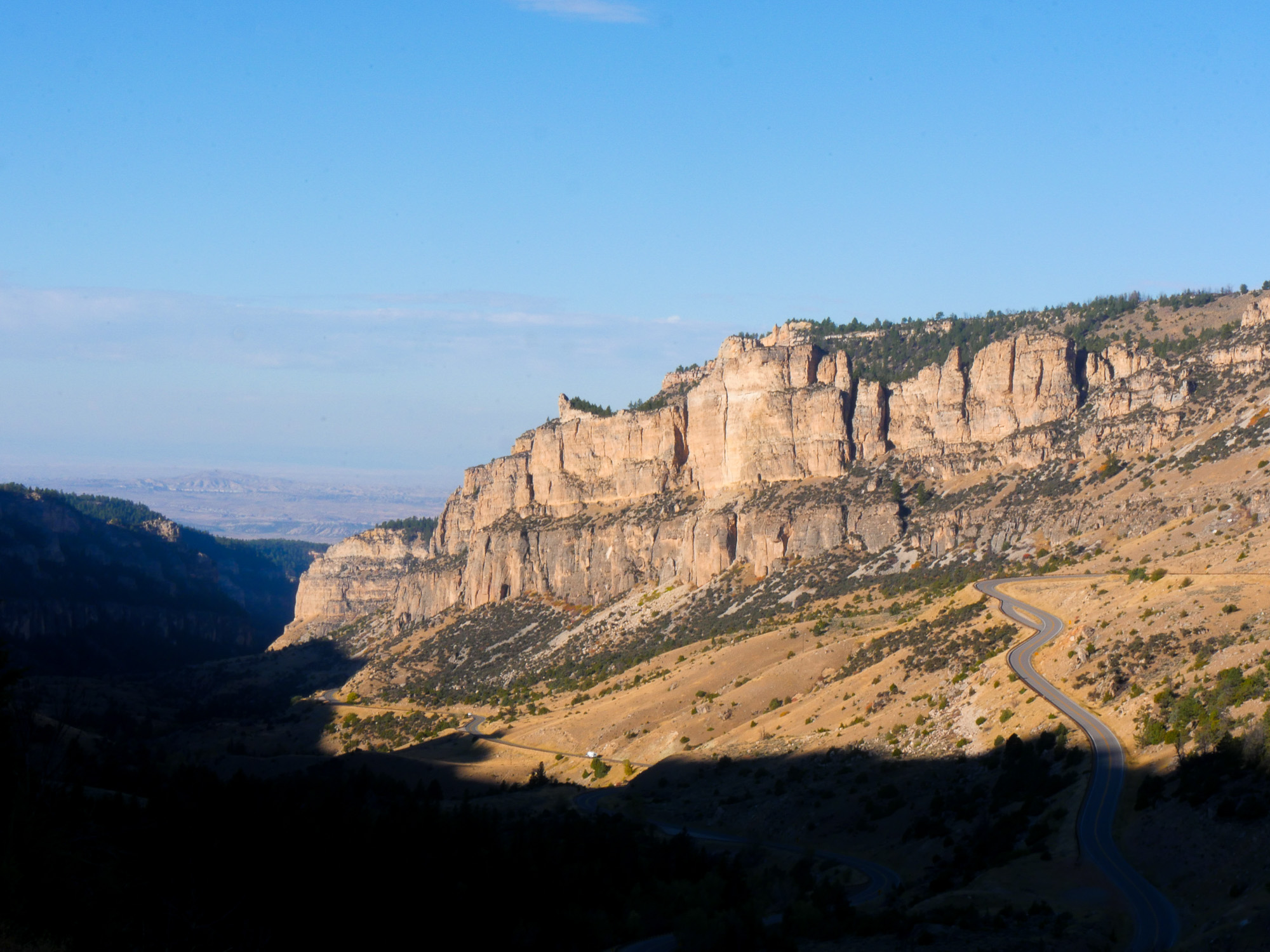 We finished our climbing with a quick and easy morning on fun, short, juggy and overhanging-as-hell climbs on the Godfather Boulder. We cracked PBRs just before noon and parted ways, closing out our Sendtember trip.
---
I drove to Big Horn and stayed with my Aunt and Uncle there, taking a much needed rest and enjoying sunrises like this, building the stoke for our next trip in... Rocktober.