Ten Sleep Canyon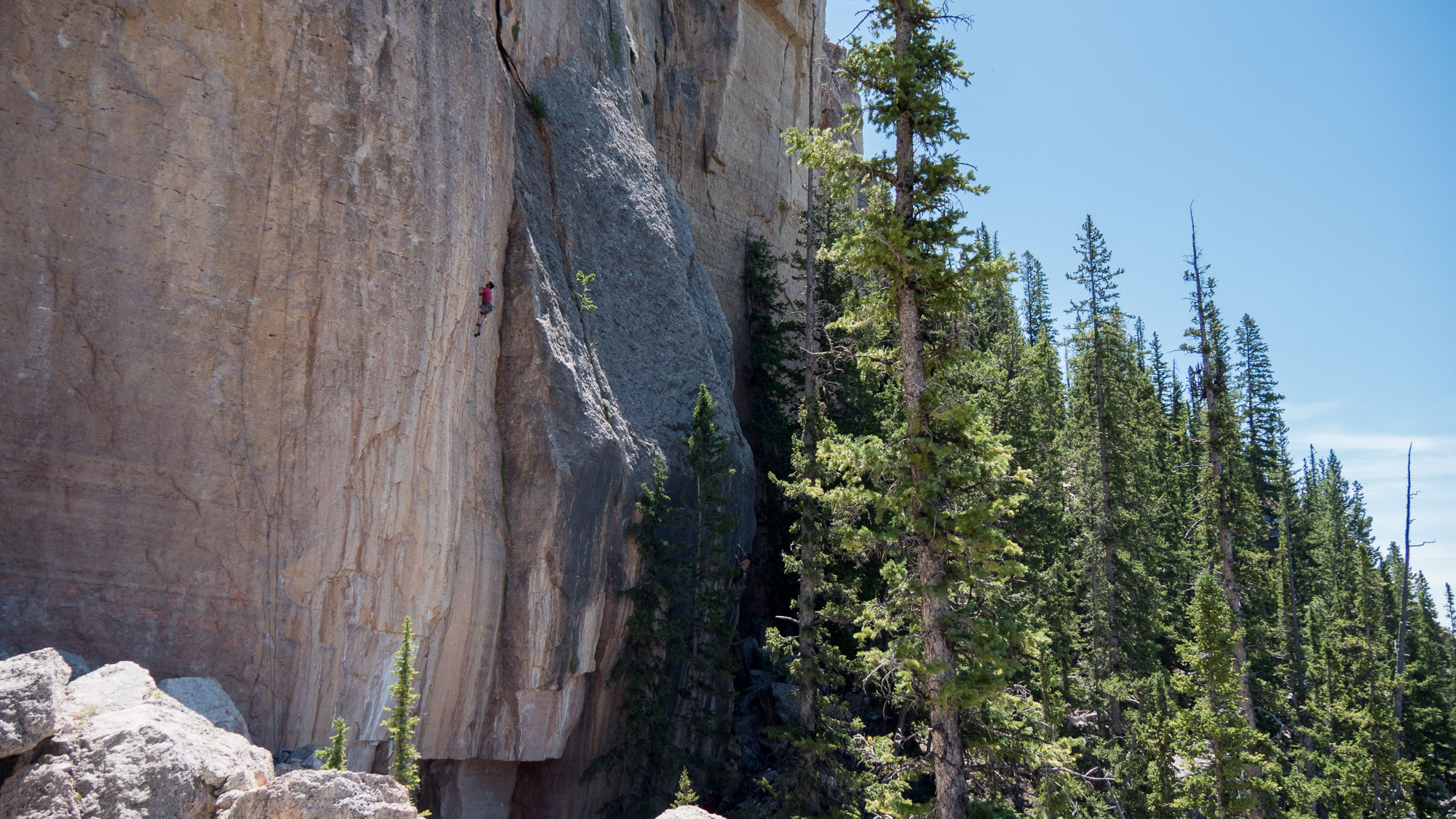 Ten Sleep, Ten Sleep, Ten Sleep... It's a place I've had on my mind for a long time, but with how wonderful Wild Iris is, how could I ever need any other limestone in this state?
All the way back in July, on a last-minute whirlwind tour through eastern Wyoming, the two Disas and I broke up our drive to Devil's Tower by stopping in Ten Sleep and seeing what all the hullabaloo was about.
In the end, we never made it to the tower.
Two Girls And Three Guys Times Two Nights... Ten Sleeps?
We pulled onto the old canyon road off of which climbers, vagrants, vagabonds, and vampires (seriously) make camp late one afternoon. We drove by spot after spot, each taken by climbers psyched to lay early dibs for the Fourth of July Ten Sleep Climber's Fest. At one site, I waved at a friendly face with long blonde hair. I dunno, the guy just seemed nice from a distance.
Eventually, finding no sites for ourselves, we drove back up the canyon and into that nice man's site. "Could we," I asked, "camp here with you guys?"
And that's how we met Blair and Darren.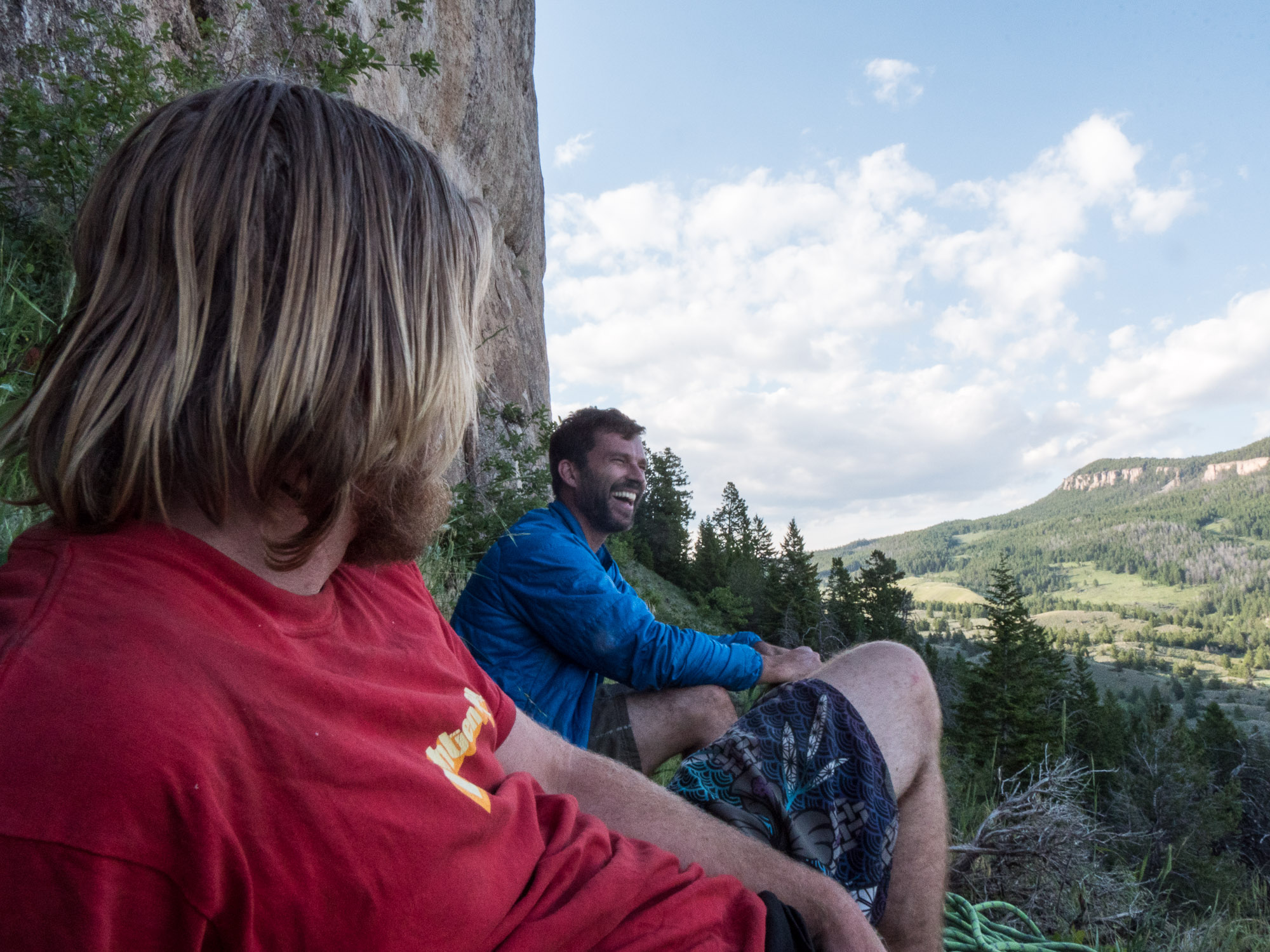 They were even friendlier than they looked from across the road. Blair acted as guide for the three of us, taking us to the French Cattle Ranch on our first evening (after an abortive attempt to climb near a circus of climbers elsewhere).
Between breaks in the afternoon thunderstorm we climbed the most concentrated collection of great 11s in Wyoming.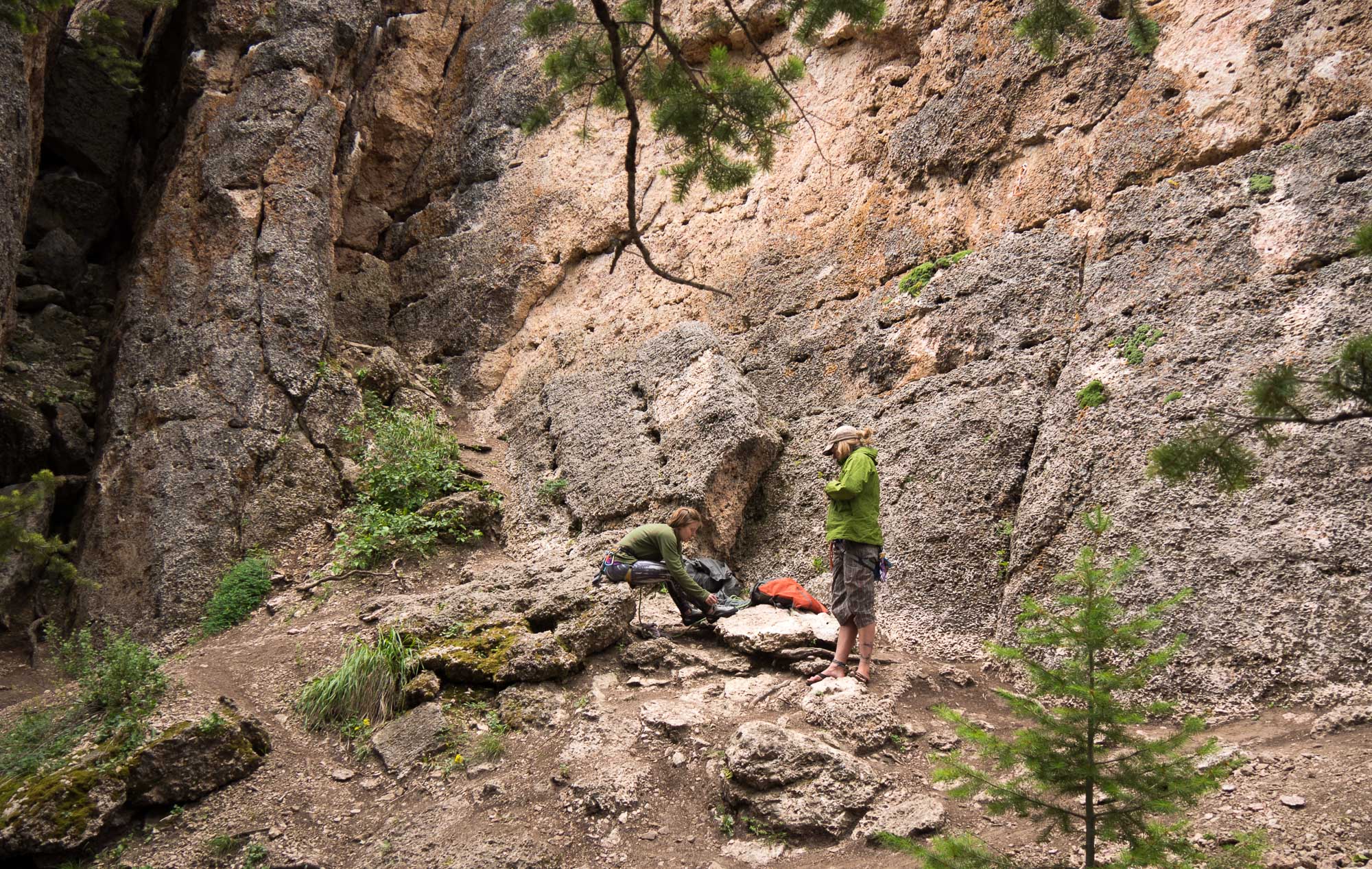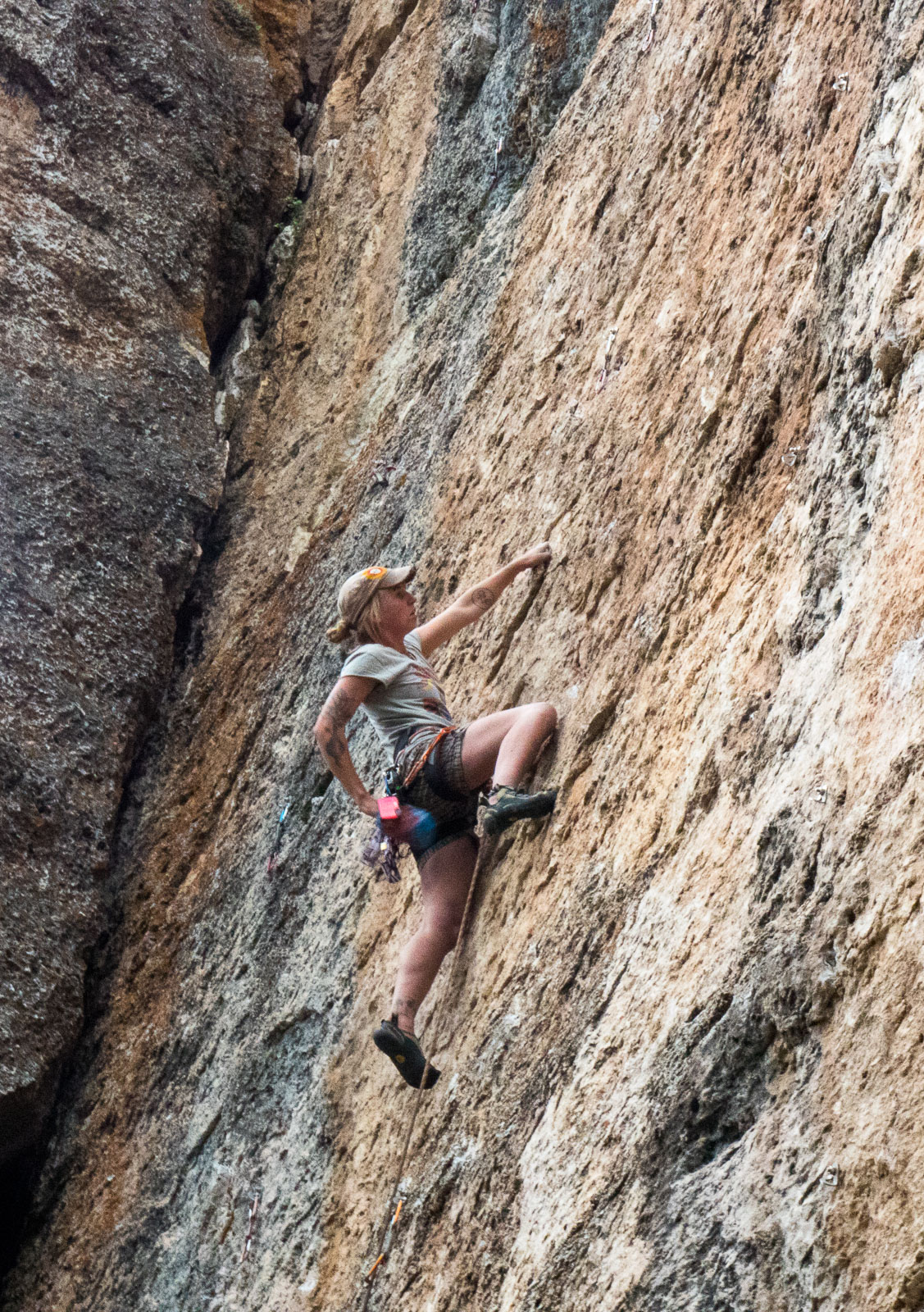 Big D on "Hell Yes I Want Cheesy Poofs" (11c)
That night, I drove out of the canyon to find reception enough to call my aunt in Big Horn and let her know we would not be staying with her the next evening - we would be climbing Ten Sleep instead. (I've since made up for that reneguing; this post is being written from Auntie Karen's kitchen.)
On day two, my camera and I hung out at the top of the unique Beer Bong, where you climb the finishing sequence facing away from the rock and out towards the magnificent canyon. If you're cool, anyways.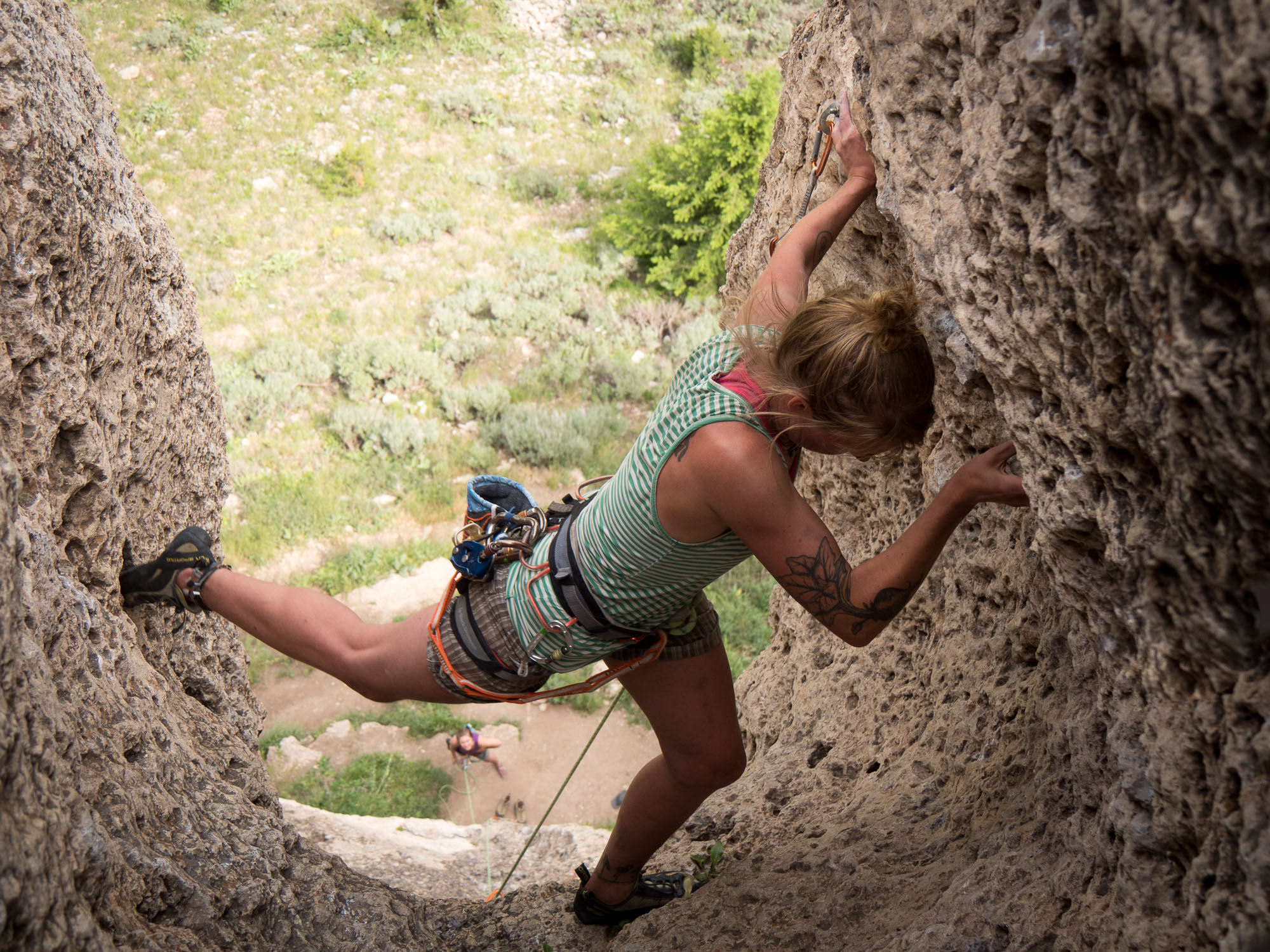 Big D twisting around on Beer Bong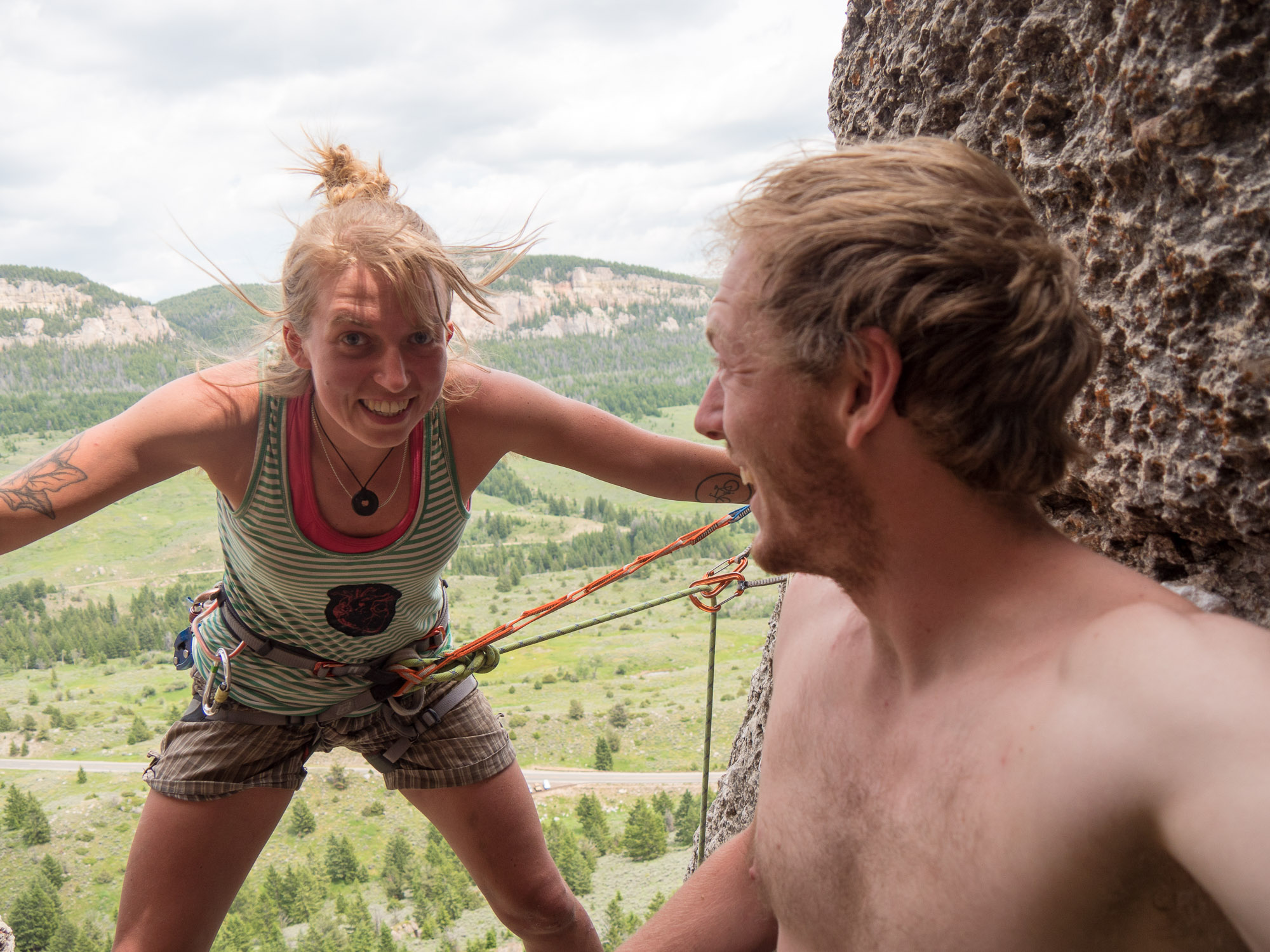 I then walked down a ways to see what the boys were up to at Frat Boys wall...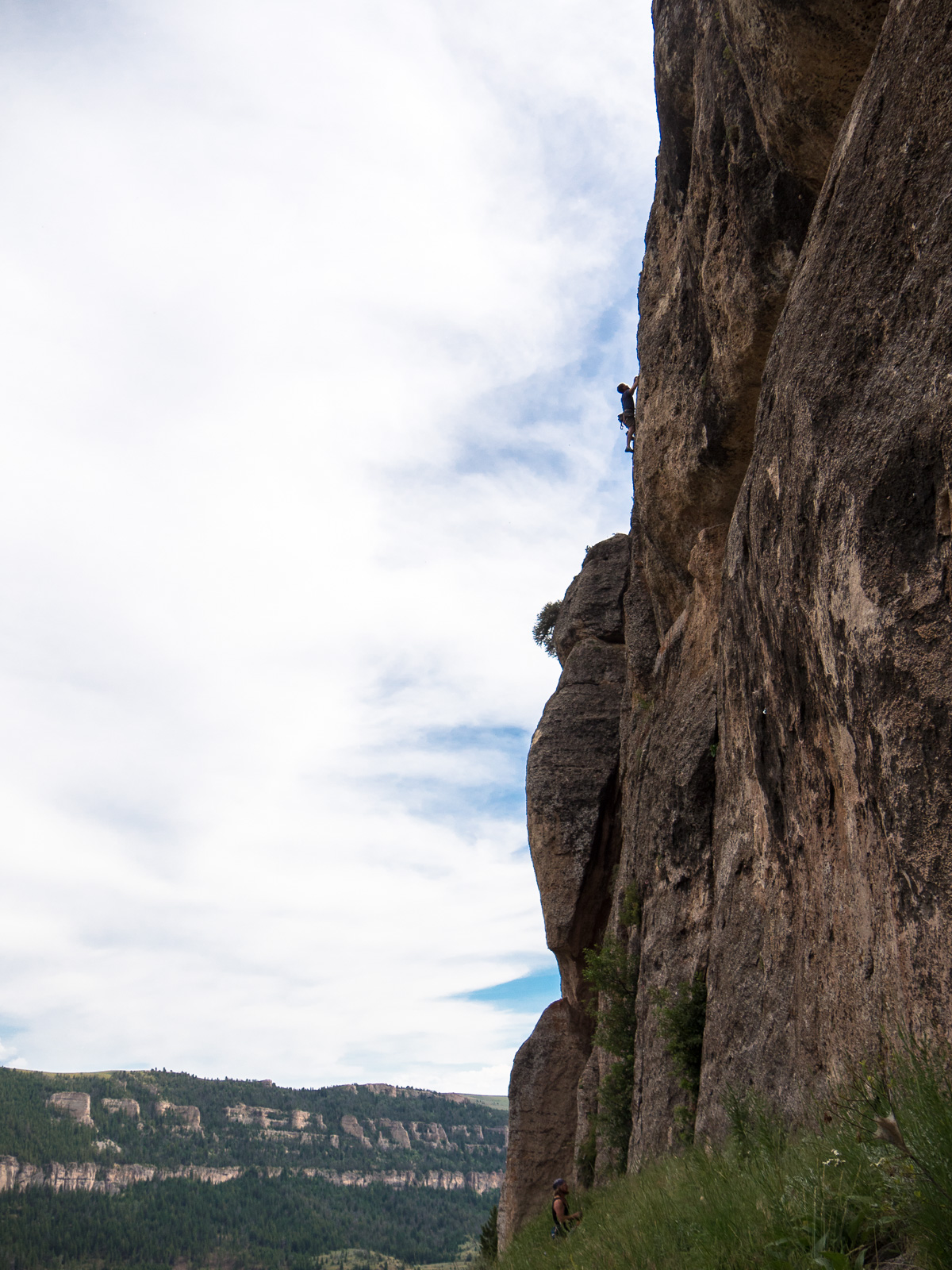 Darren up high on Frat Boys with Razor Blades (10c)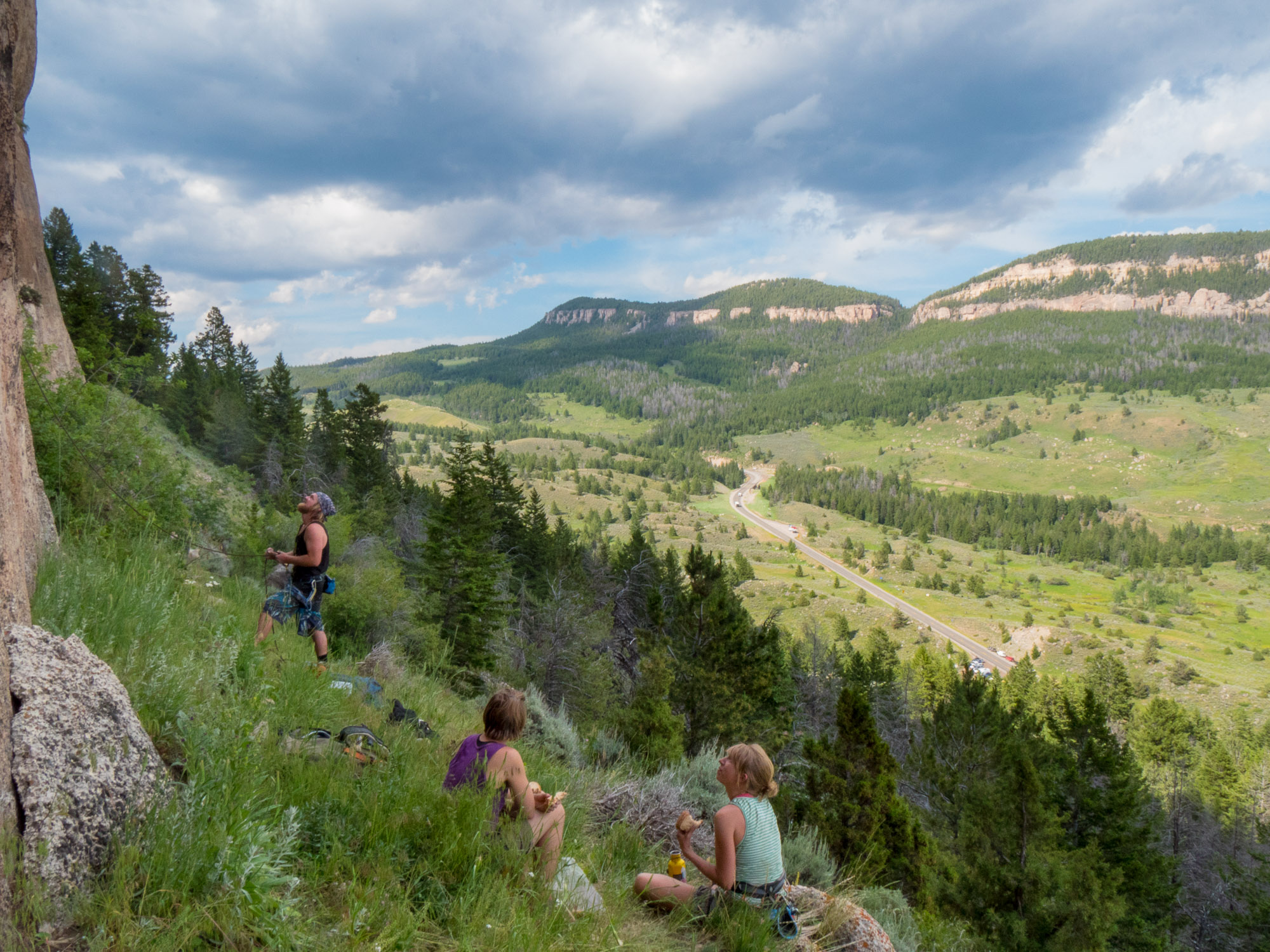 Kalle, Bara and I woke up the next day and hit the road. Our trip back makes up the first section of the Still Not Climbing post.
Ten Days in Ten Sleep
So where was Trudeau while I was galavanting about with two lovely ladies pulling on limestone?
Poor guy was out with injury the entire month of July. Our first Wild Iris trip was also his last for quite a bit. But when he came back, he came back with an agenda.
Trudeau met my two new teammates, Kyle and Darren, and the four of us threw down on the rocks and at the brewery over a ten day period.
It was glorious.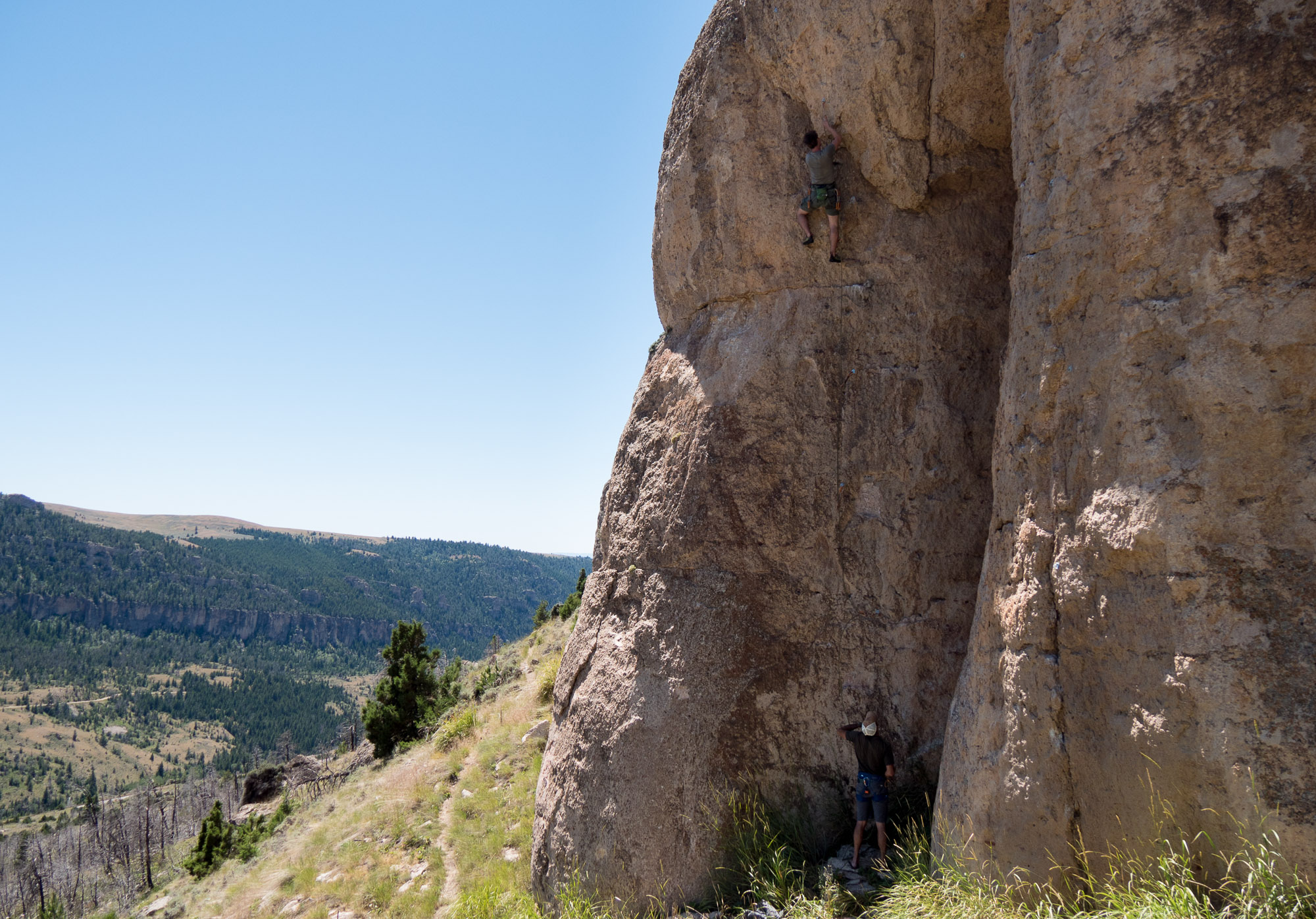 Chris belays Dave on Scrotal Yodel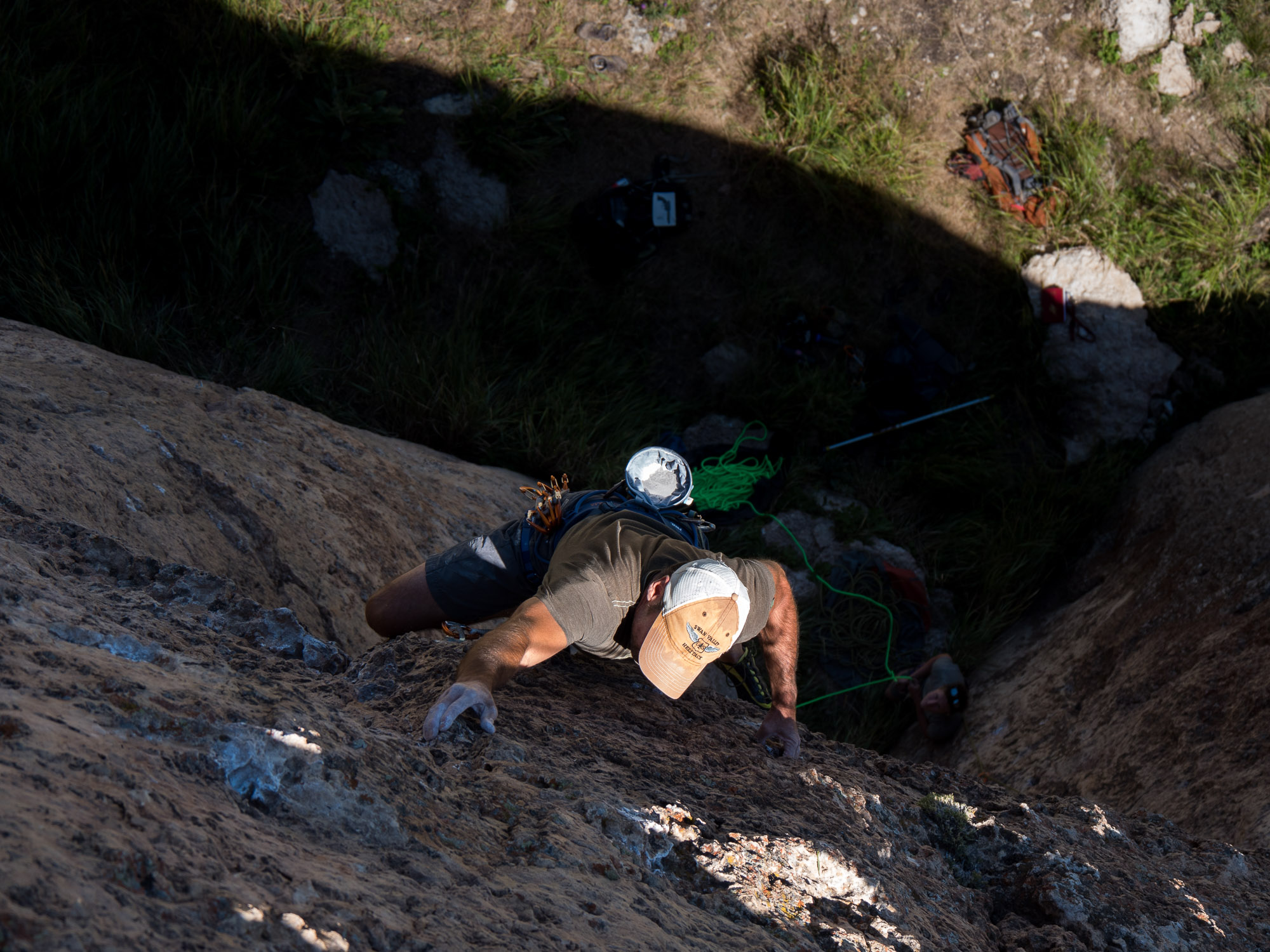 Chris Smuggling Grapes (11a)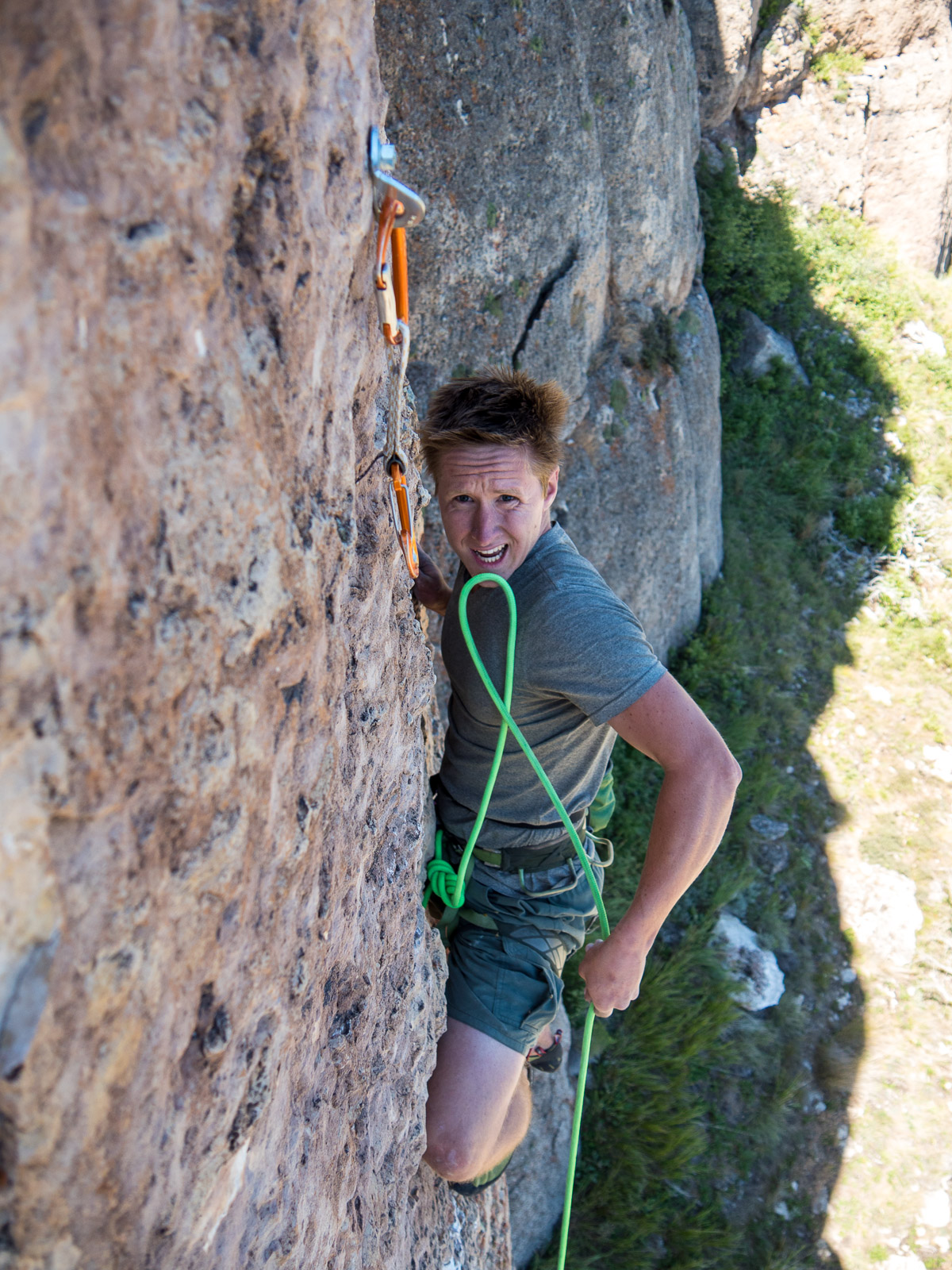 Dave releases a "bite" on Smuggling Grapes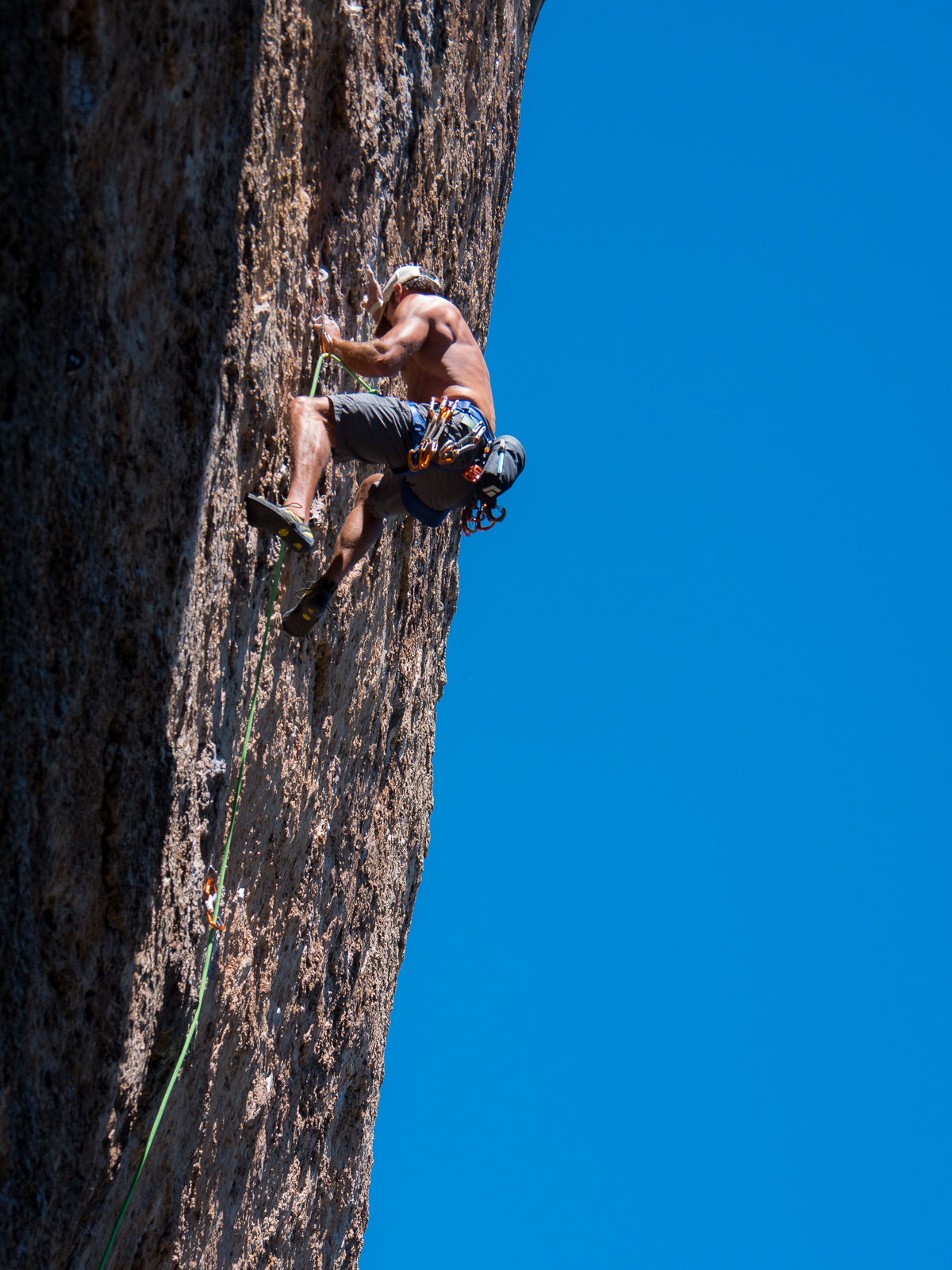 I Just Do Eyes (11b)
One of the things I love about Ten Sleep is that it brings its own lingo (and has ridiculous route names, if you haven't been keeping track). The latest guidebook is the Ten Sleep Bible, replete with 3D glasses. Route quality is designated not with stars but with an assortment of pinups, porn stars, kittens, militaristic and patriotic symbols, and acid blotter art. All of this leads to talk like "We went to Valhalla and got on some kittens, then hopped on some porn stars after hitting an acid blotter."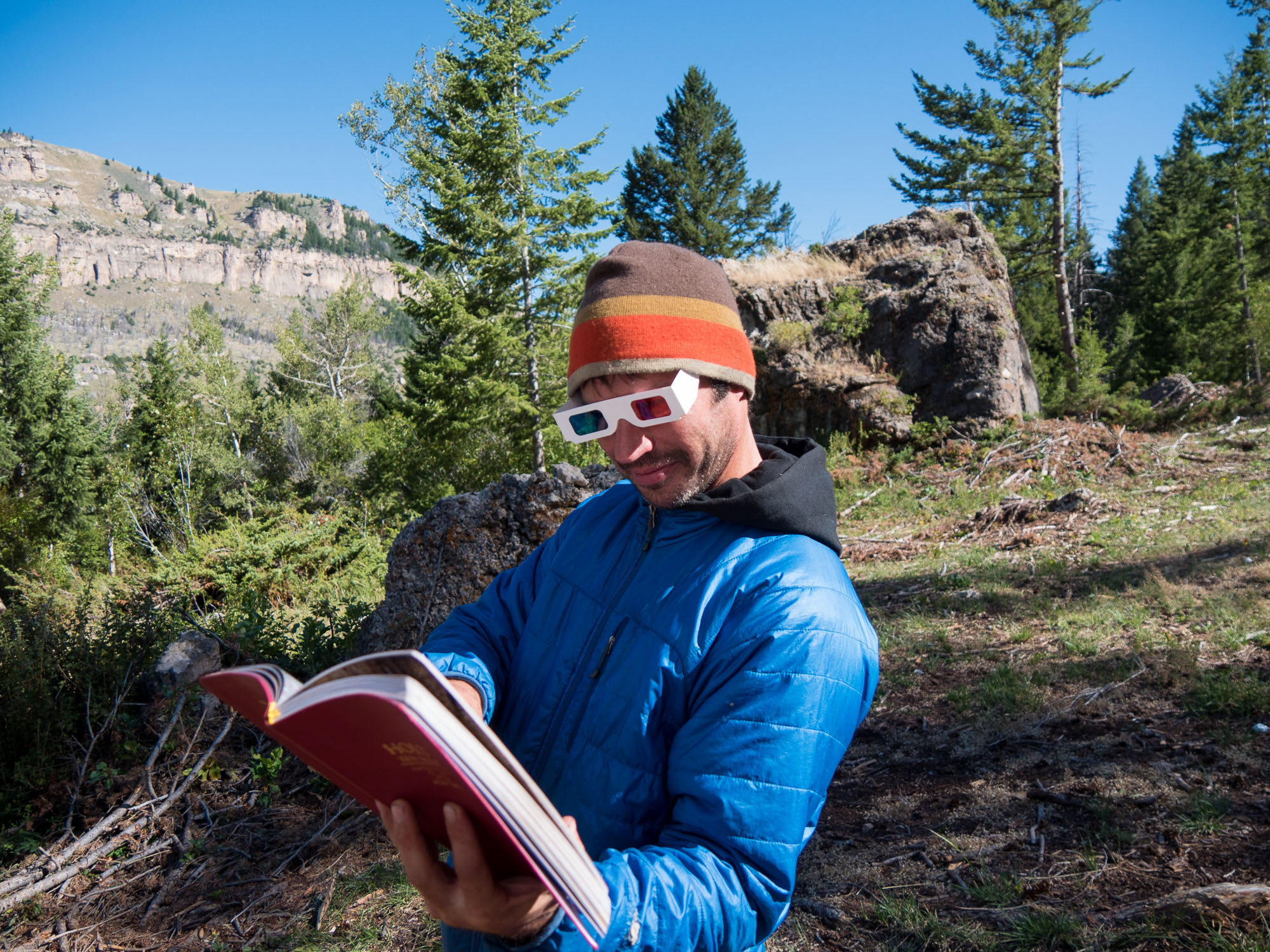 Darren deciphers the bible
---
Three climbs highlight my second trip to Ten Sleep. The first is Crazy Wynona (11d), on which I flailed miserably when I first climbed it with Big D on belay. In fact, I did so poorly that after I came down she bandied around a new phrase she'd just picked up: "I believe you would say that that route handed your ass to you?" Thanks, Disa. Still, I made up for the flail when I came back and redpointed it with Dave and Trudeau - my first 11d/7a redpoint.
Grandma Fingers, an unbelievable 11c buried back in the City of Gold, was the second standout. After hanging the draws (and myself), I came down spewing with awe and affection, telling Darren, Kyle, and Chris just how much they'd love it.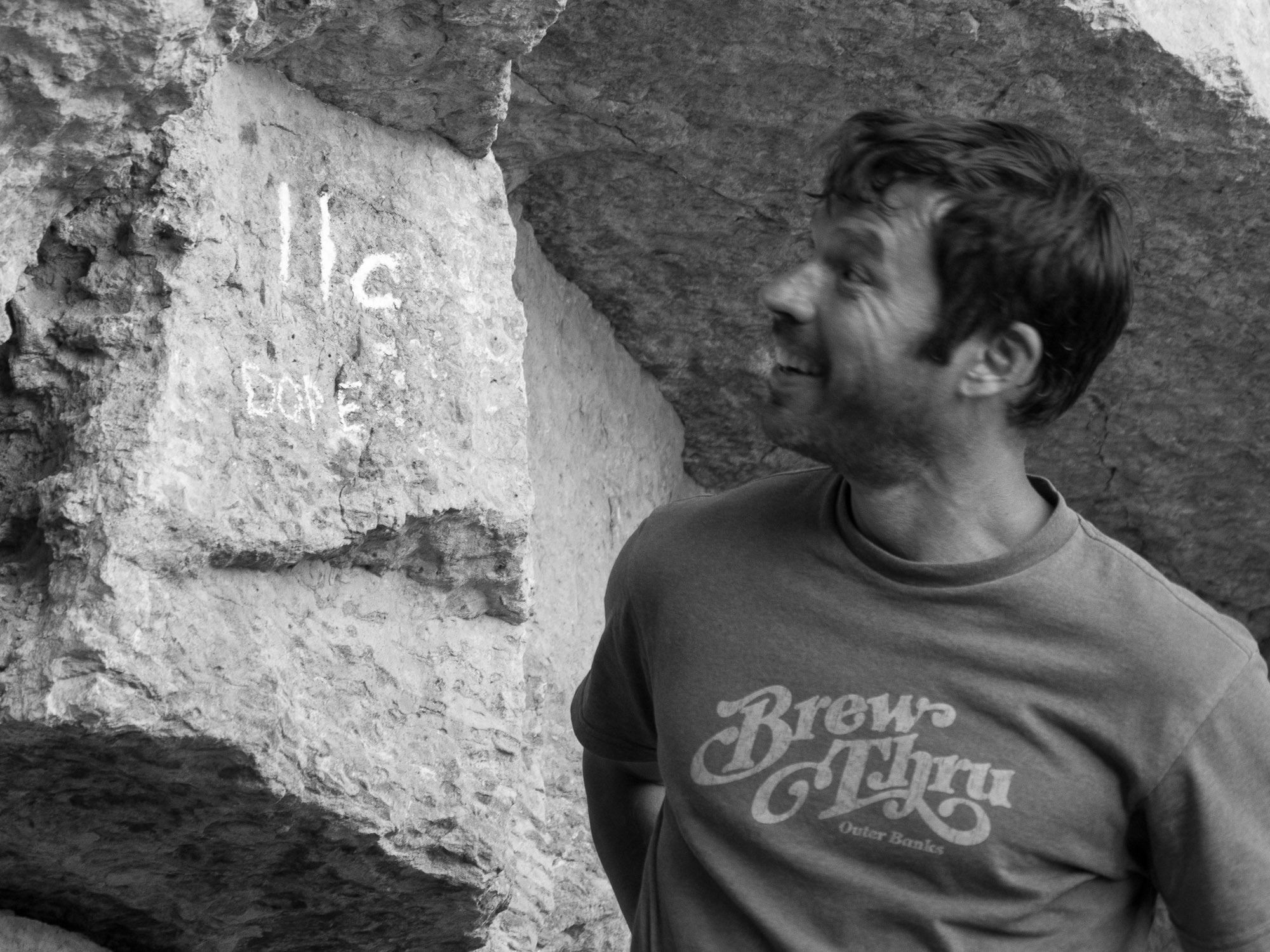 DOPE! Darren scopes the "plaque" for Grandma Fingers
It starts with an awkward walk out of a roof, the crux of which is just getting off the ground...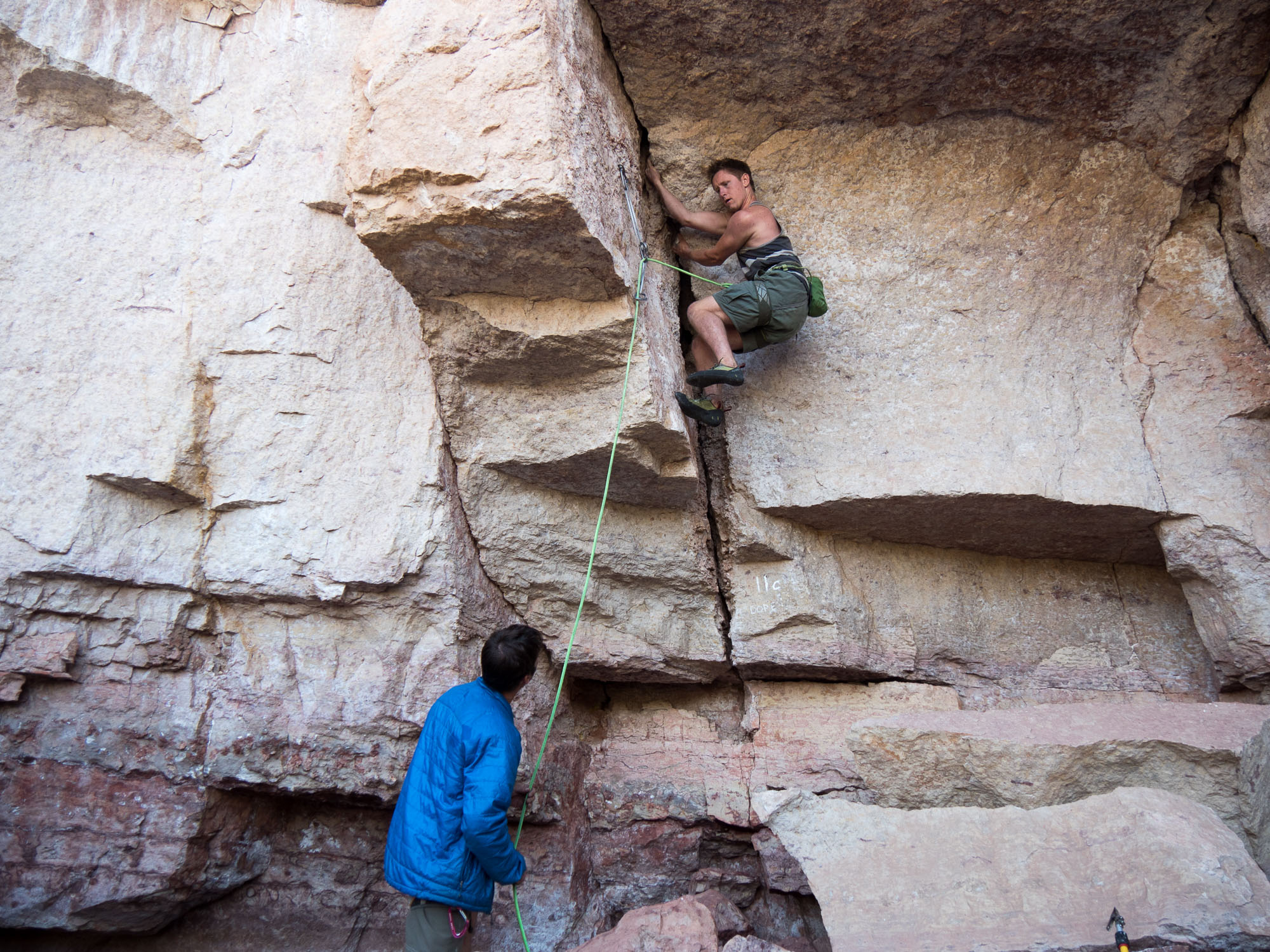 And then turns into an endless, beautiful fingercrack. Rest on bonelocks, move up by laybacking against the convenient right-facing dihedral, and most of all: enjoy the ride.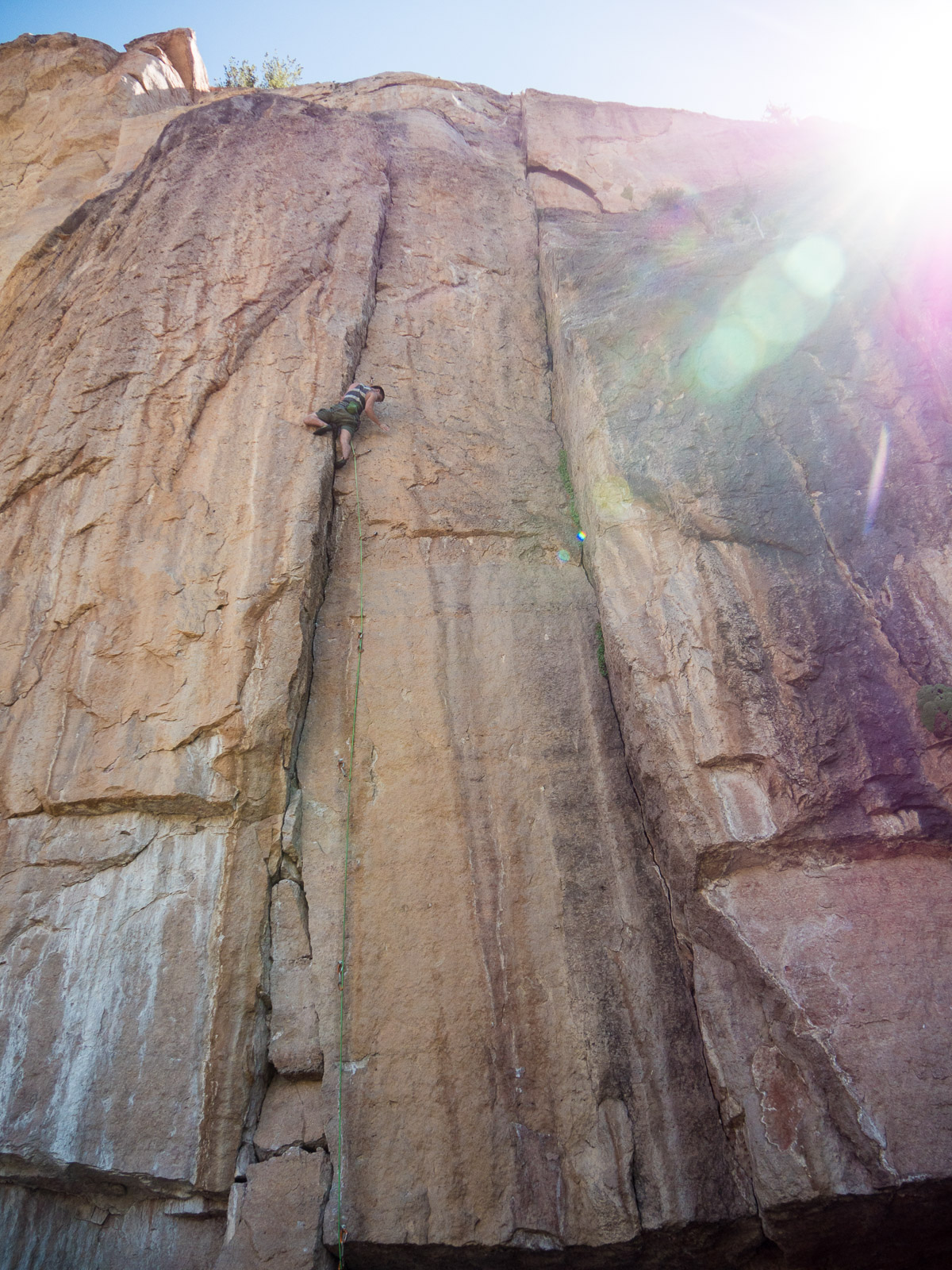 After all, you came all this way.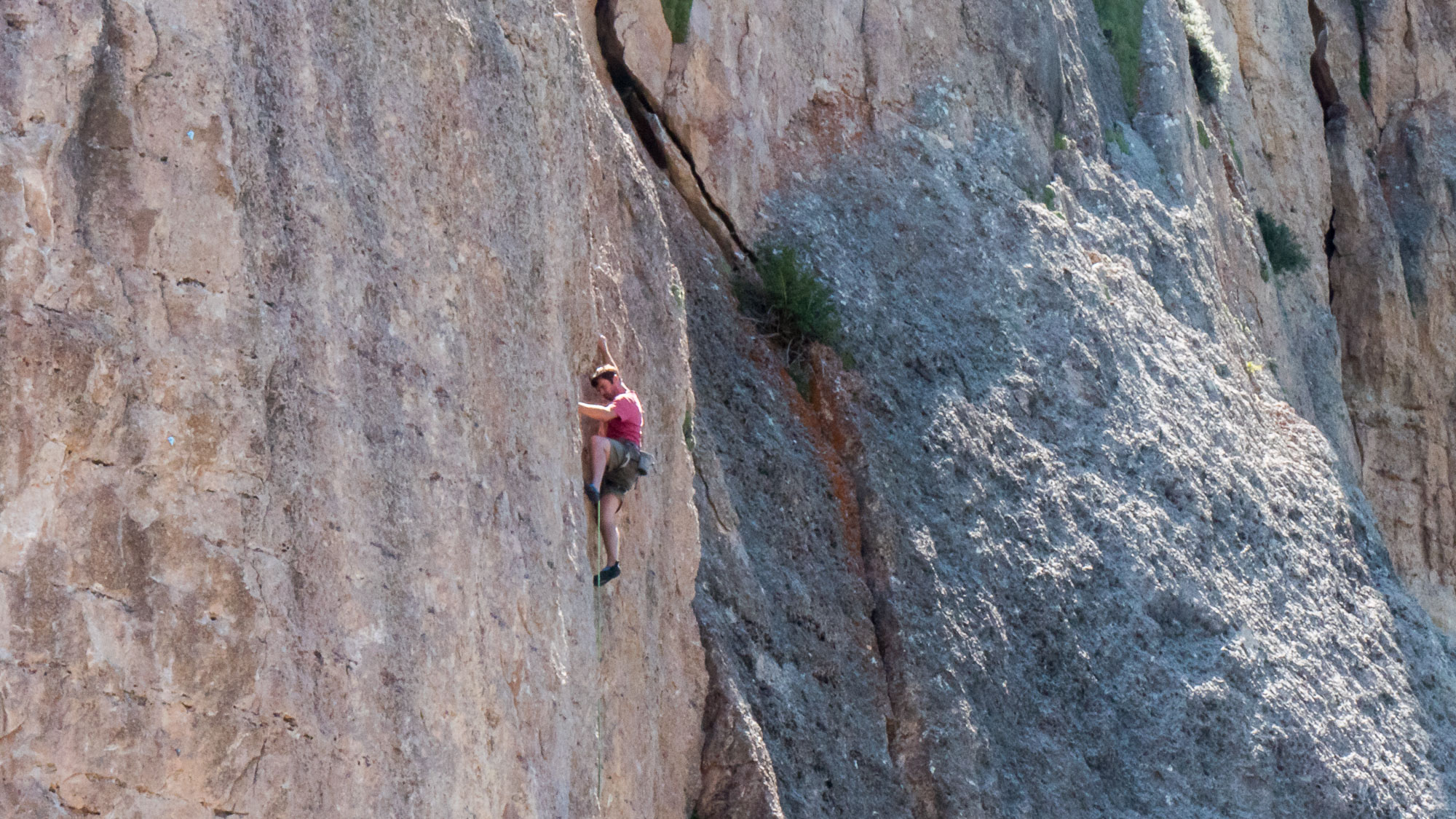 Darren on Grandma Fingers
The final classic was Captain Insano. I'd call it 12a, if I had gotten the redpoint (if I was anywhere near redpointing it).
Someday.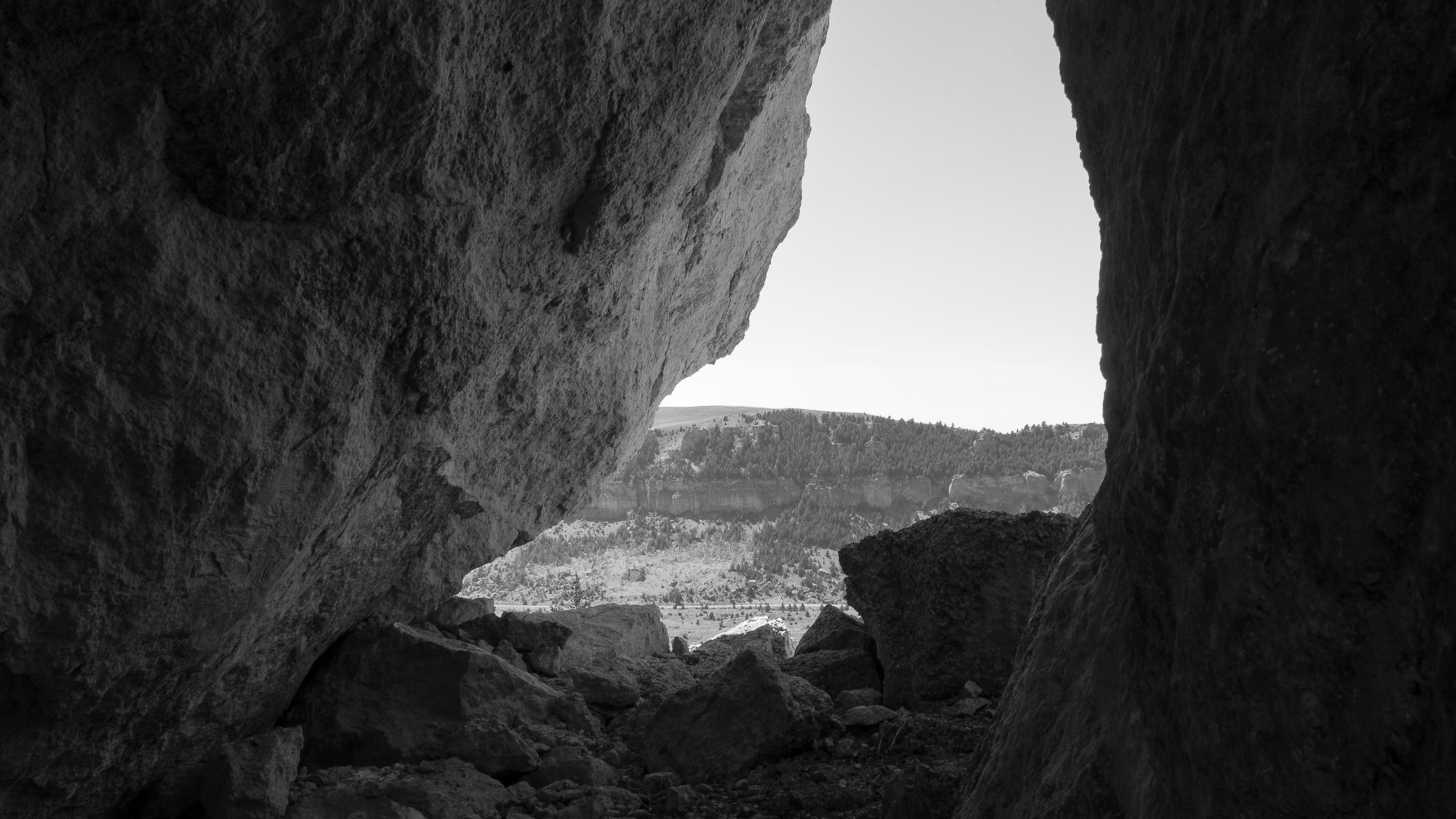 ---
Trudeau and I came back a final time at the end of September, broken and bruised from three days at Devil's Tower. That story will be told in another post, though.
Ticklist (and misses)
Continuing in the style set in the penultimate Wild Iris post of the summer, here's the deets on what went down this summer at Ten Sleep (including that September trip with Chris). A similar warning applies: you don't want to read this unless you want to shoot the shit about it over beers - this time, at the Ten Sleep Brewery.
10a (3)
The Band is Just Fantastic, Winged Lizard, Umpalumpa Humpachu
10b (5)
Beer Bong, Scrotel Yodel, Thor, Dirt Gator, Insane Hound Posse
10c (7 & 1)
The Eldorado Coral Club, Sacred Clown - Heyoka Roof, Guilded Charlie, Racing Babies, Red Dawn, Big Bear Memorial, Godfather Frat Boys with Razor Blades
10d (3)
Sleestak, Dizzy in the Haze
11a (6 & 2)
Crossbow Chaos Theory, Psychadelic Milk Painter, Godfather Part 2, Smuggling Grapes, Pussy Control, Jim Dandy to the Rescue Bikini Girls with Machine Guns, B-1 Bomber Dude
11b (3 & 2)
I Just Do Eyes, Jesus Christ Super Jew, Great White Buffalo, Burning Grandma's Bones, Banga
11c (1 & 3)
Hell Yes I Want Cheesy Poofs, Bobby's Got a Dirty Mouth, Grandma Fingers, Oftedal Serenade
11d (1 & 2)
Crazy Wynona, Hanoi Hilton, Captain Insano
And for the record, our best day looked like this:
Thor 10b, Bobby's Got A Bad Mouth 11c, Captain Insano 11d, The Great White Buffalo 11b, Burning Grandma's Bones 11b