Moving Again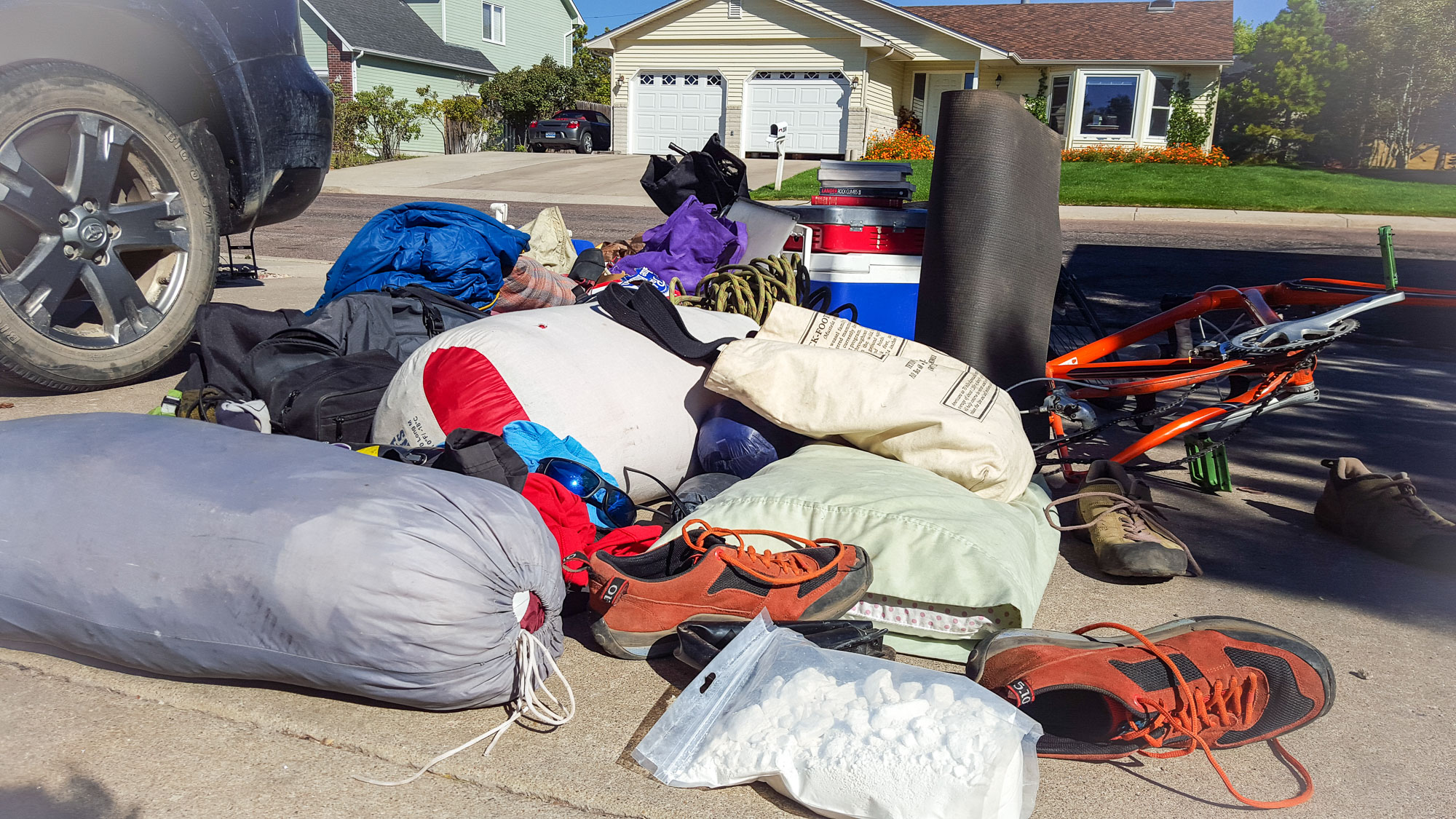 I haven't lived in a single spot for longer than six months in the last five years. In just one year in Jackson I claimed five different homes. That's part of the reason for me saying "Awh, heck with it" and moving into my car this summer.
Yet here I am again, in the process of moving from one home car to another. My trusty 2008 RAV4 is spending a few weeks in the shop while I go climb northeast Wyoming. Thankfully, a smaller home means a smaller moving day - I didn't even need friends for the heavy lifting this time!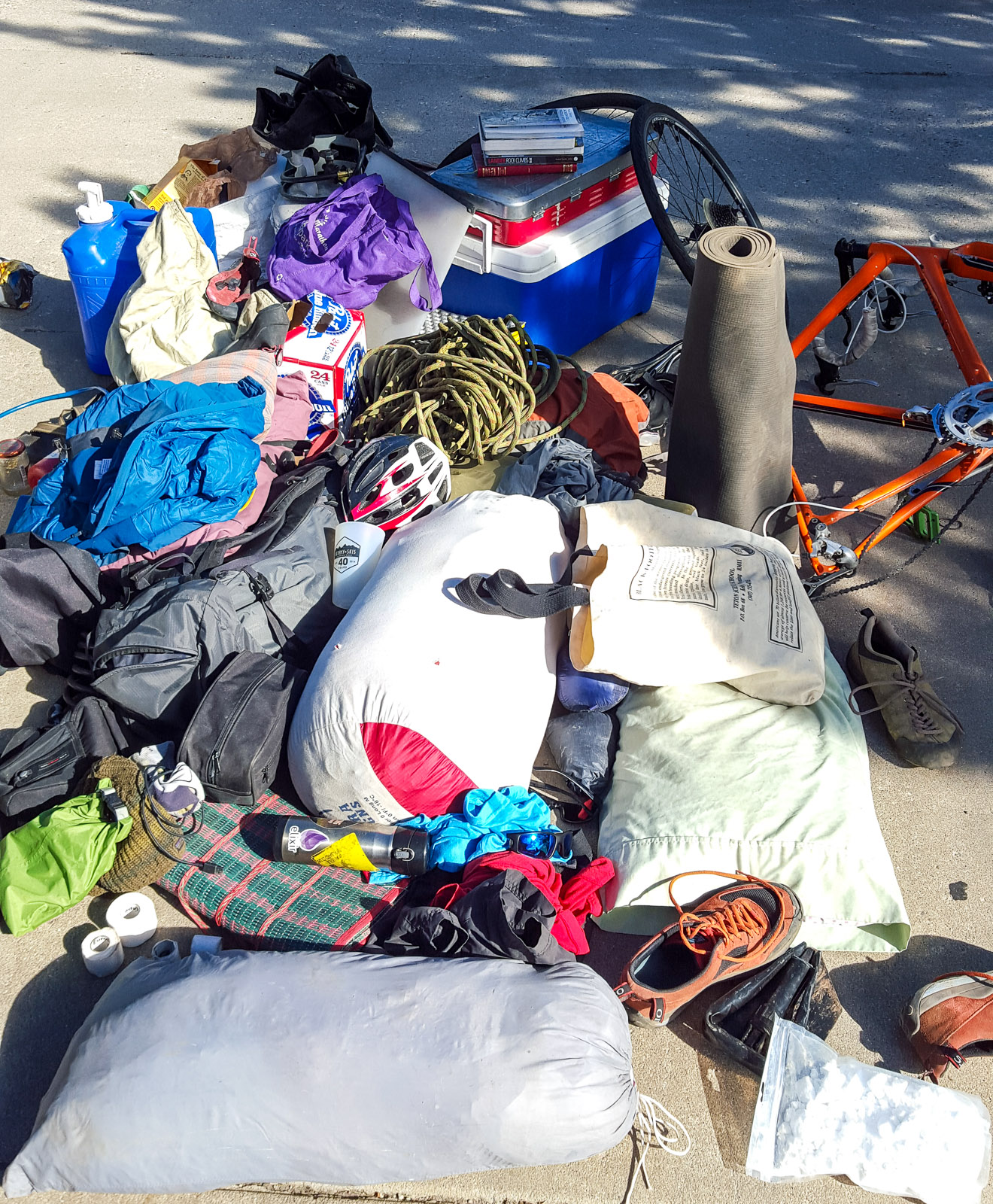 For fun, here's all the things I've been living my life with.
90's car camping tent. Why do I have this. It's huge and has yet to be deployed, because it's a pain in the ass. Is it... for the ladies? Keep dreaming Matt
backpacking tent (what I actually deploy)
BD chalk resupply
a bag clearly marked "〒 JAPANESE MAIL" into which I store my dirty underwear.
a dirty pair of underwear I thought I lost long ago (moving day score!)
chalkbag x2 (one handmade with a buffalo on it - <3 kalle)
2.5 trad racks
12 sport draws (it was 15 at the start of the summer...)
60 and 70 meter ropes
climbing helmet
a bag full of bags. uh.
a big tarp some Euro bought and then left to me (hi Erik!)
black diamond alpine climbing pack (Note to self: get something bigger in here before you head to the Creek)
0 degree down sleeping bag (aka, my blanky)
neoair sleeping pad (aka, my bed)
eggshell sleeping pad (aka, the thing that keeps my bed from popping when I'm sleeping under the open)
pillows x3 (!?!??! I'M REALLY BAD AT THIS)
toiletries! I don't actually use them. Ever. Hygiene is gross.
a shovel for digging poop holes
no toilet paper :/
injury things
drugs, but none of the fun kind. Maybe it's time to break something again...
chacos, brah.
5.10 casual approach shoes I bought in London, allowing me to throw away the only pair I had taken to Europe
a cooler given to me by the lovely Barbara Stone, who in turn received it from a GTNP tourist who realized it wouldn't quite fit carry-on
2 burner stove
fullsize propane tank (seriously)
wyoming guidebooks

vedauwoo (kelman's)
the tetons (the rotten blue book)
the jackson area (gooch's)
tensleep (the bible)
lander (2015 baby!)

travel coffee mug
patagonia..

beanie
down sweater
alpine houdini

a yoga mat so heavy that a car is the only reasonable way to transport it
specialized tricross bicycle
PBR 24 pack. climbers...
"Soccer Mom" camp chair
thailand picnic mat
arc'teryx atom LT
6 gallon water tank
2x 5.10 moccasyms, sized 10.5. One I'm just carrying around until I find a place to scatter its ashes?
a large bag of groceries
cookware

the ultimate pancake, french toast, grilled cheese, quesadilla cooking cast iron with no walls. Your mom's jealous.
a cast iron I sympathy stole from Sam and Anna
a non-stick frying pan that I need to ditch now that I stole the cast iron from Sam and Anna. hashtag deadweight
a bread knife, that is not good
a shitty knife
another not good knife, but this one's black and tiny
TITANIUM TRIPLE SILVERWARE SET because I am a BALLER. they're all on a pimpin' little carabiner that's too small for them to have written NOT INTENDED FOR CLIMBING on, which means I can use it, right?
an orange dish that's too big and from which I often eat waaaaaay too much granola and yogurt in the morning, pushing back climbing start times by up to half an hour while I digest (Ken Hilton's called me out on it more than once)
a large cutting board. so, so nice. makes me pretty popular in groups (unlike my personality and looks)
a french press which similarly makes me popular with friends, but is annoying when it's just me. I'm jealous every time I see Hilton and Trudeau utilize their pour-overs.
a frisbee

a frisbee. they're multi purpose.
dos 1L nalgenes, one that glows in the dark so I'm not scared in the night
4 rolls of tape, because I'm going to Vedauwoo this week...
bear spray, which I have remembered to bring with me when climbing in the Tetons exactly 0 times.
sunscreen
2 pairs of suncloud sunglasses, at least one of which bounced 250 feet down No Perches Necessary only to land and stop right next to my pack. Both are scratched to hell, and actually impede vision
bike helmet. not the cool kind.
bike lock. you can't read any of the numbers on it anymore
a blue headlamp
a green duffle I made in junior high homec class, which barely contains my 2 button downs, 3 icebreaker tees, 2 cotton shirts, 3 pairs of undies, 2 pairs of socks, 2 pair o' shorts (I'm wearing the jeans)
my timbuk2 "messenger bag" purse, which often contains

this laptop
a kindle (amazing for this lifestyle)
a red headlamp
a camera and its two lenses
a variety of shades of mascara and lipstick to suit my mood

a water bladder with some nice algae clopping up the exit
a skinny ski's 40th anniversary rubber pint glass. If someone brings a keg to the crag again, I'll be ready.
trekking poles. I have had old man knees since I was 19
a ceramic dragon bell my mother-across-the-pacific gave me for my 24th birthday and which I have successfully not shattered in all this time. 母ちゃん、ありがとう!大好きよ〜〜 (I'm a dragon, it was the year of the dragon, y'know)
my passport. I was wondering where that was!
ohhhhh hey a platypus bottle! awesome! Sylvia gave this to me after she won it at some snow movie event in Lander. Wait no, her friend Jenn did! Jenn plays cribbage.
A sticker proclaiming "I <3 TCLIB"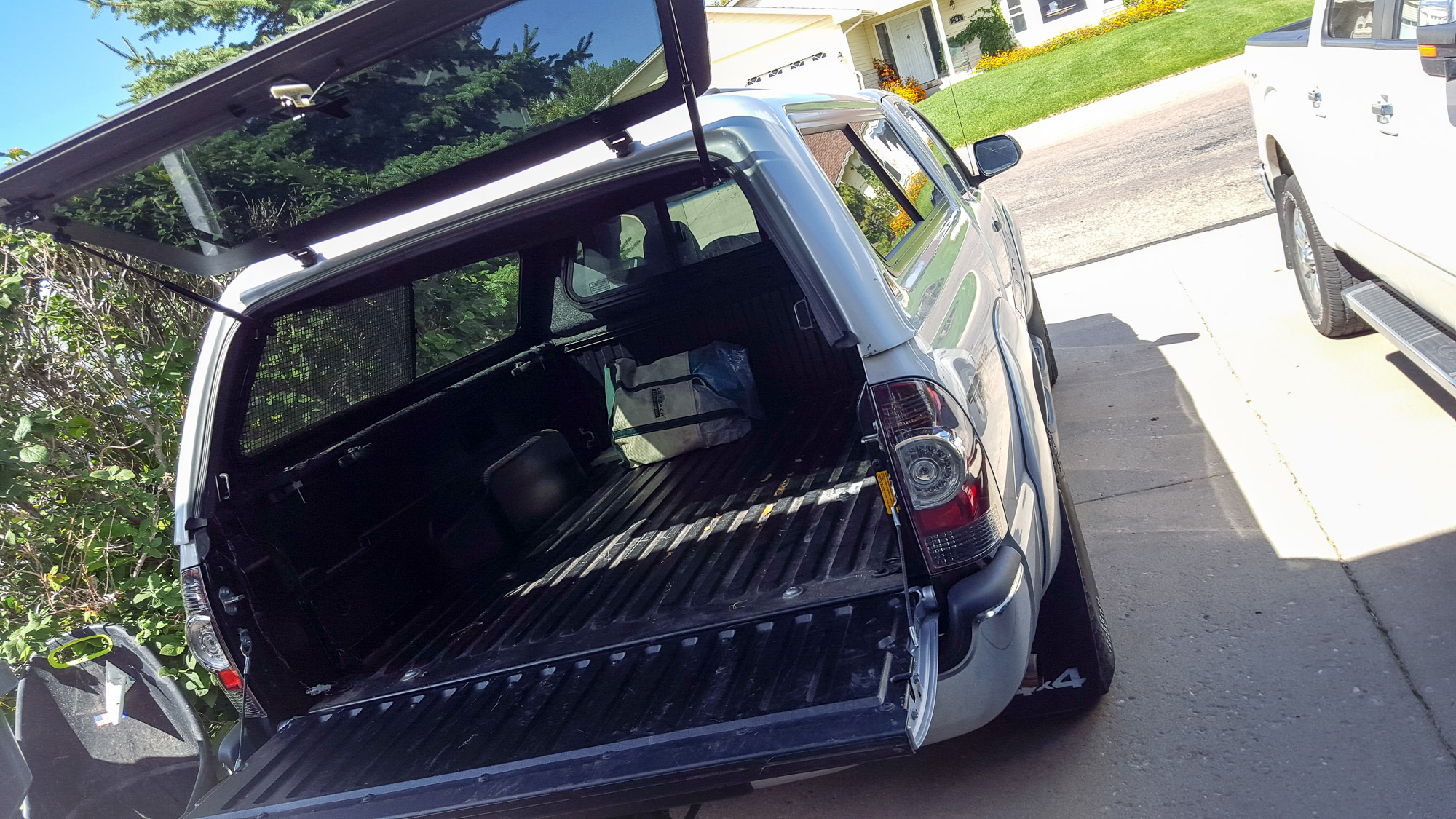 The new place
---
In other news, I'm making a bit of money again here and there, without selling my body (Not for lack of trying. Get in touch, ladies. I have a big .... tent).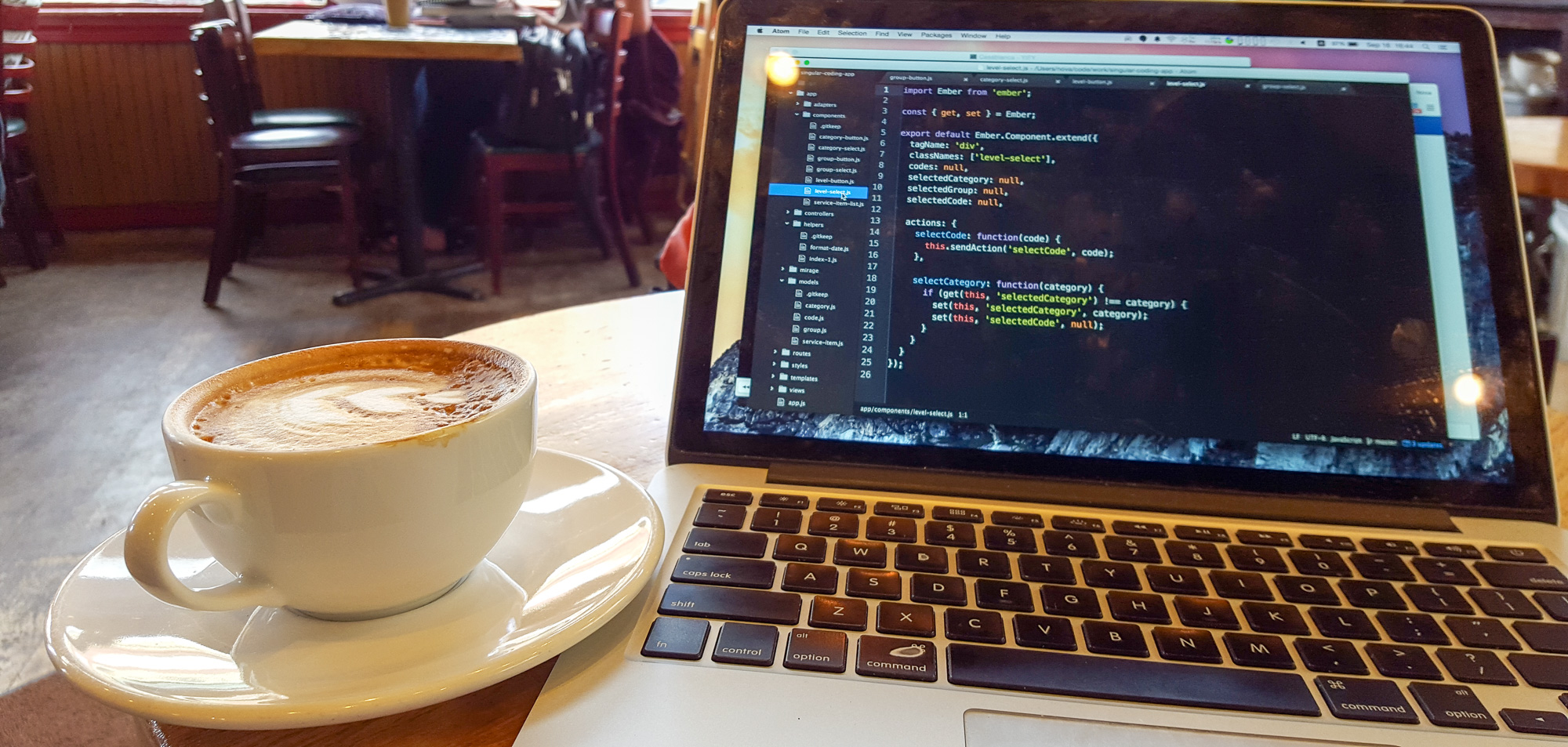 Remembering climbing isn't all I can do: Coding at Coal Creek with a Cap