Familiar Crags and Strange People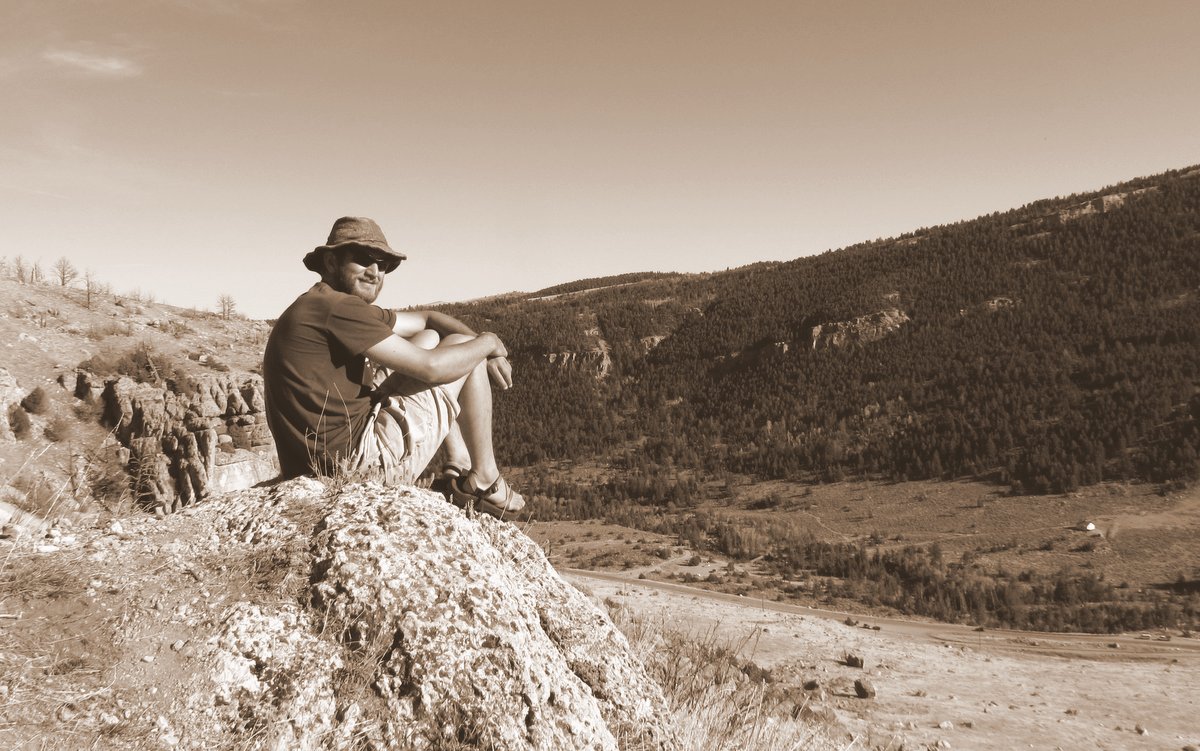 I found myself a home in Jackson, and could finally move my things out of the place in Lander. Sounds like the perfect excuse to go rock climbing.
I just needed a partner.
A few months back, I got a message from Lindsey on Mountain Project. She wanted to get in some climbing in Wyoming, and I was happy to be her belay slave, but she had the misfortune of being around for the freak rainy season we had at the end of August.
She and I never managed to hook up, but I thought of her when my brain was running through climbing partners that might want to play on limestone. She left Salt Lake City for Lander City Park on Friday night.
A bit later, I set out in a borrowed car with a borrowed trailer, and enjoyed some sights along the way.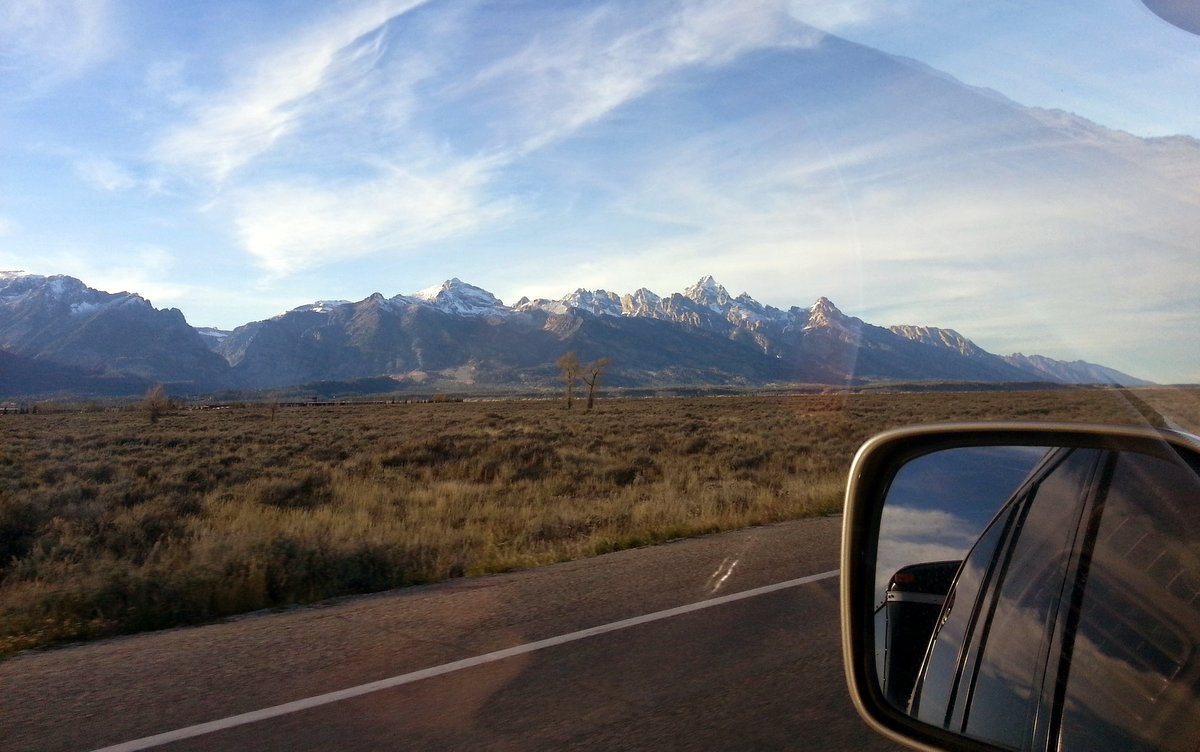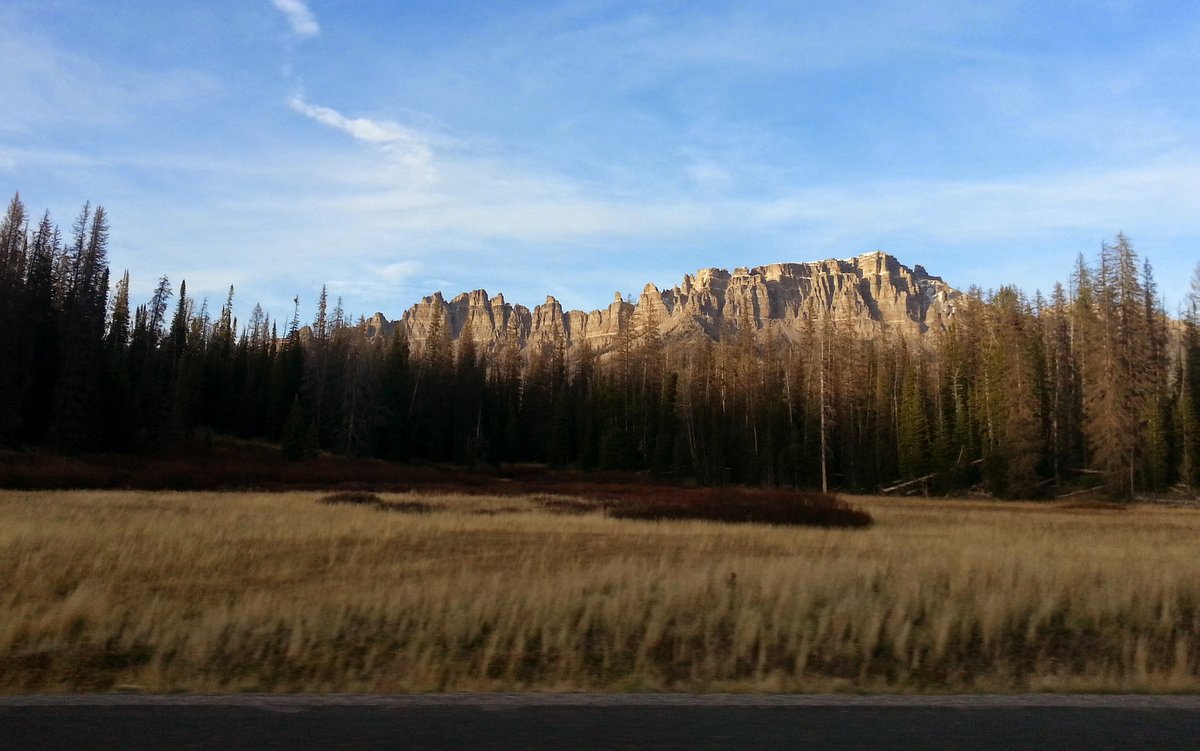 Friday night, I met Lindsey in person for the first time at the park. It was dark and cold, and we sat around and chatted climbing with two Israelis who were camped out there as well. Yan and Ishai have been travelling North America for months, going from climbing spot to climbing spot. They were going to spend Saturday fasting for a holiday, but agreed to go climbing on Sunday.
土曜日
Saturday morning Lindsey and I rolled out to the Main Wall in Sinks Canyon. While we'd originally planned on starting the day with the classic warmup wall Scud Wall, a group of helmeted students convinced us we'd be better off elsewhere. A left turn at Killer Cave put as at Harvest Moon Wall.
Harvest Moon Wall
Our morning started out just past Harvest Moon with the "welcome back to climbing" moderate Put Down Your Ducky, a very long romp of a 5.8. Lindsey lead it, and I cleaned.
From there we walked back towards the Cave, stopping at Harvest Moon proper, where I eyeballed Firecracker Kid (10b) and did a repeat of it (Laurel and I did it two weeks before).
From the Kid, I decided it was time to see just how back in the flow of climbing I was. Time to face down my old nemesis: Elmo's Fish (10d).
The Fish and I go back. It was my first 10d, climbed years ago with Ken Hilton as we were discovering what it was to be climbers, rather than people who climb. I've redpointed it in the past, and then something happened. Last year, I could not get past the crux without thrashing and throwing out expletives a few times. Somehow, I'd lost some of my mojo.
The route starts with an easy scramble up to a big ledge with two clips along the way. From there, you move out onto an overhung face, throw for a sidepull, and undercling, and go, go, go. Bolt three is strong from the undercling, but moving up to number four is going to send you for a ride.
That morning, I climbed up to that ledge, put chalk on my hands, clapped my fingers together to send the extra specs of white flying, and moved out onto the face. I looked up at the crux, and moved back down to the ledge.
"I do not remember the beta for this at all"
I put more chalk on my hands, shook it off, and climbed out again. I felt around, and climbed back to the ledge. I repeated this for a few minutes.
Then I climbed out on the ledge, clipped the third bolt, pulled on some crap pinch, clipped the fourth bolt, and kept going. I remember thinking: Holy crap, did I just send the crux? Am I as strong a climber as I've ever been? How? Didn't I just have double surgeries? Am I just that amazing!?
No, I'm not. Here's what's happening: I trust myself more than I ever have. I've been climbing for nearly five years now (that long? thanks Jenn and Maciej). I've been on all sorts of rocks, in all sorts of places, with all sorts of people. Climbing is just something my mind gets now. And just like I tell every new climber I take out: climbing's not about strength. It's about confidence and knowing and trusting your body.
Anyways, I was a bit elated from my run up Elmo's. Lindsey got to experience that crux for the first time, then we moved on to our last route at Harvest Moon, which was the 10c Global Warmup.
Man, that's a weird, weird climb. Any thought I may have had about being a good and confident climber kind of fled me then.
White Heat Wall
White Heat is home to a large, intimidating bulge. There are two routes that skirt the seams of the bulge, an 11a I did a year back with Leah called Central Pillar, which takes the left seam, and Storm Warning (9), which takes the right.
Storm Warning's a blast of a climb, although a bit heady for a 5.9 climber. I felt strong again putting it up, and Lindsey got to enjoy all the hornets lining its underclings too.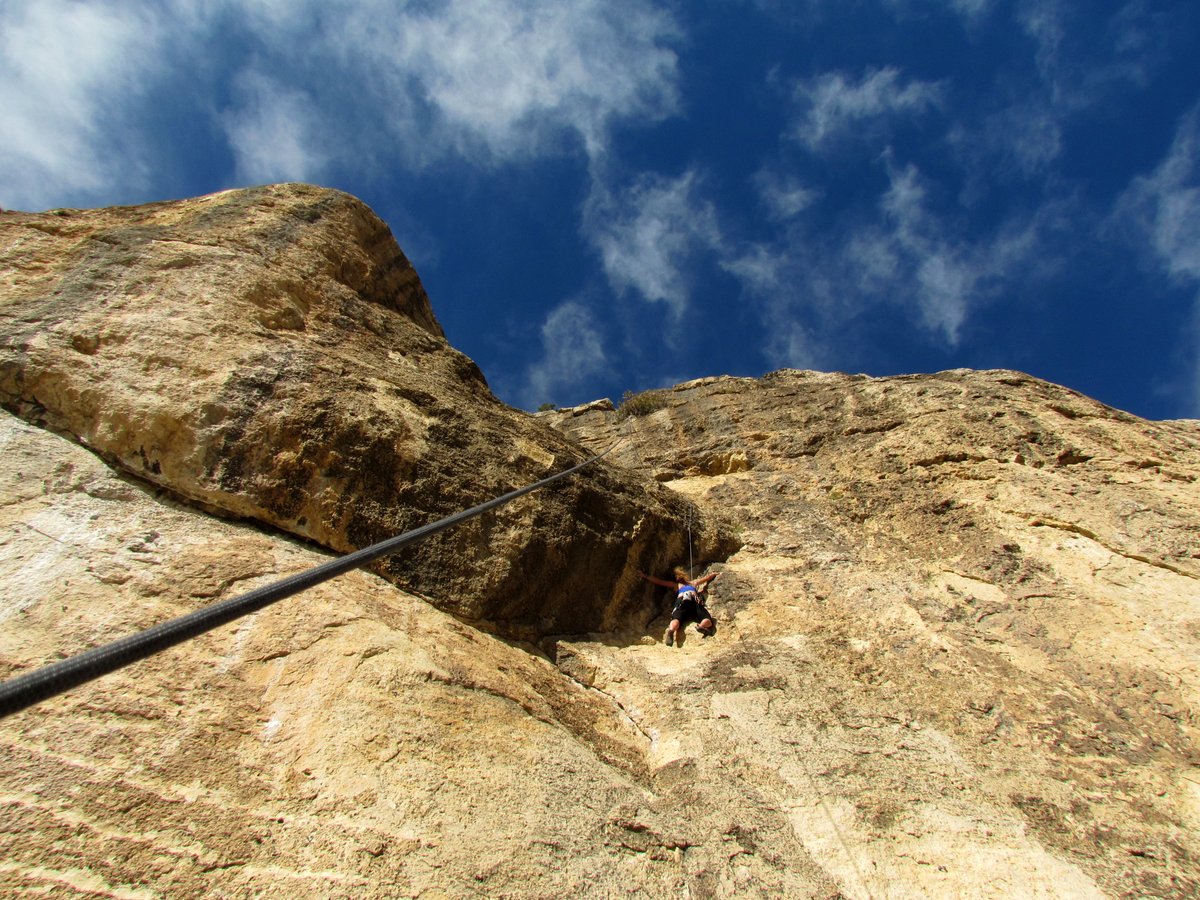 Addiction Wall
We finished our day with another lead climb for Lindsey on Go West Young Man (7). Immediately next to it was Soul Finger (11a), which someone had left their draws on...
Soul Finger had a great, powerful, reachy, overhung start. Just what a Matt likes. It then sneaks into a corner with fingerlocks, where the crux is effectively stemming your legs up past the third-to-last bolt. I did not effectively stem my legs, and ended up bailing as I couldn't figure out the problem and was feeling pretty worn. I still had fun playing on it and taking some falls though.
While Lindsey was doing Go West Young Man, the people who left the draws came by and showed me how it was done.
The Kitchen
This isn't a climbing spot, it's a place in my house. The night ended with a great little pizza party, where Lander locals said goodbye to Leah (who's moving to Big Piney). Yan and Ishai reentered the scene after sunset and tried their hands at pizza making.
I did an olive oil base with peaches, feta, prosciutto, and cinnamon. In the last few minutes in the oven I added spinach to the top to brown. Nom nom nom.
日曜日
Sunday started with power pancakes: cottage cheese, bananas, oatmeal, and eggwhites all blended together into pure climbing-fuel. Lindsey, Ishai, Yan and myself ate our fill, and Dave came over to make sure that's where I stopped.
Squaretop Boulder
We were going to mix things up, climbing on Squaretop Boulder, and then head up to Fairfield Hill. Squaretop is home to my favorite project, Boys Of Brazil (11c). My success with Elmo inspired me to get back on the proj.
Reid met us at the parking lot, and the six of us (plus canines Hoot and Moab) rolled up to the boulder just a bit before noon. Noon is a great time to make friends with rattlesnakes, but that's not a story worth going into.
The power pancakes, or my success the day before, had put a fire in my belly. I "warmed up" on Boys, and felt great. I hung somewhere, maybe two bolts from the top, but wasn't working on the red point anyways.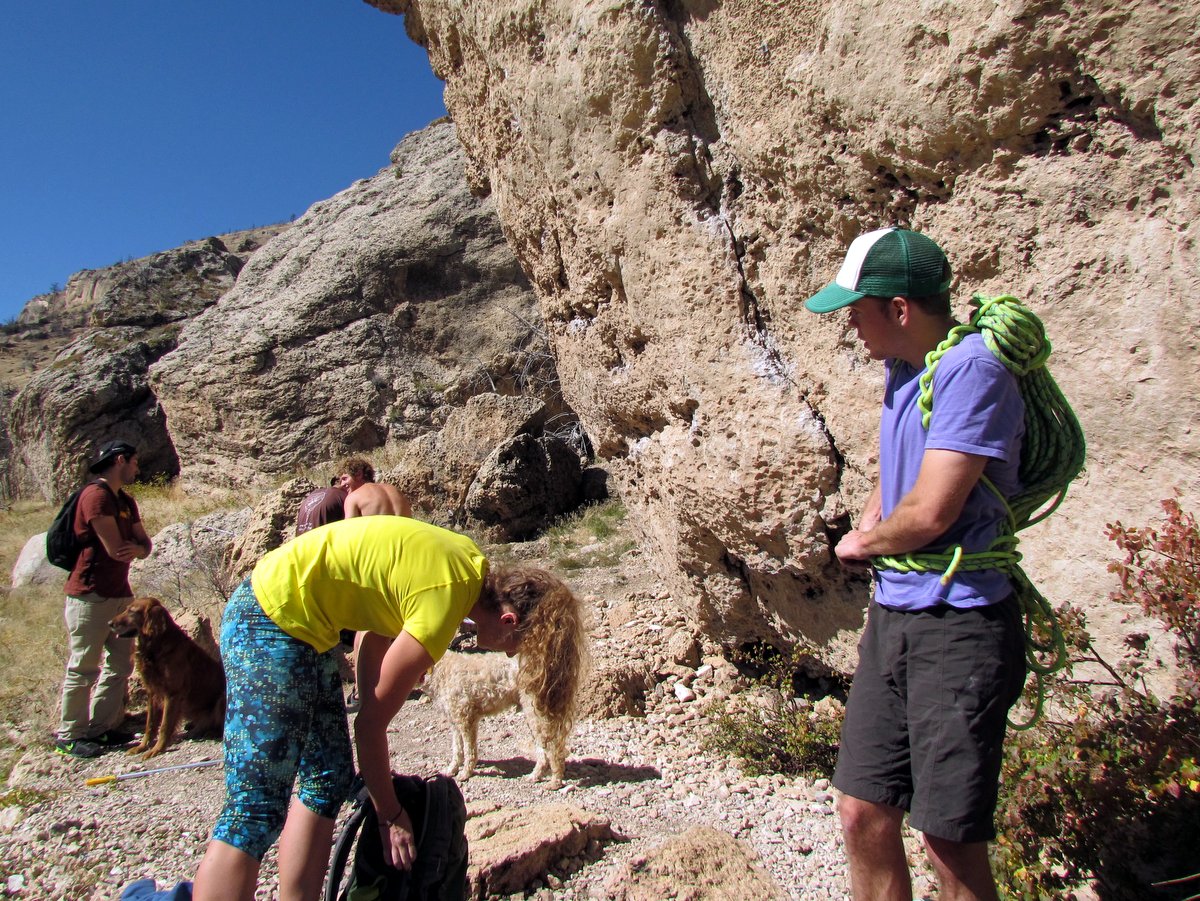 Ishai and Yan put up Isolate and Dominate (10c), and then all of us took turns going up the routes. While Lindsey was destroying Isolate, Yan decided to have a go on Burly (11d). The name pretty much sums it up, I think. He just barely missed the onsight at the final bolt.
I gave Boys of Brazil a second try before we left, and fell at the same place I frustratingly had almost exactly a year before. I worked the move again, and figured out my problem. By the end of the redpoint attempt, my muscles are pretty worked. The final move up to the anchor is done with a great left handed jug, which I normally get to via a tiny crimp for the right hand. That tiny crimp is out of my league when I'm pumped out. Unable to crimp it and go for the easy jug finish, I take a fall.
The solution: feet. Always feet. I approach that move with my hips open to the rock, which pushes my body out just a bit. If I rotate on my left toes and tuck my left knee down and in, the left side of my body will move up and in towards the rock. That brings the left-hand jug into reach without having to get the intermediary crimp.
I didn't try for the redpoint again; I didn't want to burn myself out on one climb, and it's nice to have something to look forward to.
The Wilds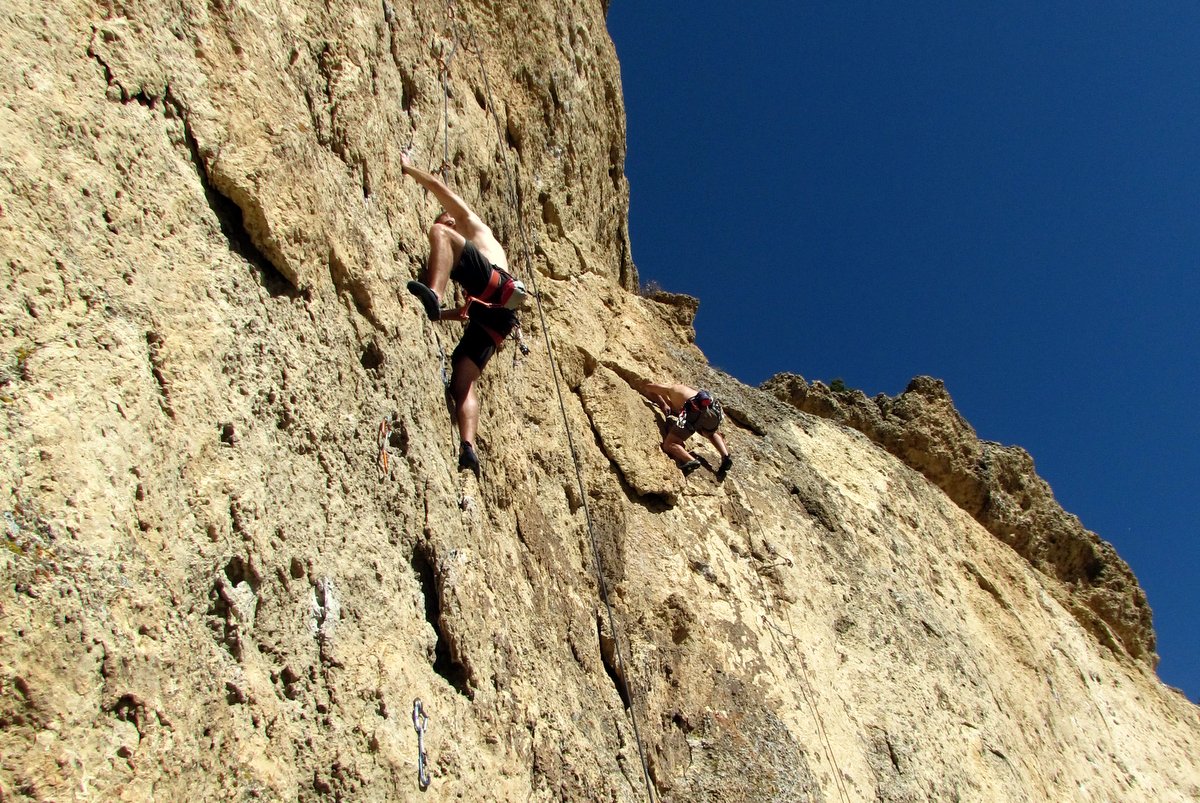 Dave took the dogs home from Squaretop (we didn't want to deal with rattlesnakes anymore) and the rest of us went up to the Wilds. Lindsey, Reid and I did Earth A.D. (9), my second new climb in the canyon that weekend. It was juggy, wandering, and sidepully. I don't know if I liked it or not.
Yan and Ishai went to put up Sandman (10c), but Yan ended up downclimbing after the third or fourth bolt due to hornets hogging the crack. They then got on some other 10c that they said wasn't worth the effort; we moved on.
East Fairfield Hill
Dave and I had an epic day in Fairfield back in November of last year and I hadn't been back since. Bre, Churchill, and Janine joined us for some good old fashioned slab climbing.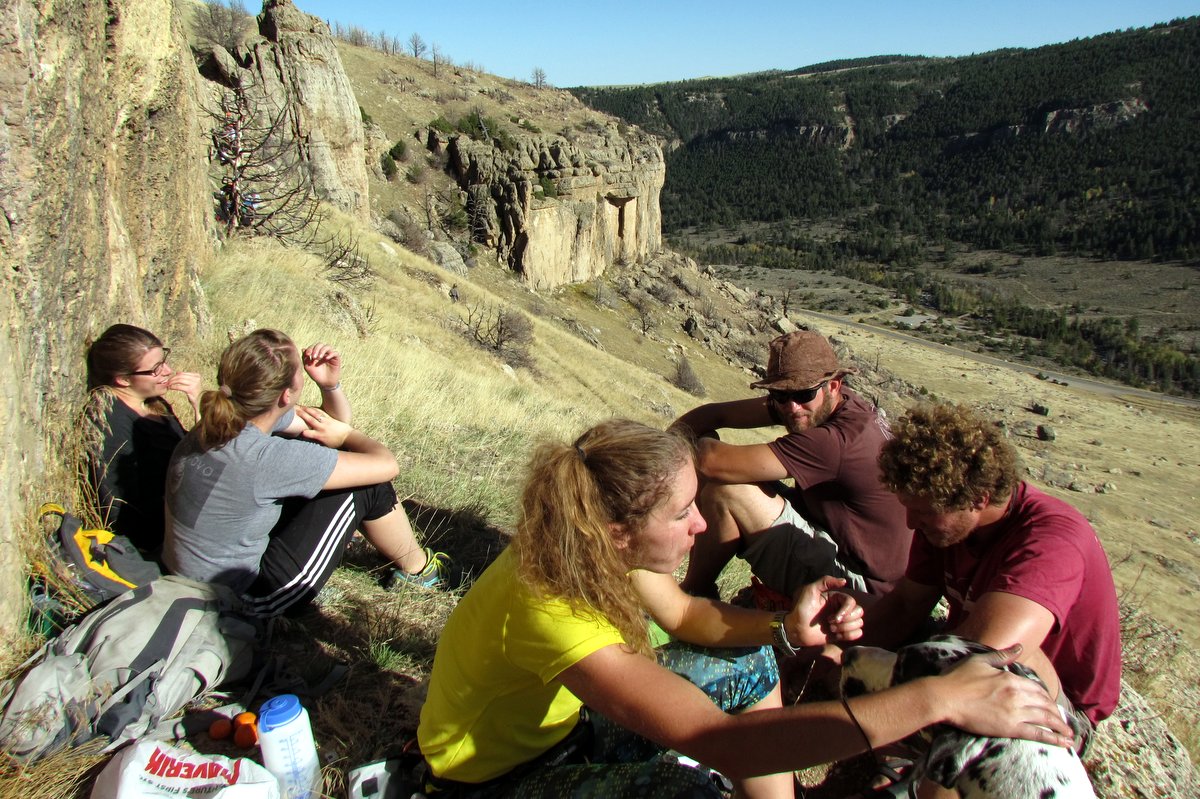 When everyone else settled in for lunch, I forced Lindsey to belay me up Maybe Kinda Sorta Wild (10b), where I hung at the powerul crux (so.... tired....) and then screamed my head off loving the slab finish. Fun!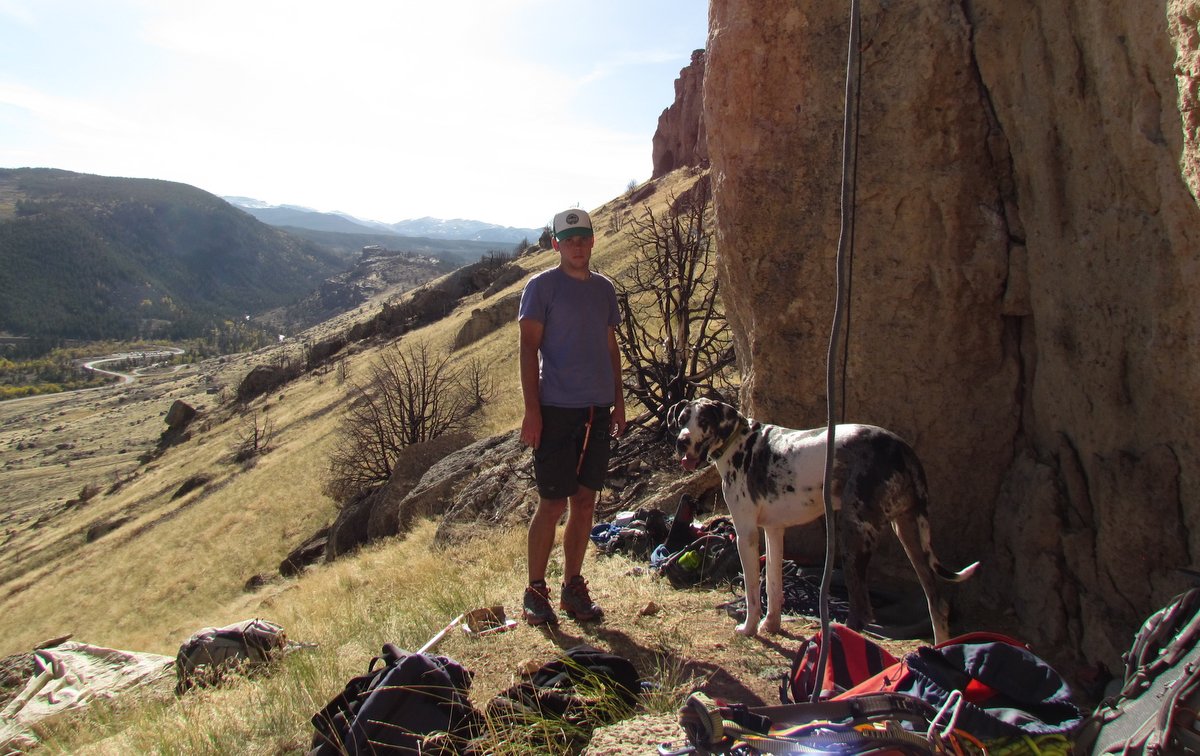 I belayed Reid as he fought his way up Sorta Maybe, and sang him a lovely song to help him through the crux. I know he couldn't've done it without the song, so I'm glad I was there.
Lindsey went up and slayed it later. I think I remember her saying she rather liked it?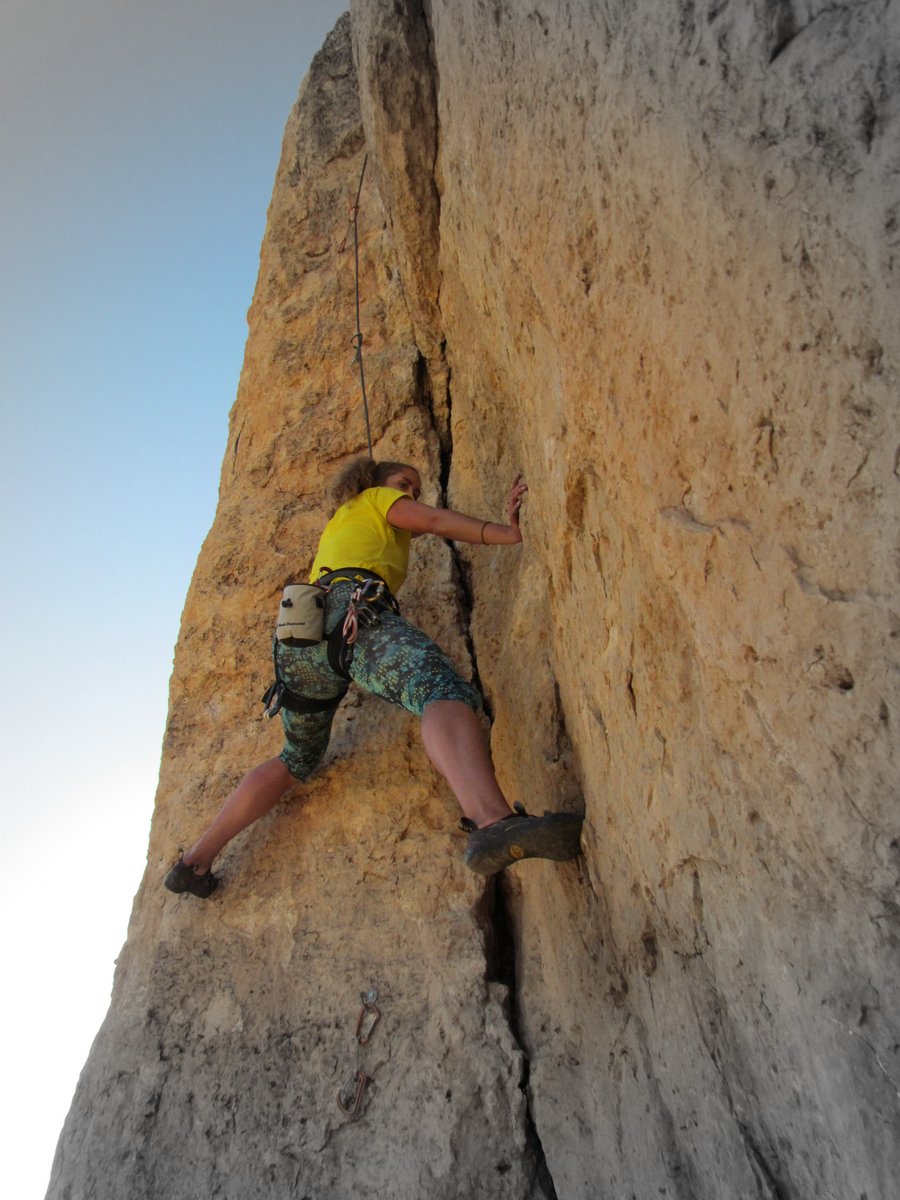 Yan put up another hard route, A Piolet for Leon (10d). It was a tricky, super balancy slab climb. There were two holds at the start, and from there you're just slab slab slabbing away. It was my third new climb of the weekend.
After that, Yan and I took the two ends of my seventy meter rope and started climbing two easier slabs for the rest of the group to work on TR. We put up Realm of the Venusian Sex Pygmies (7) and Revenge of the Pygmy Sex God (8).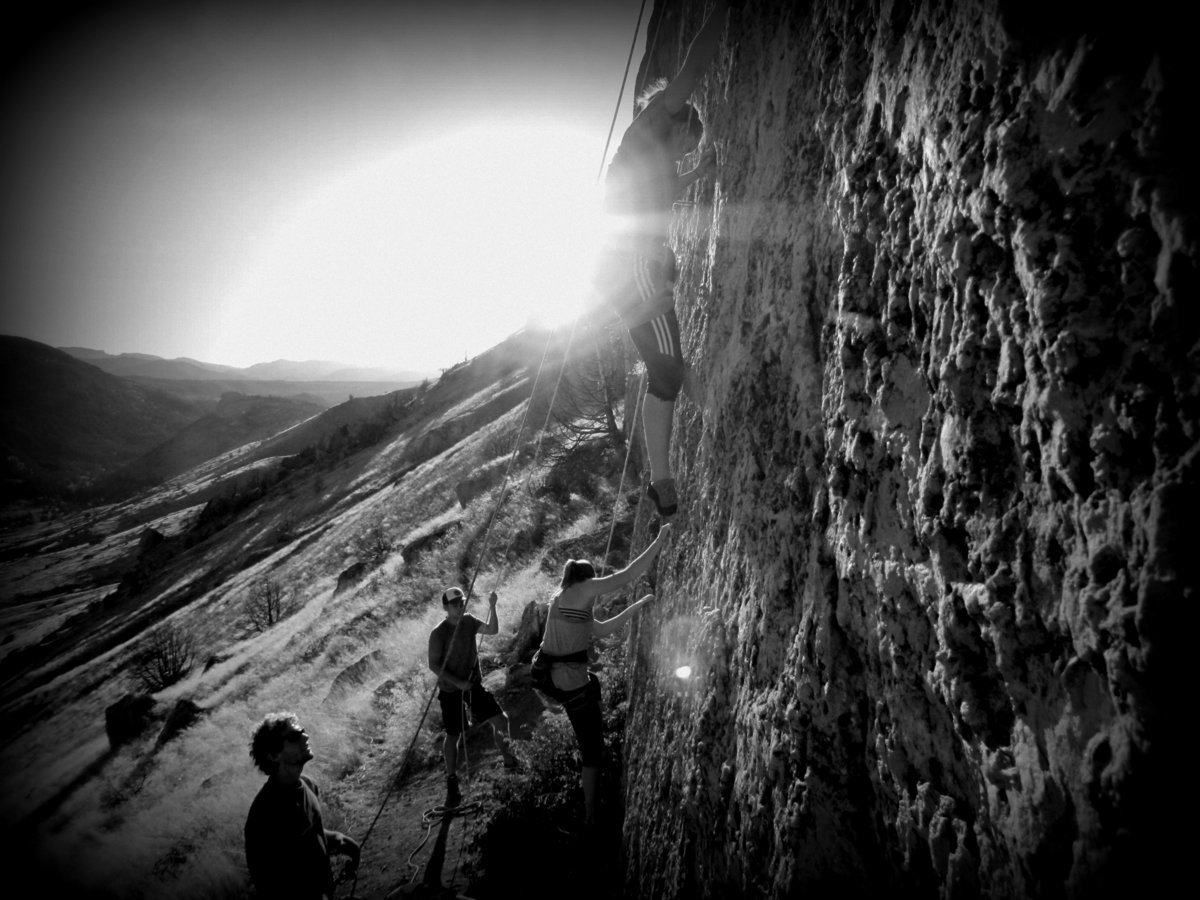 The Kitchen, Round 2
We got after it.
There were guitars and singing, and Ishai and Yan made us some delish rice-raisins-spices-thing. Perfect climber bum food.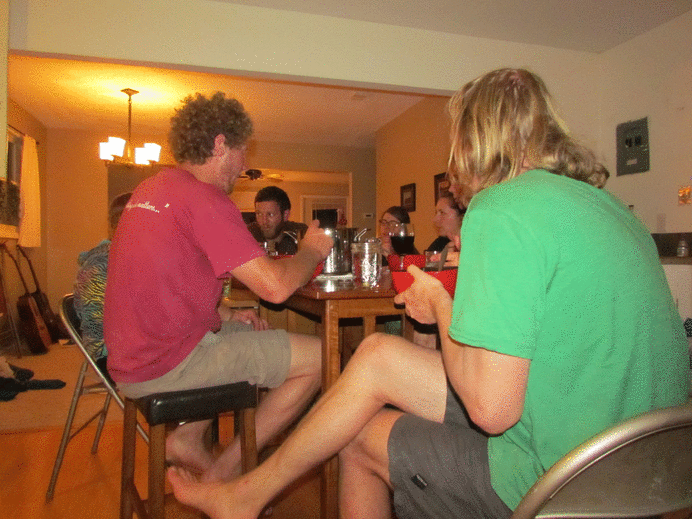 月曜日
Monday morning Lindsey headed back for Utah. The boys and I spent the morning doing what I ostensibly went down to Lander to do: packing.
Still, we found the time to get out.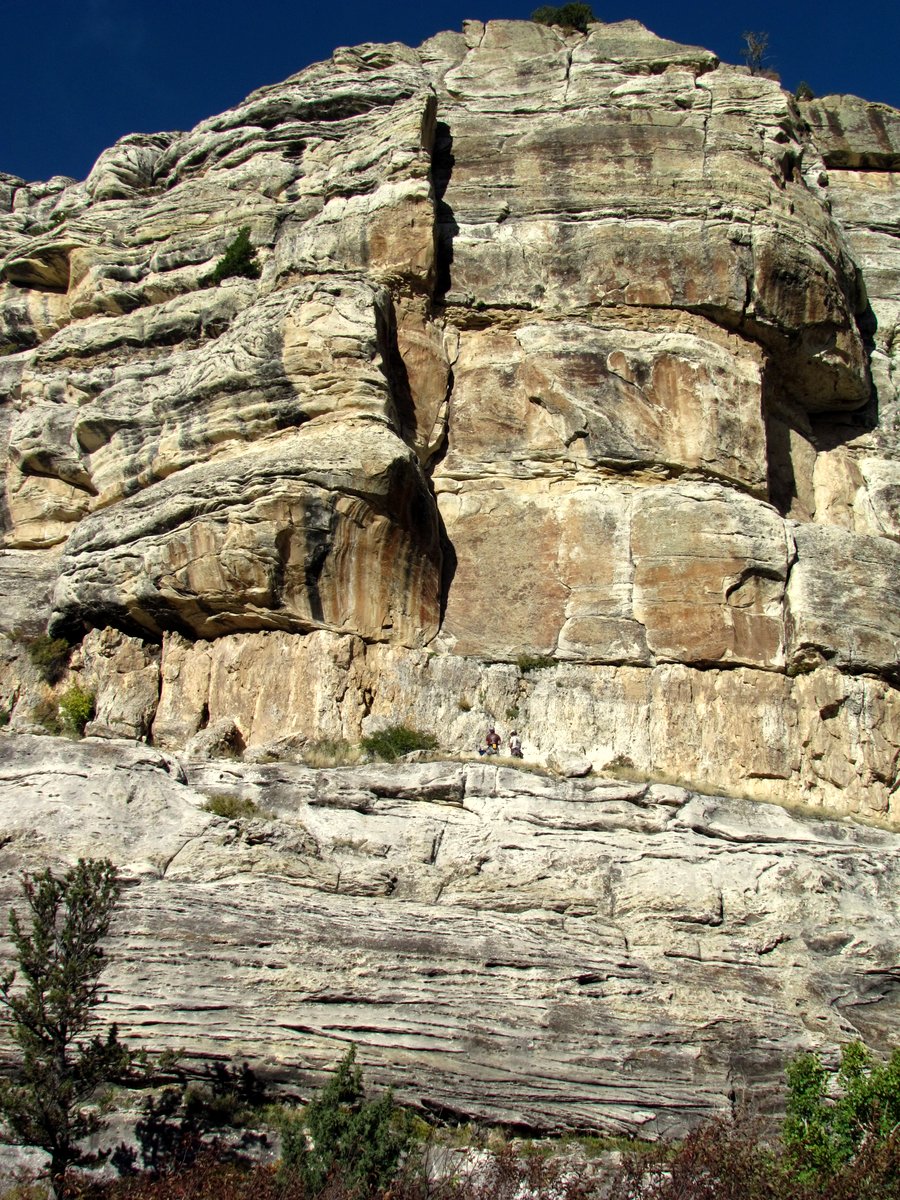 The three of us did Gunky, the classic multipitch trad of the canyon. I led the first pitch and led it strong, although I placed more gear than I ever have before. Ishai came up next, and Yan brought up the rear on a second rope.
As per usual, I giggled going up the good bits.
At the top, I set up the rappel and did a very, very bad job of throwing the rope out. We made it down just the same.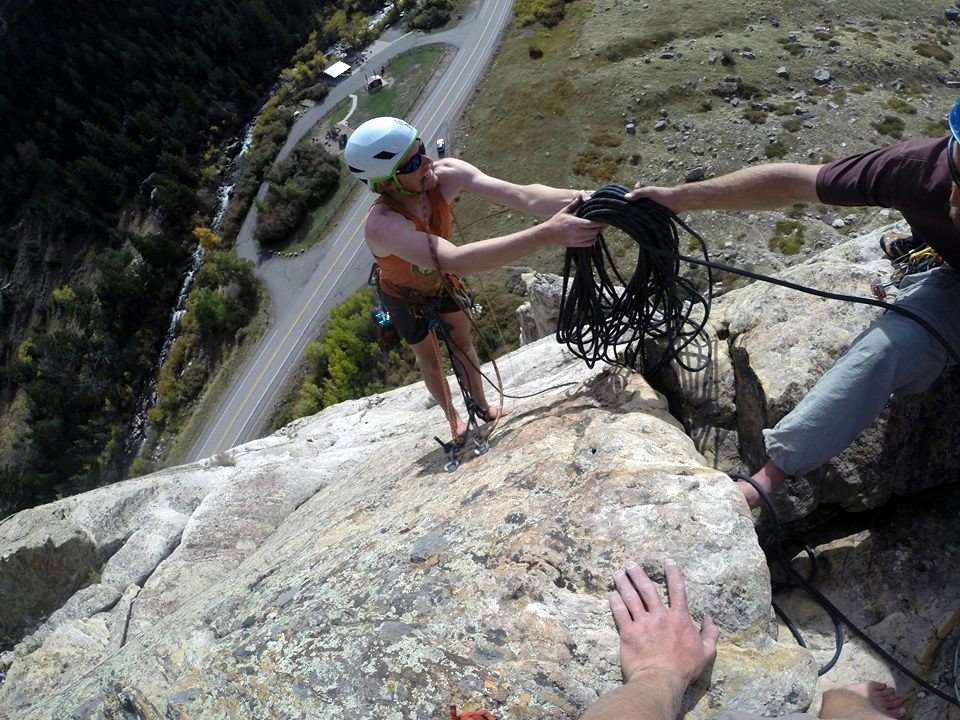 Yan, Ishai and I all shared parting hugs. It was time for me to head back to Jackson, but they had more cracks calling their names. I last saw Ishai going up No Name Crack (5.7) as I went down to the car to head home.
It was a stupendous weekend. I loved spending it with friends and strangers who became the same. Lindsey was an inspiring climbing partner, and it was great to remember that the world has people who will drive for hours just to climb with someone they've never met. The guys from Israel were strong and fun, and reminded me of the bigger world I love travelling. I have a feeling it won't be so many sunsets before we all see each other again.