Red Rocks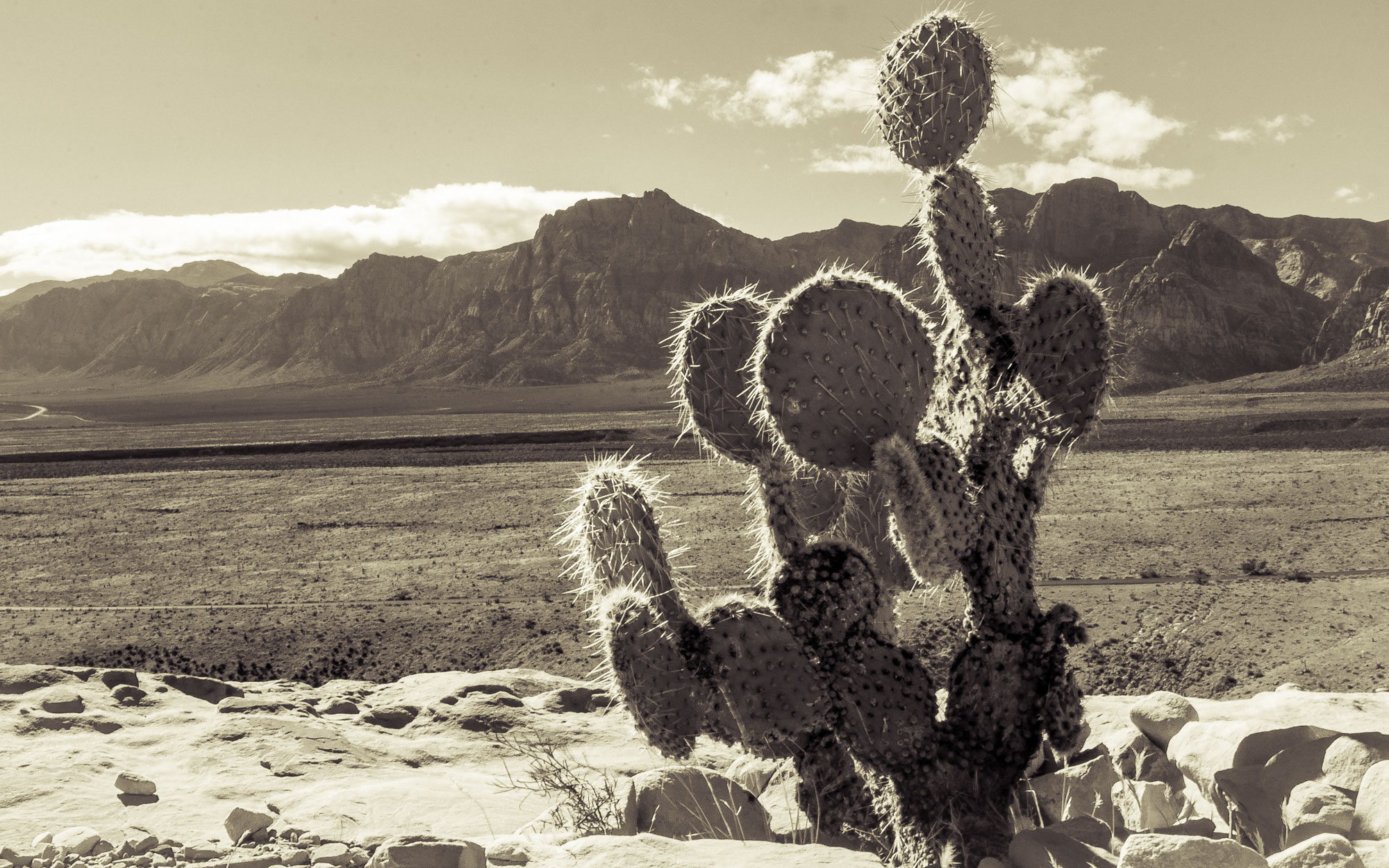 Winter kept moving south, Wyoming to Colorado. I got out of Boulder just in time.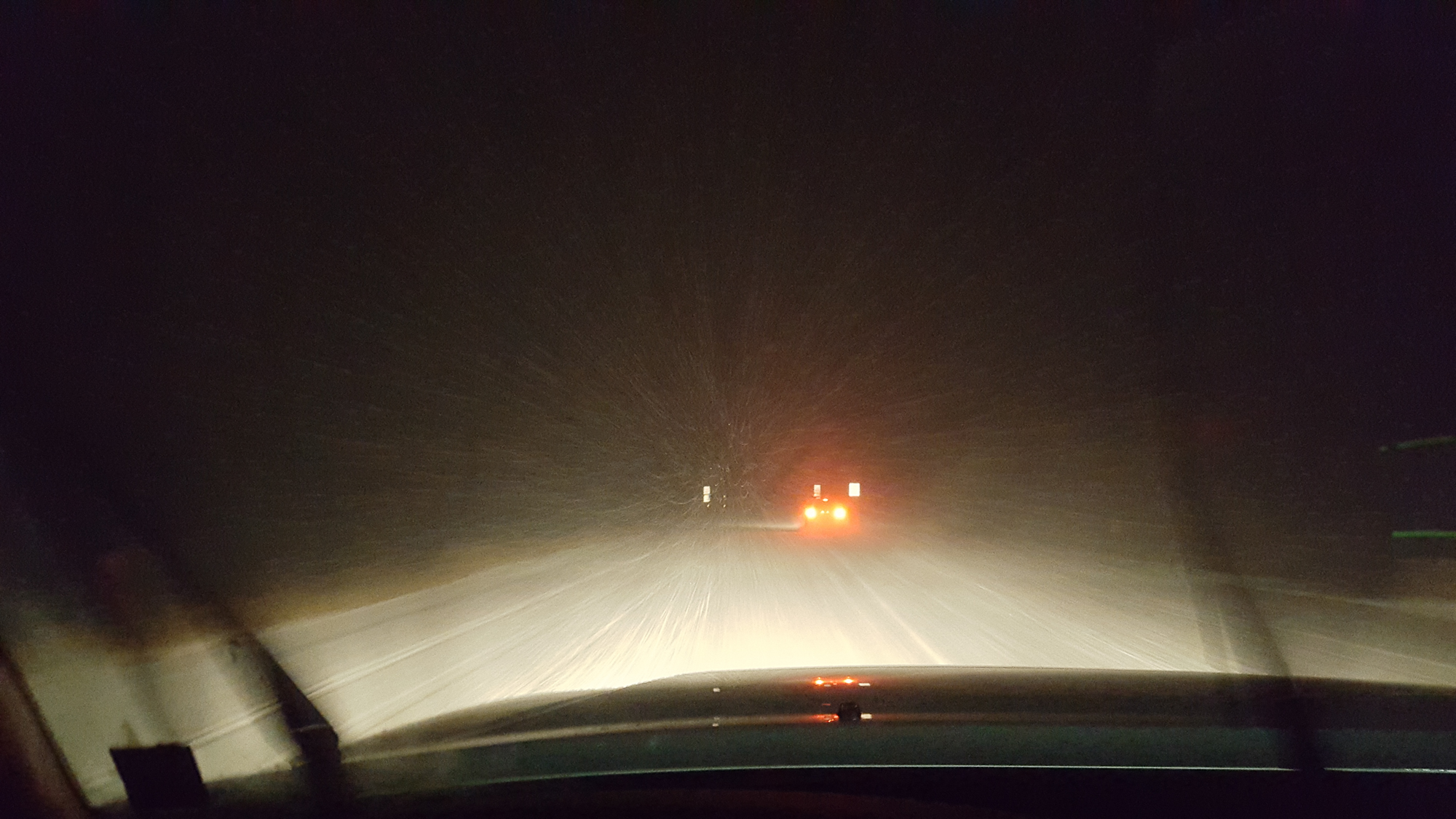 Of course I didn't take a picture with my cellphone while driving in a whiteout down a mountain highway. That would be unsafe.
I slept somewhere outside of Grand Junction and met up with Monsieur Trudeau in Sin City the next night. We stayed at my good friend Gary's condo in the southern part of the city and commuted an hour every morning to go climbing.
The Climbing
Seven days of climbing in a new place. We drove up, racked up, roped up, hiked up, climbed up, and got fed up with people.
We put away just shy of forty pitches of rock climbing while we were there, and not a single route would rate under two stars.
Red Rocks was a wonderful and strange place, which shouldn't come as a surprise for something so near Vegas. Still, as I write this trip log two months later I find myself wondering when, not if, I'm going back.
Here's the highlights and some of the climbs of the trip.
Ragged Edges & Pine Creek
Chicken Eruptus (10b) is definitely one of my favorite feeling climbs. It's one of those climbs that keeps you engaged and focused, solving problems all the way.
The top of the climb gently rolls over to a belay ledge, where I snapped this one of Chris pulling me up.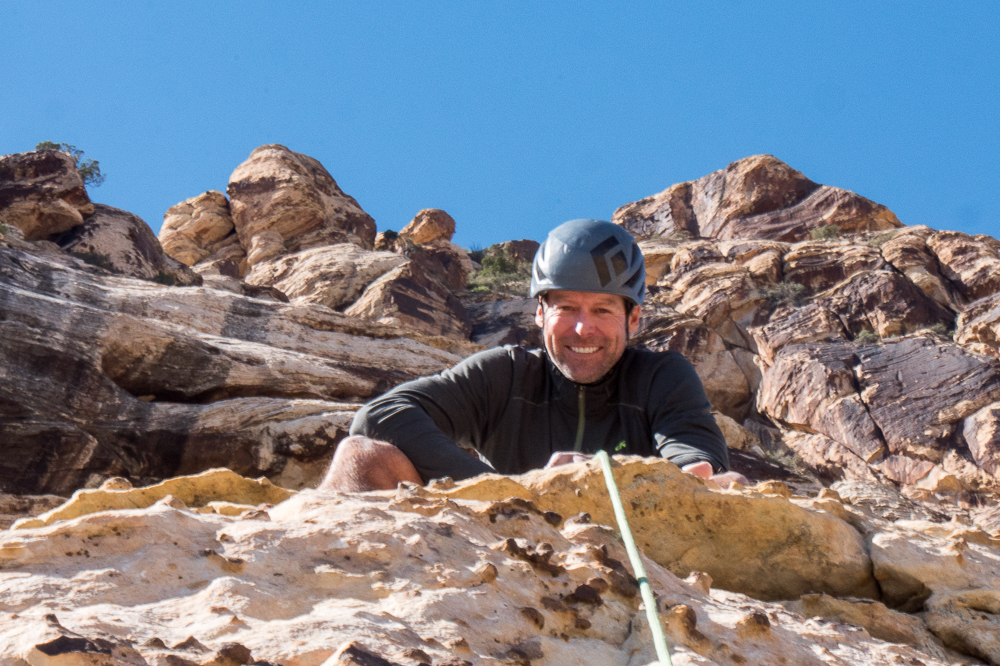 We had something of an audience up there...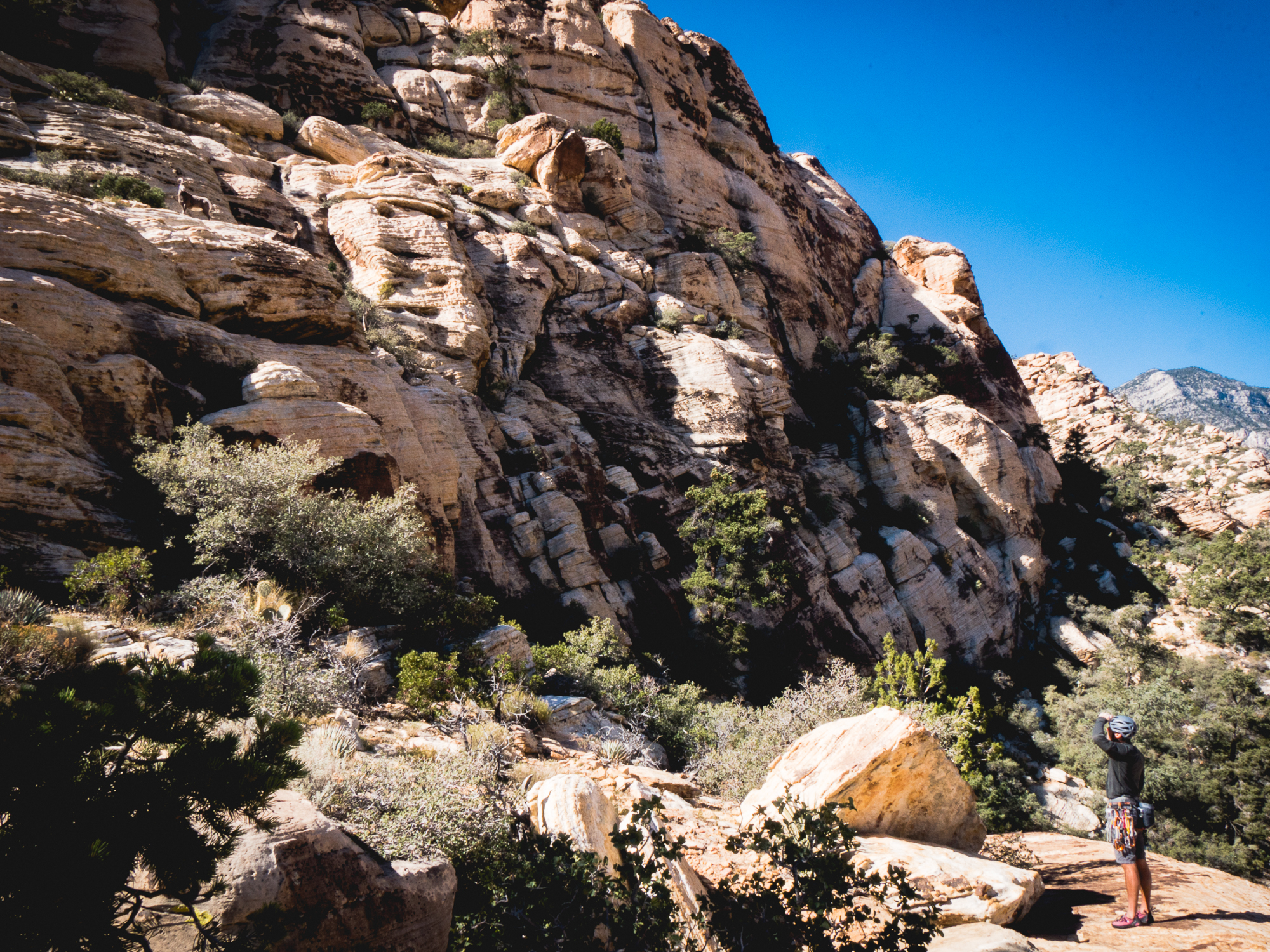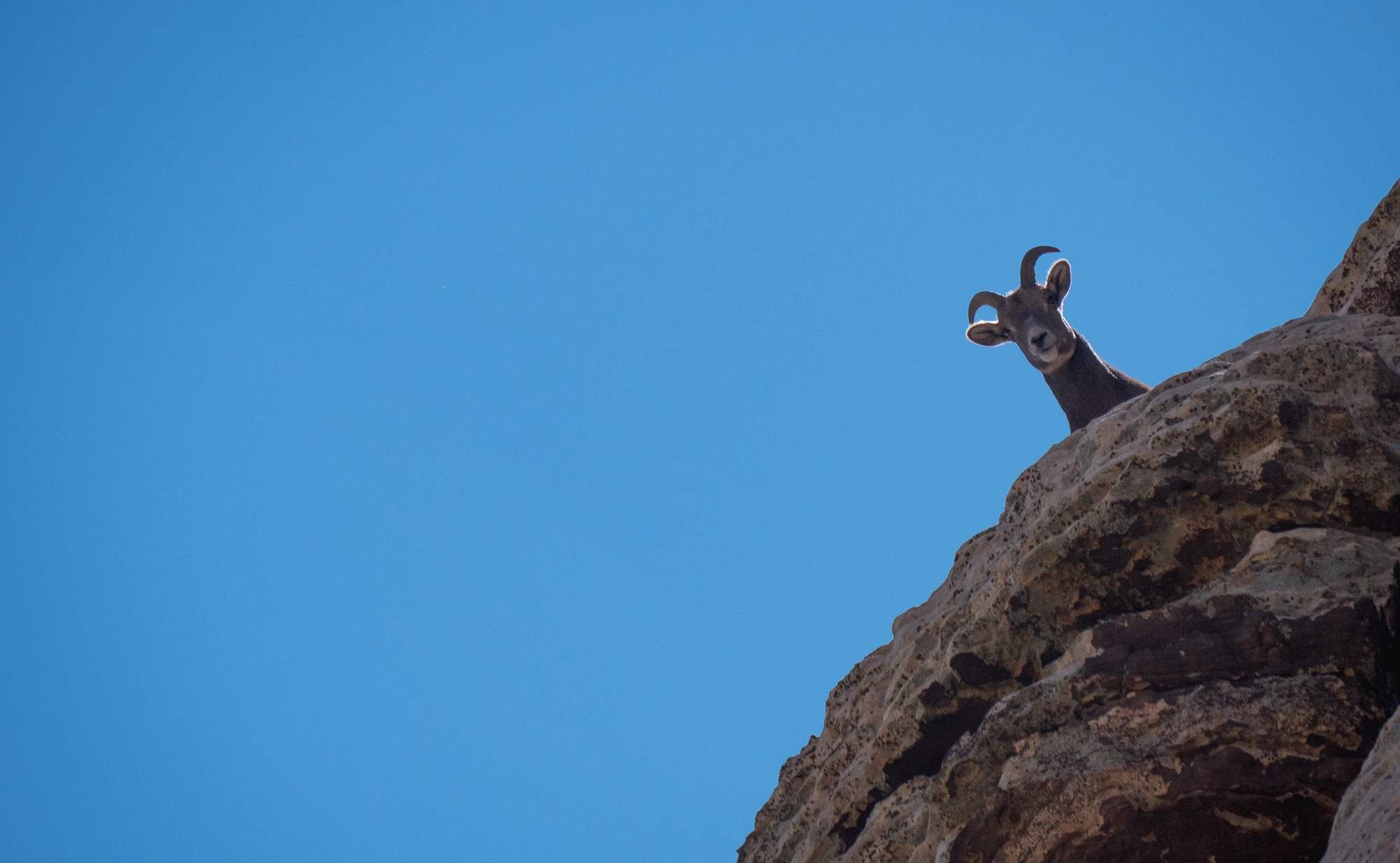 Ragged Edges had gotten crowded by the time we were at the base, so we hopped in the car and did the first of many hikes down Pine Creek Canyon to Out of Control (10c), an absolutely amazing 35m splitter with all the sizes and a handcrack roof finish. A proud onsight for me. Chris raced the sunset up the rock and we hiked back to the car.
Sandstone Quarry
The quarry was our first run-in with crowds in Vegas. If I had a carabiner for every hiker whose perfume pushed me off the trail from ten feet away...

Gift Wrapped, 11a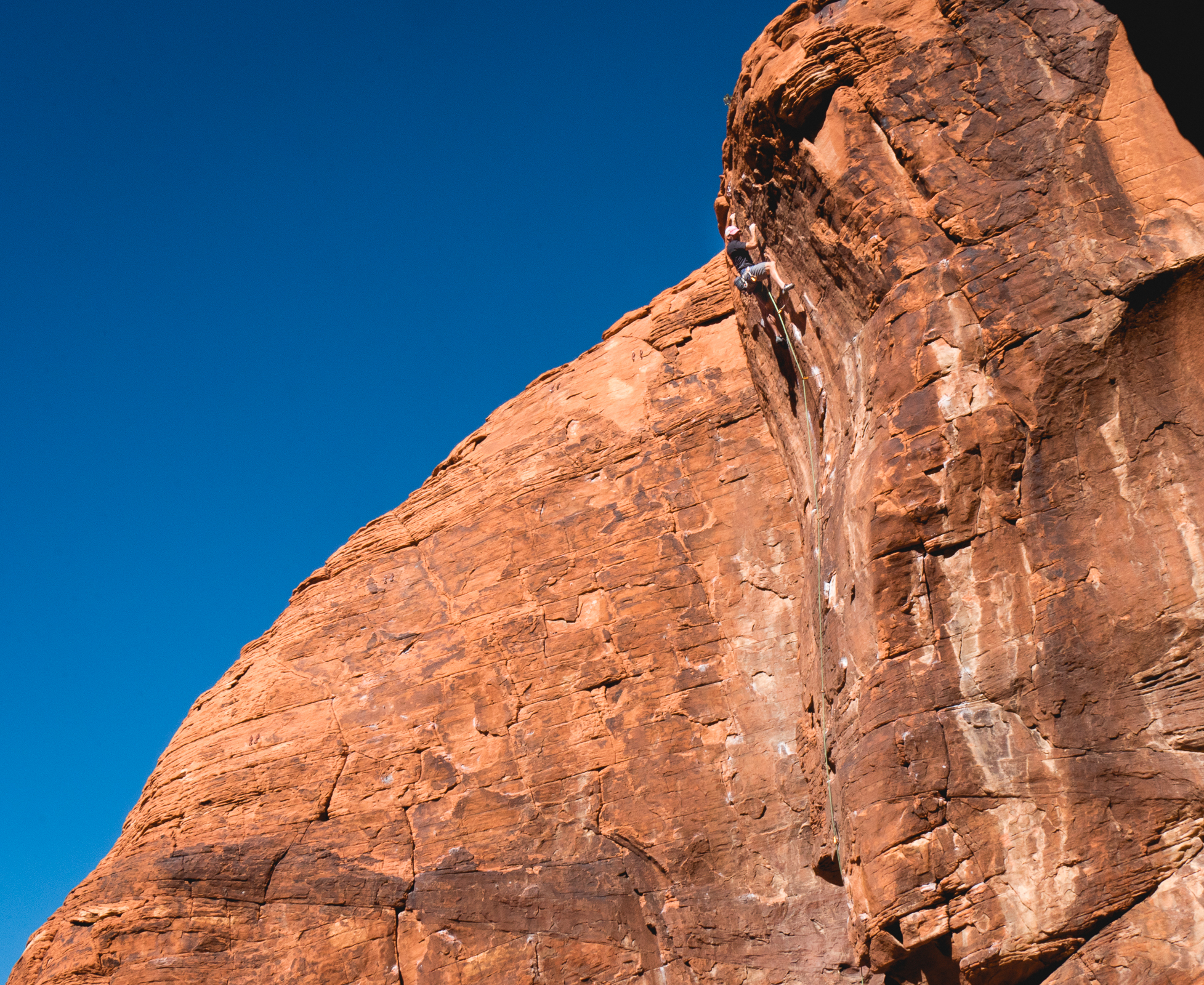 When the Cat's Away, 11b
In addition to dealing with hikers and tourists at Holiday Wall, we were so boxed in at Wake Up Wall that I could have reached out and high-fived climbers to either side of me. All the climbs that day were amazing, but man...
I had this to say on the medias de sociale
We had Holiday Wall all to ourselves on a sunny Saturday - well, we were the only climbers anyway. The natural amphitheater caught the voices (and often shutter snaps) of the many, many hikers that went by and lifted them to our ears.
"Look, they're toproping." - we weren't.
"Dad! He doesn't have a knot!" - I did.
"How did he get the carabiner above him?" - Levitation.
"You can do it!" - Thank you.
We're kicking off Sunday morning with a two hour approach.
Brownstone Wall
Sunday morning we took an hour and a half approach (even after getting lost we shaved off half an hour; Chris and I walk fast) to a classic climb only to be turned away when we realized the party that had started just ahead of us was struggling on the 5.6 pitch. As the route was rated 10c, our chances of getting a turn on it looked slim. So, we walked over a ways and found another classic... with a queue.
People. People are all that's wrong with Red Rocks. There's just too many of us.
At least there's a view when you're in the queue.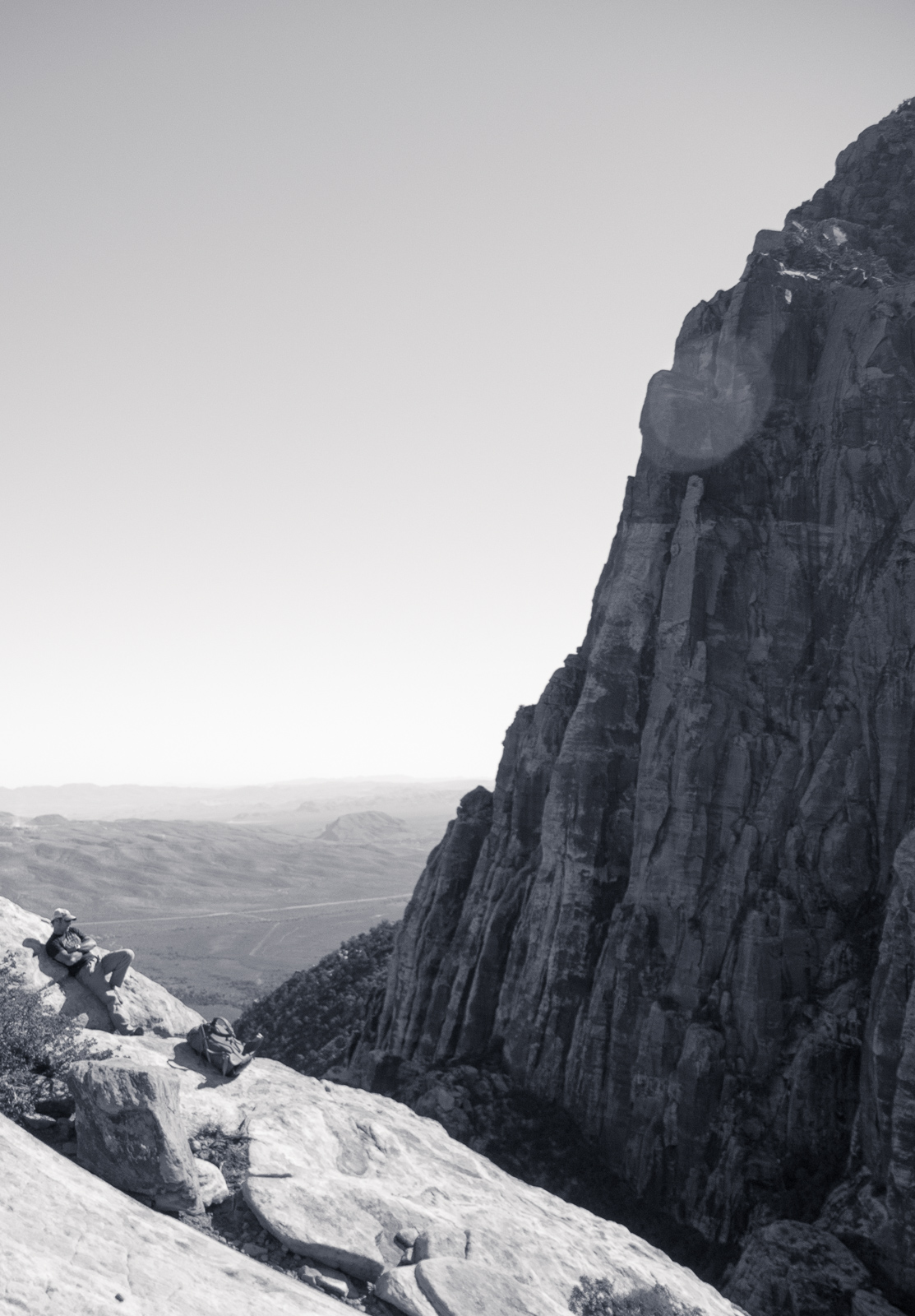 Waiting in line for Armatron
We did Armatron, 5.8(?), the money pitch of which was a fun and brainless "sustained" 5.6, reaching up and pulling down on blackened varnish plates. I think I placed 5 pieces of gear on the 160' pitch, only remembering to throw a nut in when a glance down would make me realize I'd gone 40' without placing.
Day Quatro
Stratocaster
Our fourth day on, we went with a short approach to some classics. Cut Loose (10d) stands out in my mind for its fun flake crack climbing to an overhung faceclimb finish where I very nearly took the whip.
Footloose (11b) was another standout. Watching timelapse videos of Chris and I at Holliday Wall the day before, I was inspired to climb as quickly and efficiently as I could. Crimp to crimp, I flew up the route.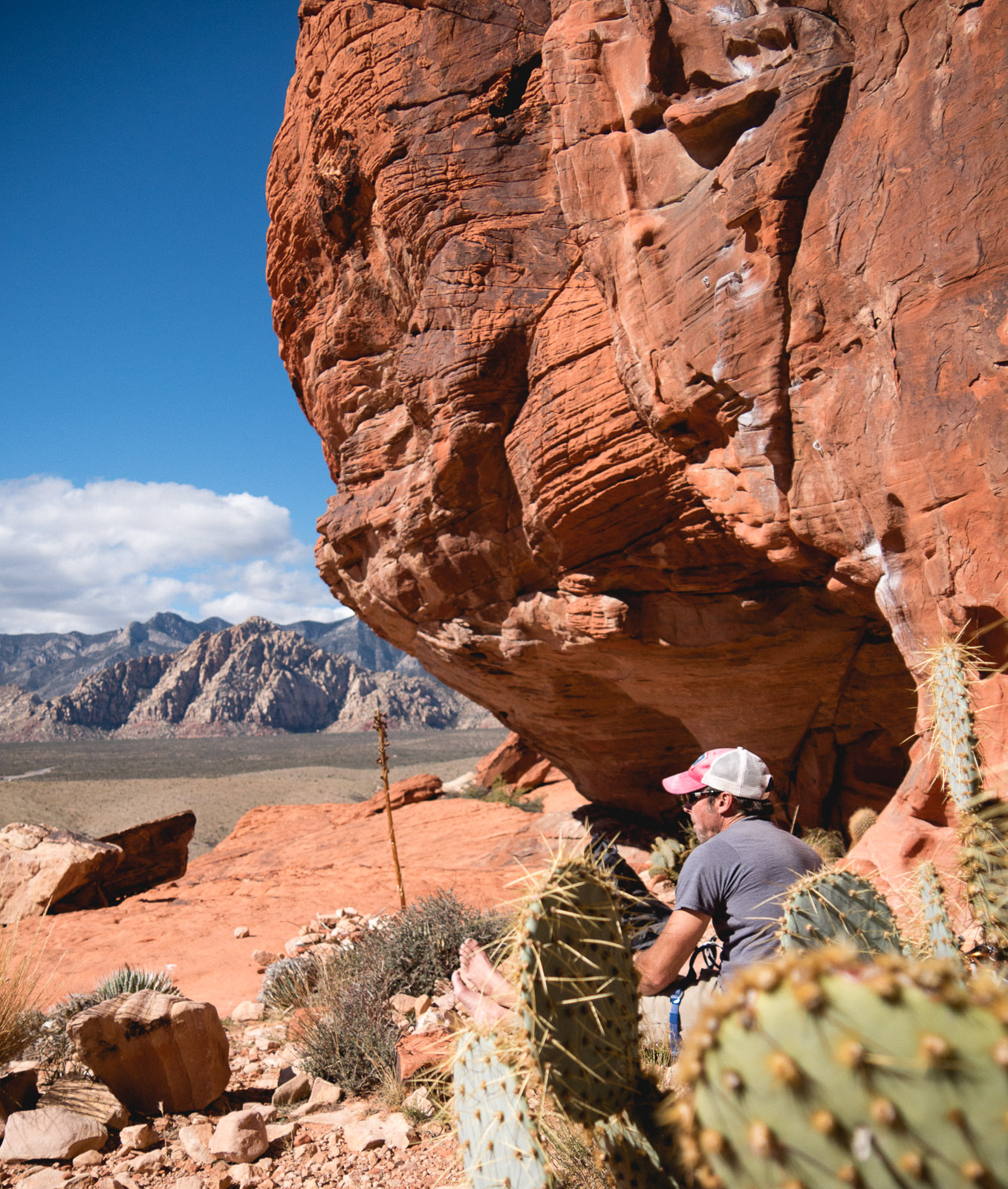 Chris refuelling and taking in the sights
We finished our climbing at Second Pullout that day with One-Eyed Jacks (11a), an overhung jug-fest with a deadpoint start. We were run off by yip dogs with names like "Chanelle" and by music blasting from speakers.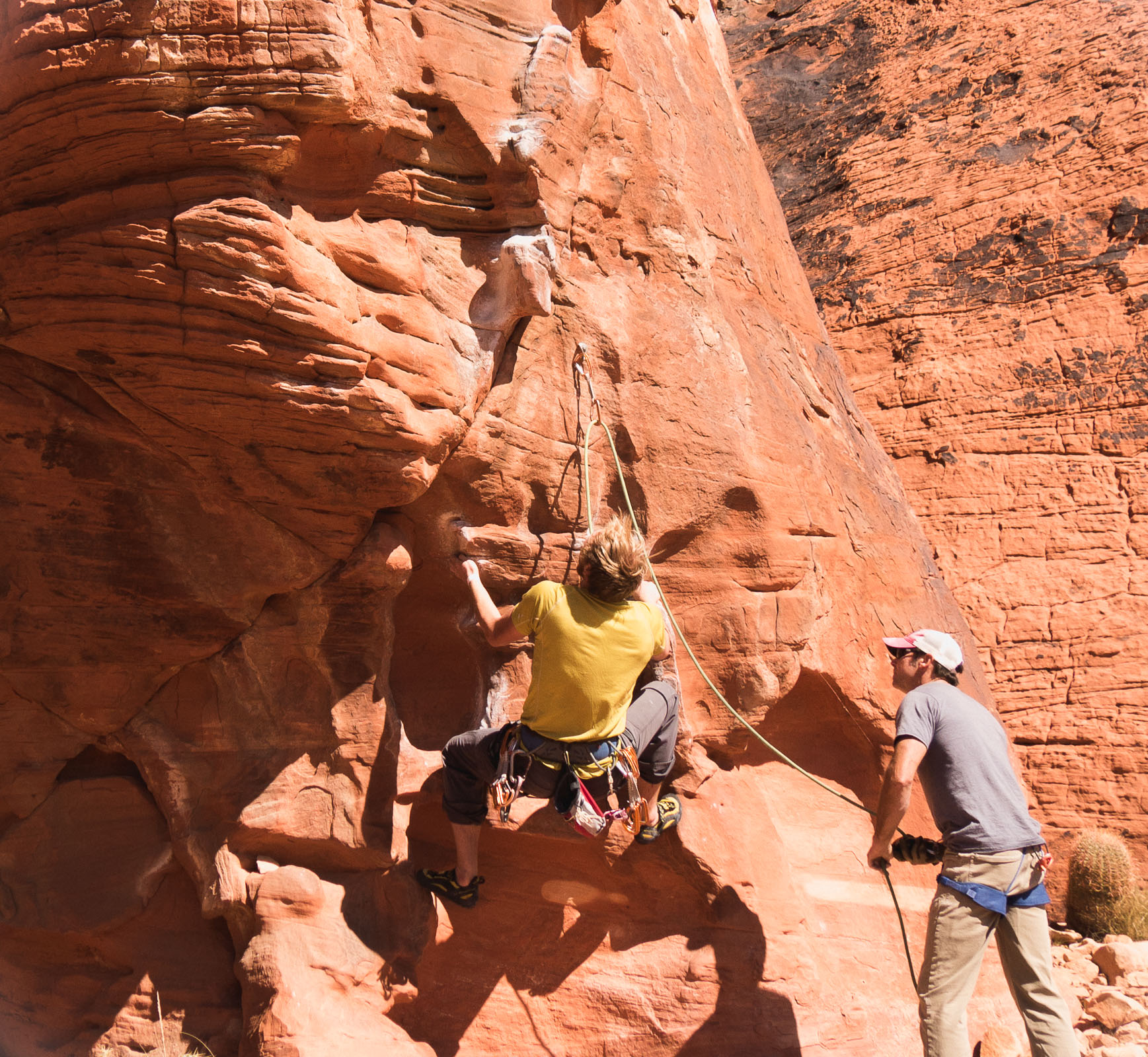 One-Eyed Jacks, 11a
Pine Creek Again
My height let me float the crux of Mushroom People (10c) on follow, while my panache helped me accidentally solo Straight Shooter (5.9) when I got halfway up and realized I didn't have any gear small enough for the tightened finger crack. I was pretty grateful for a bomber nut placement five feet before the anchors. Who would've thought 5.9 finger cracks even existed?
Calico Basin
Never underestimate the ability of a gumby to wake up before you. - Darren
After a rest day, Chris and I reunited with Ten Sleep buddy Darren for his day off and climbed at Sunny and Steep, where my goal was to get off the 11- kick and hop on a 12.
We warmed up on a 10d, then got on Mr. Choad's Wild Ride (11b). Mr. Choad is high on my list of classic 11s: amazing length, continuous climbing, and fun bolting keep you going all the way to the finish.
After that, it was time for my one-day "project", Gimme Back My Bullets (12a).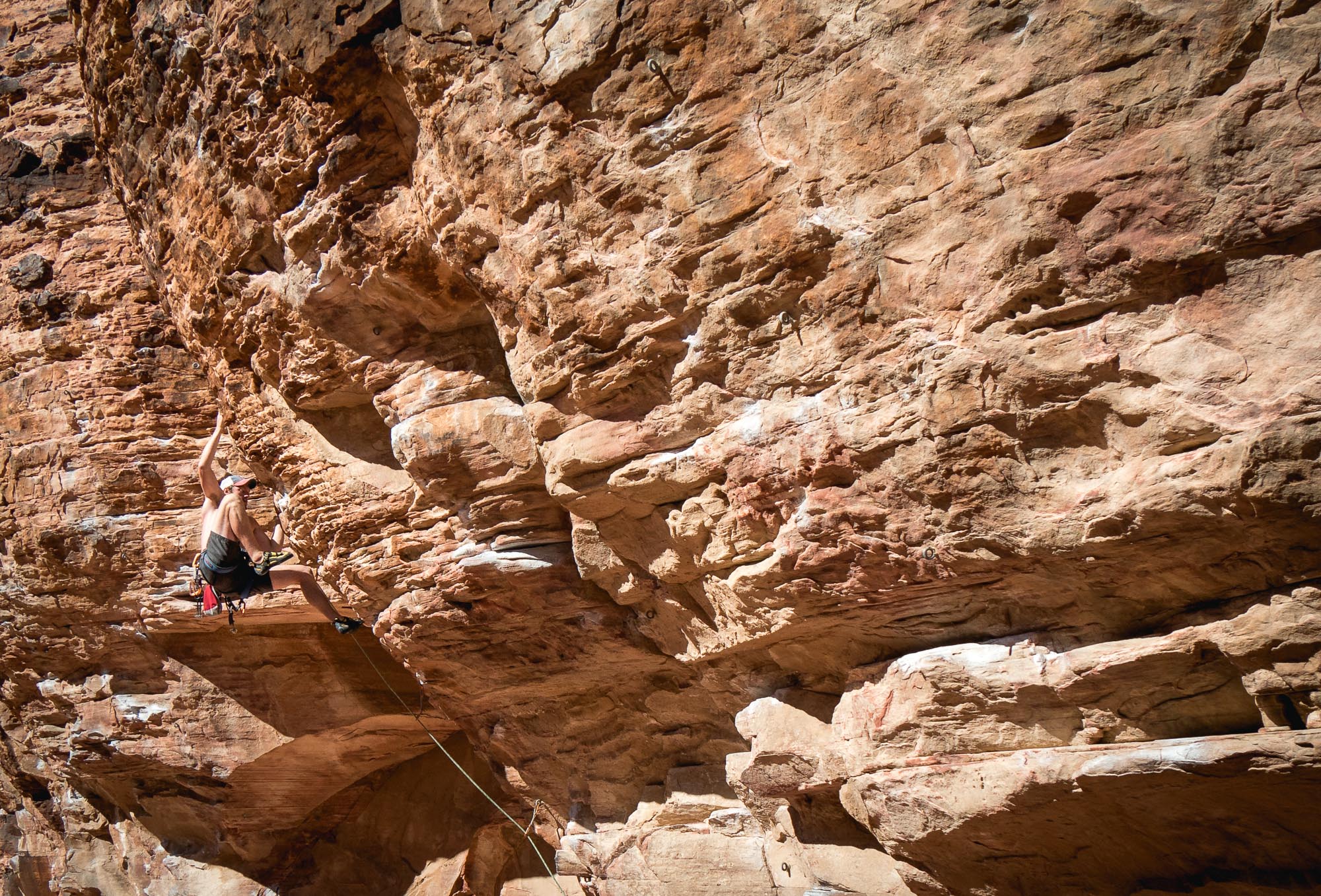 Gimme Back My Bullets, 12a
I spent a bit of time figuring out the moves the first time up...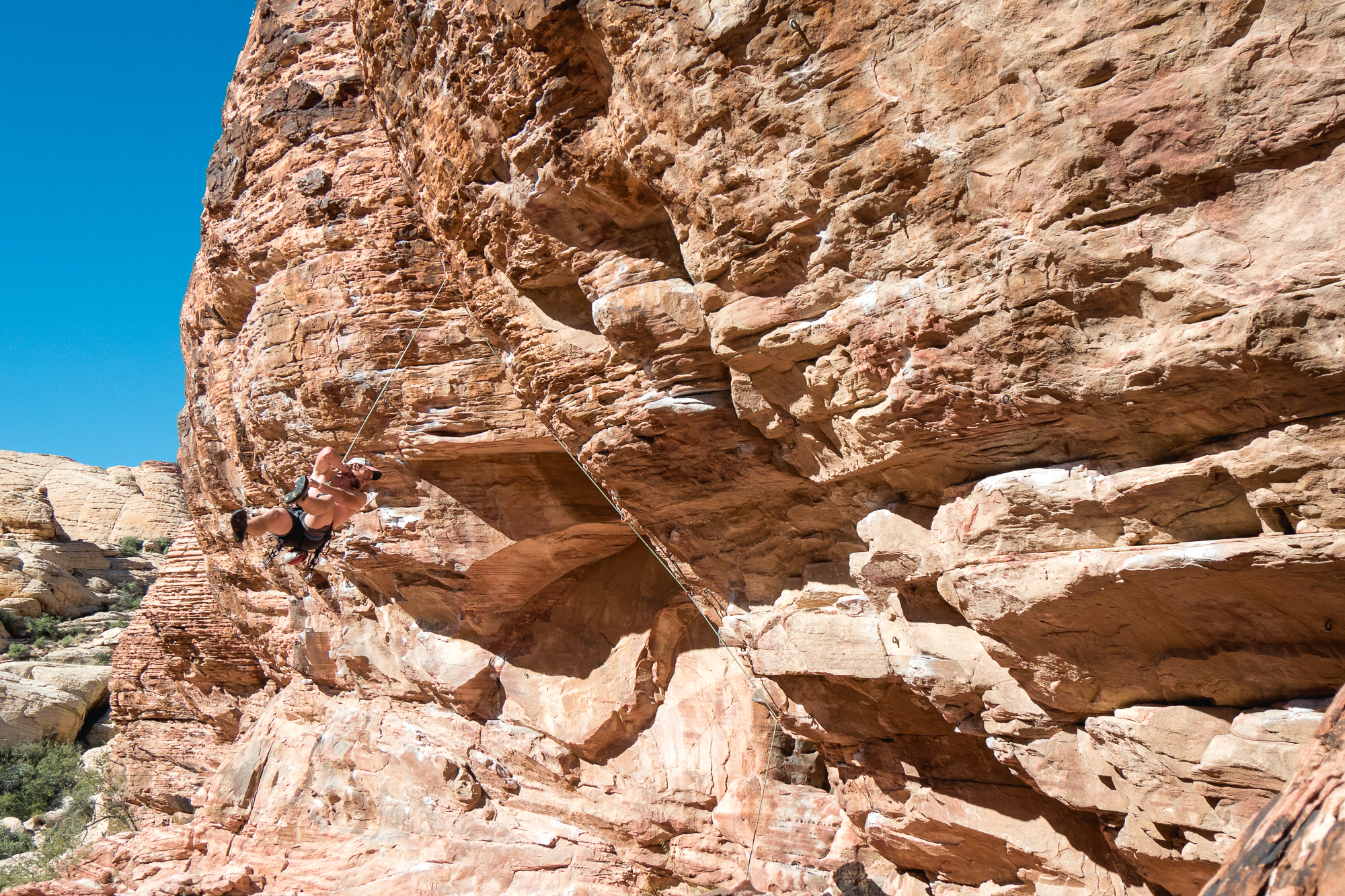 And then fought through the crux on the redpoint attempt only to blow it a little later due to my muscles just telling me, flat out, no mas.

Whipping on the redpoint / The whole climb
I feel that if we had just gone back another day, I would've bagged my first MountainProject Approved 12. Ah well.
We walked down the wash to Winter Heat Wall and set up a toprope on Winter Heat (11b), another stupendous climber's climb. I watched Chris and Darren do an 11d next to it but decided I was too pumped to go on.
Unimpeachable Groping
Lesson learned from Nightcrawler, we rolled out bright and early for our next multipitch, Unimpeachable Groping. The route was 7 pitches and 700ft of climbing that we did in 4. I got to lead an amazing rope-stretcher of a pitch that started with a monster roof and took some 30 quickdraws (we had 25).
We were first on the rock, and got to rappel through some amazing humanity shit-shows. We laughed at the nonsense on the rocks and got the hell out of dodge.
Pullouts
We climbed a few different areas on our last day: Stone Wall, Sweet Pain, Iron Man Wall, and The J Wall.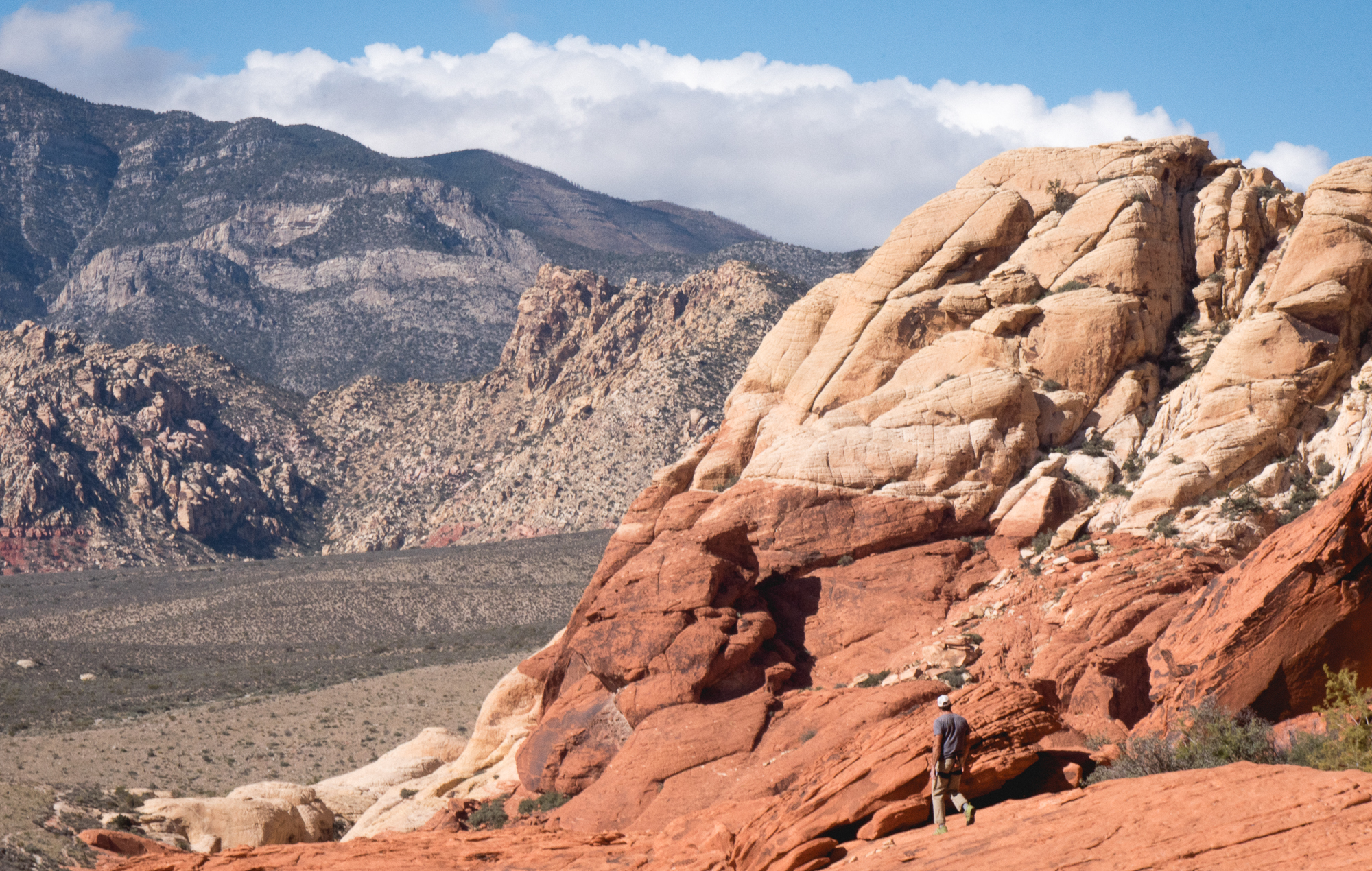 Stone Wall was home to two fun 10Cs, one of which demanded a lot from my unimpeachable-deadened crimp muscles. Nextdoor Sweet Pain was home to amazing overhung 11- climbing that looked harder than it went.
Let's not talk about Iron Man Wall.
The very last climb of the trip was something we eyeballed as 5.9 walking back to the car. I did it in my approach shoes, which made the edging-intensive finish ... exciting. Turns out it was a 10b.
---

Pine Creek Sunset
And that was the second-to-last climbing trip of the year. Next up, Moab and Indian Creek.
---
Ticklist (and misses)
5.Easy
Armatron, Battery Powered, Straight Shooter
10a
Plan F, Test of Time, Mind if I do a J (Sneakers Send)
10b
High Class Ho (Fw), Chicken Eruptus (Fw), Unimpeachable Groping
10c
Out of Control, Spanky Spangler, Haunted Hooks, Roto Hammer
10d
Mushroom People (Fw), Cut Loose, Claimjumper's Special
11a
Gift Wrapped, One Eyed Jacks, Glitter Gulch
11b
When the Cat's Away, Shut Up and Climb, Good Morning , Footloose, Mr Choad's Wild Ride, Winter Heat (TR), The Gambler
12a
Gimme Back My Bullets