England, Rocks District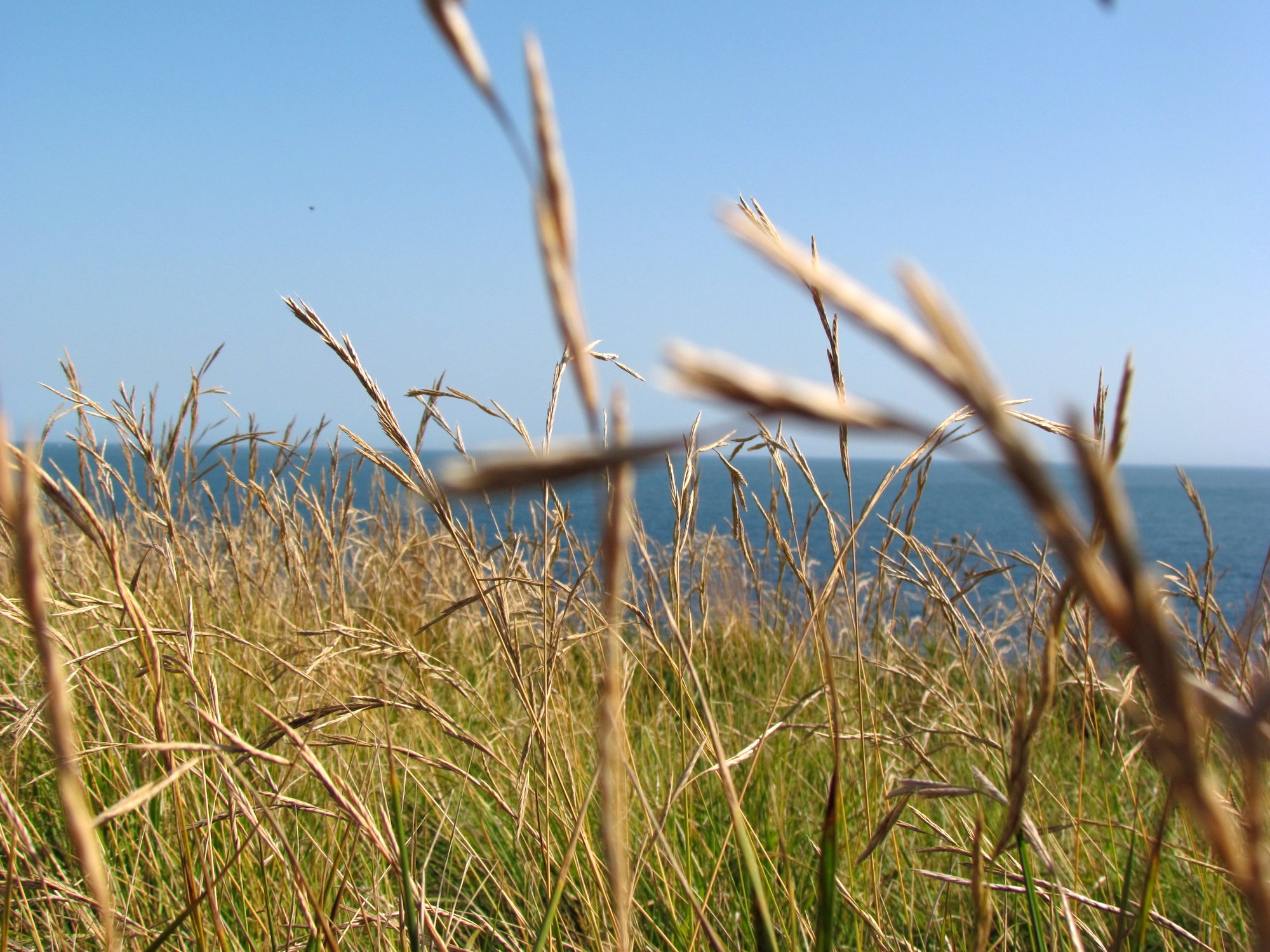 Well, isn't this a blast from the past? Back in August of 2013 I went off to Europe for the first time with Alyssa. Our trip started in England, beginning with the Lakes District, then the Peaks District, and then the last bit I wrote about, the... Towns District?
I'm picking back up with our final "district", what I'm dubbing the "Rocks District". And so, without further ado..
Swanage
You didn't expect me to go on a trip without heading off on an adventure, did you?
The morning after our night in Oxford, Alyssa and I boarded a series of buses and trains to Swanage, walking the last bit of the way to Tom's Field Camping: our home for the weekend. We set up our tent in the one available spot and went for a hike towards Dancing Ledge.
Dancing Ledge
To get to Dancing Ledge we walked through a series of rights of way, public paths through private lands. Sheep grazed behind old stone walls, and it was clear we were in a new country. A city may be just another city, but here in the countryside of England we knew we'd been transported away.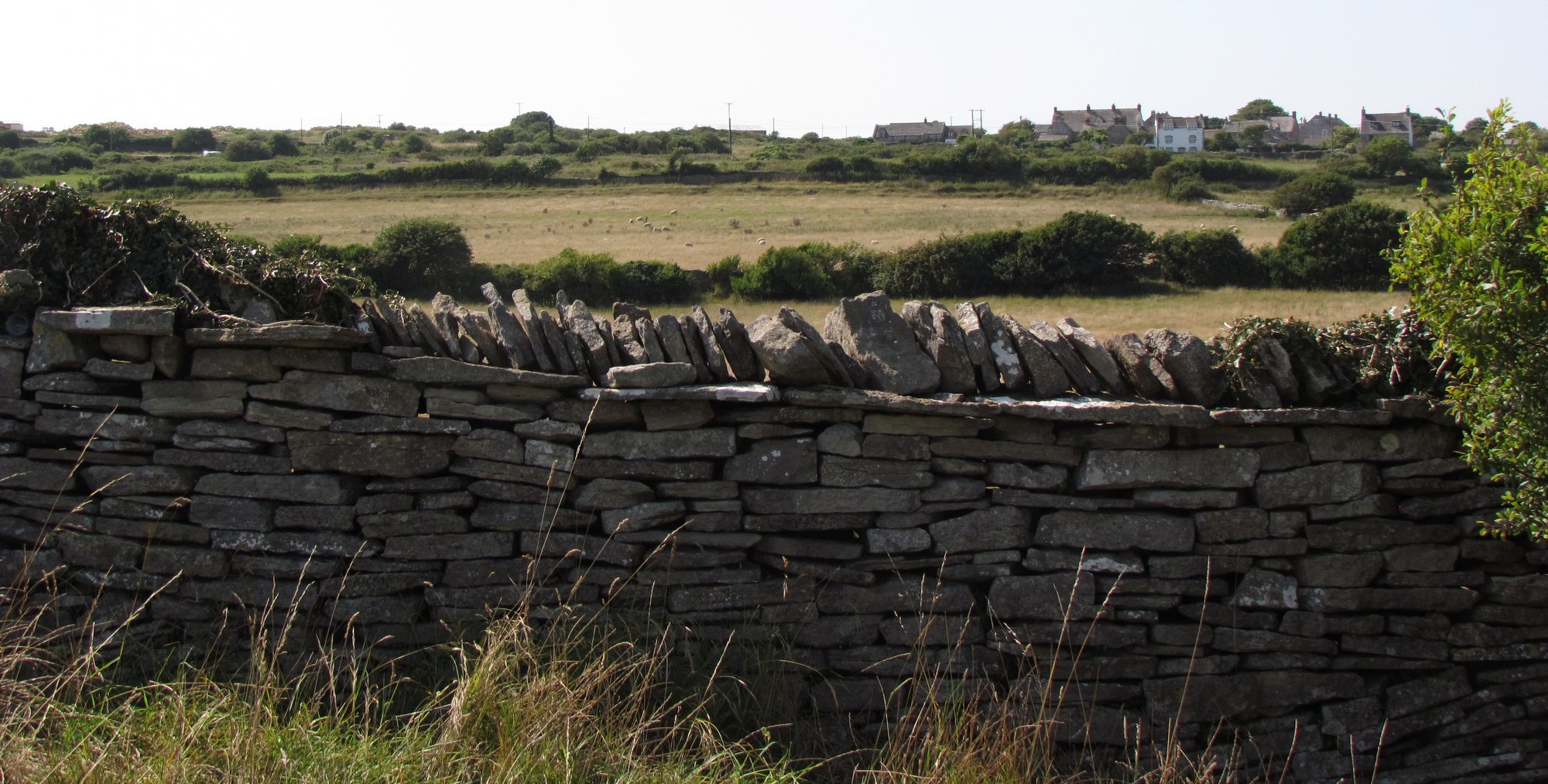 Dancing Ledge is a long seaside cliff, once destination to quarrymen, but now sightseers and climbers.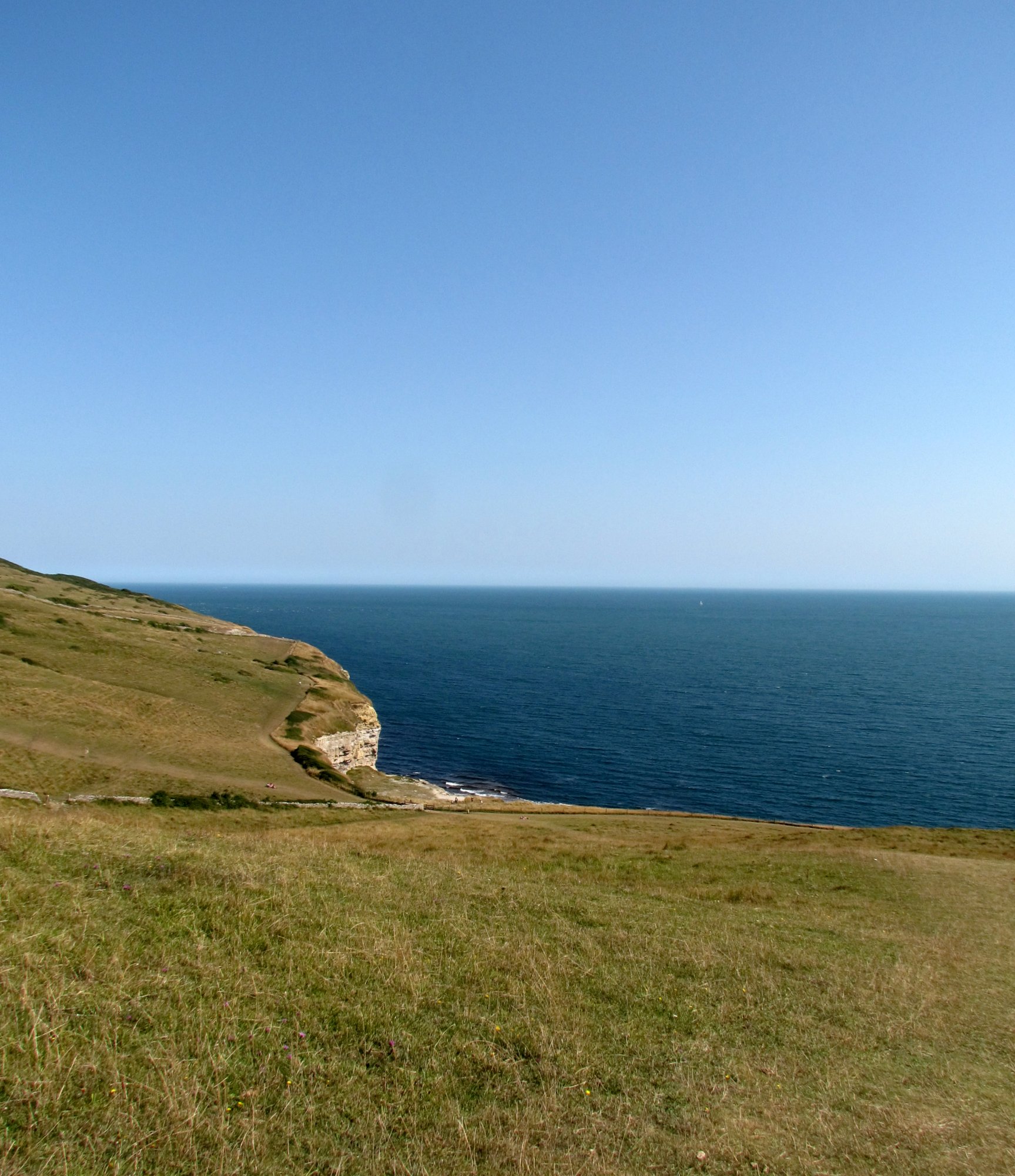 We spent the afternoon walking the idyllic paths, scouting climbing areas as we went, but mainly just enjoying the sun and the sea.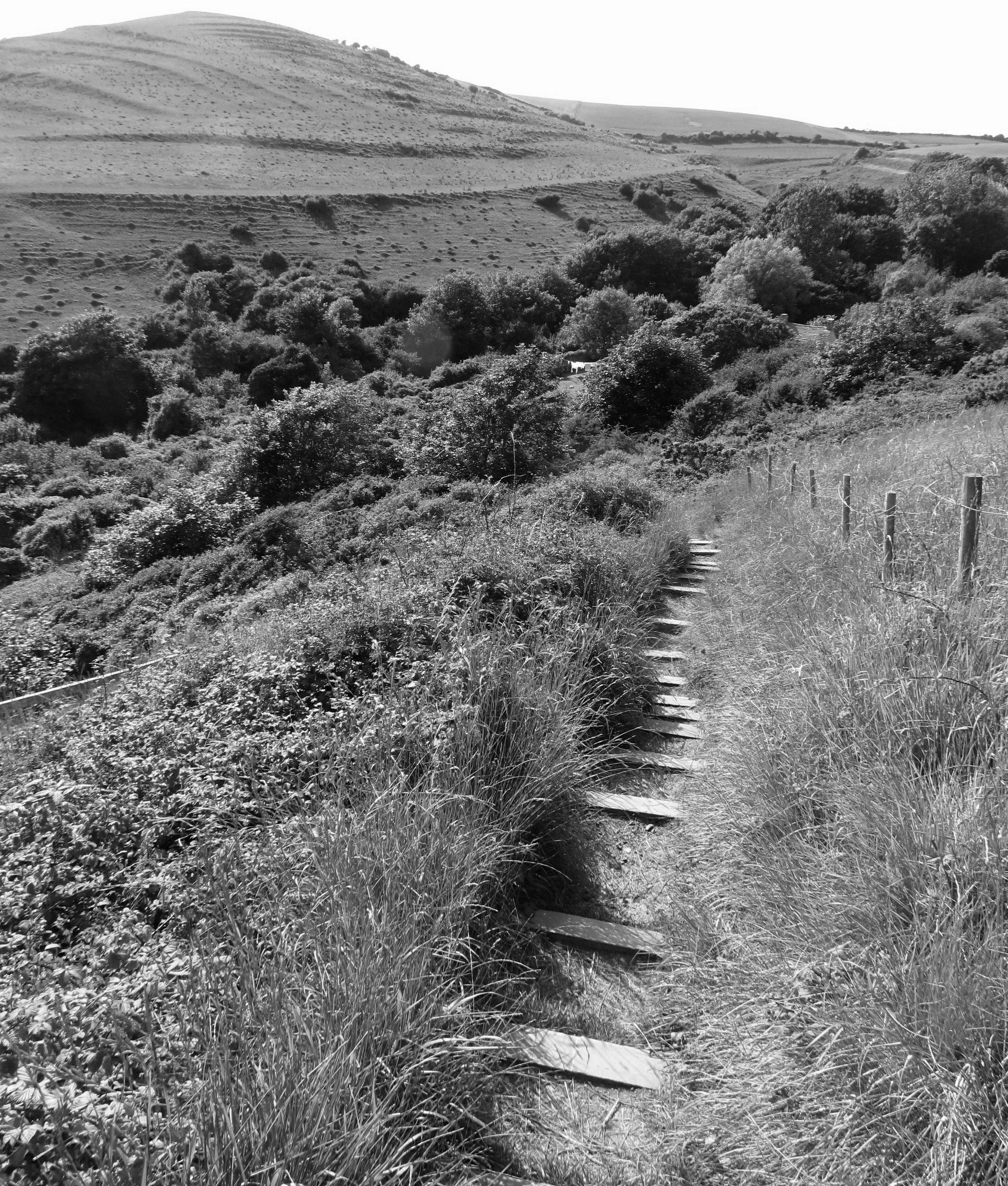 We walked East along the coast, aiming for the Winspit Quarries, the furthest area in Swanage. I used the climbing guide was map and journal, and noted that the Quarries were a "bit of a hike from Dancing Ledge."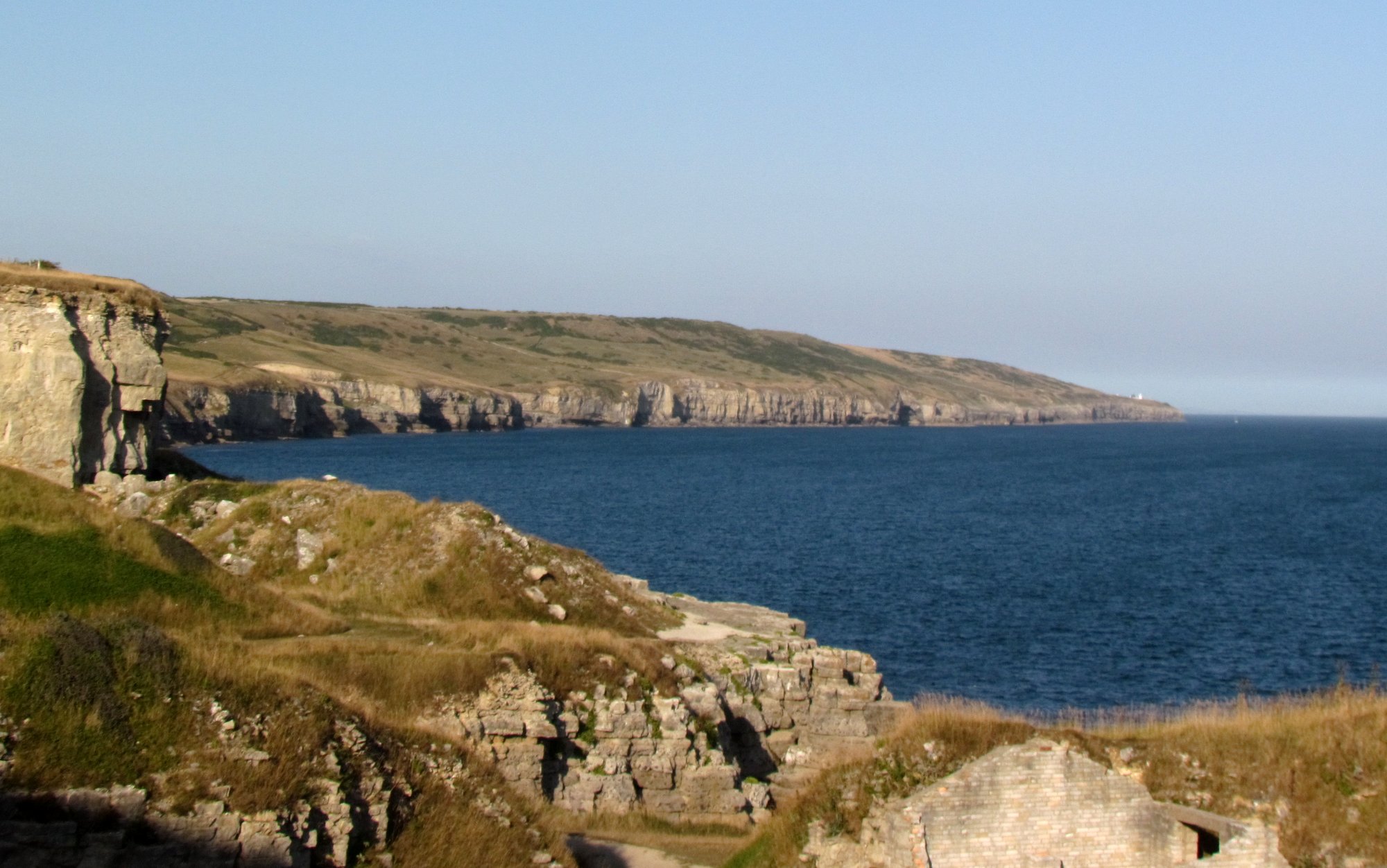 Looking West from the Quarries back at Dancing Ledge
The Winspit Quarries
We had taken our packs along with us on this hike, "just in case". Did we really think we'd be able to look at all that rock and not want to climb it?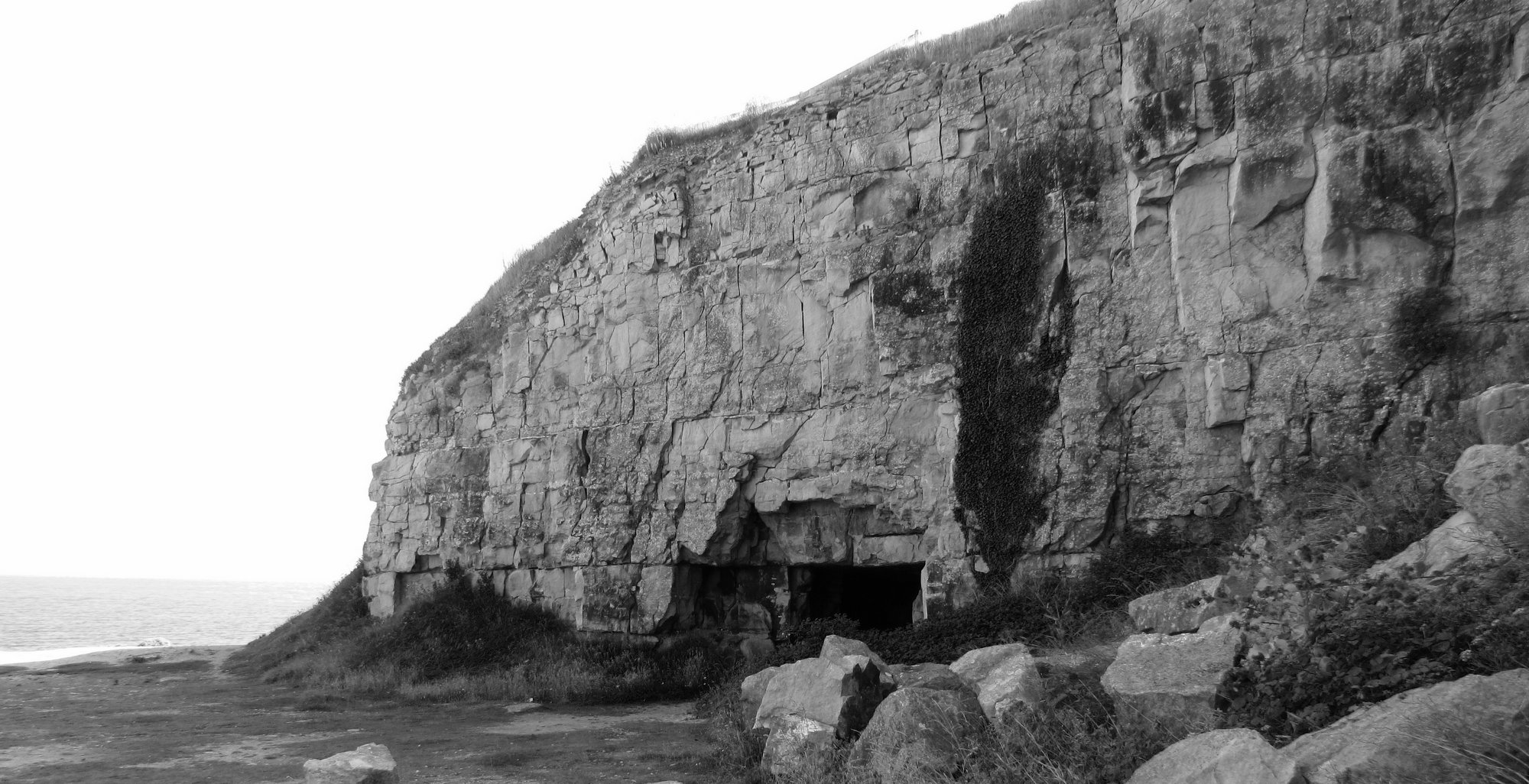 We wanted to climb it.
Flux Capacitor: 5+ was my first climb on that side of the Atlantic, as well as the first time using my new (then) 70m yellow rope that has since shown up in so many posts. Climbing on an old quarry was pretty strange, and I remember everything just feeling kind of.. different.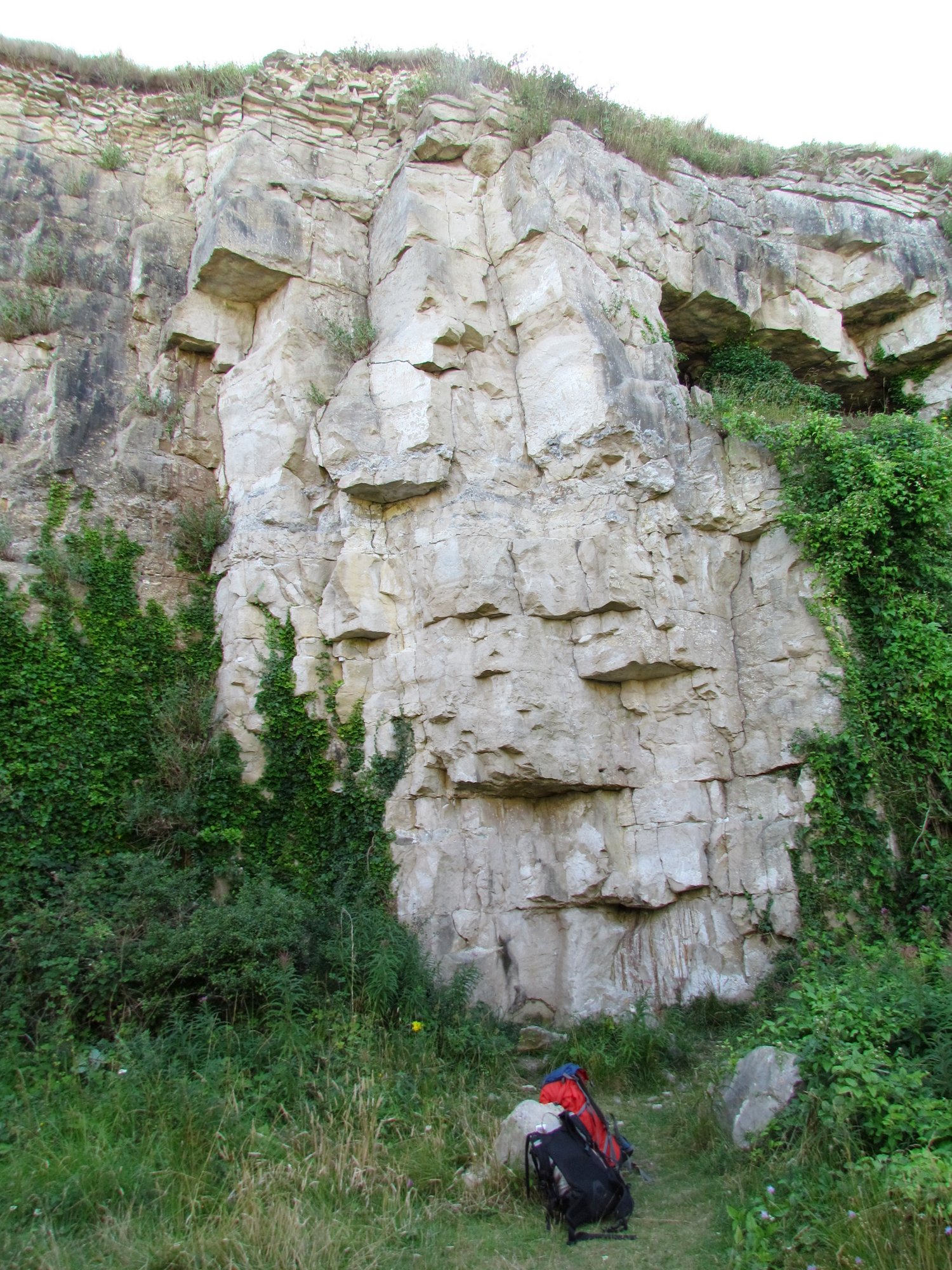 Alyssa upped the ante by throwing down Post Coital Snooze: 6a+, a finicky one-move-wonder that put both of us through the ringer.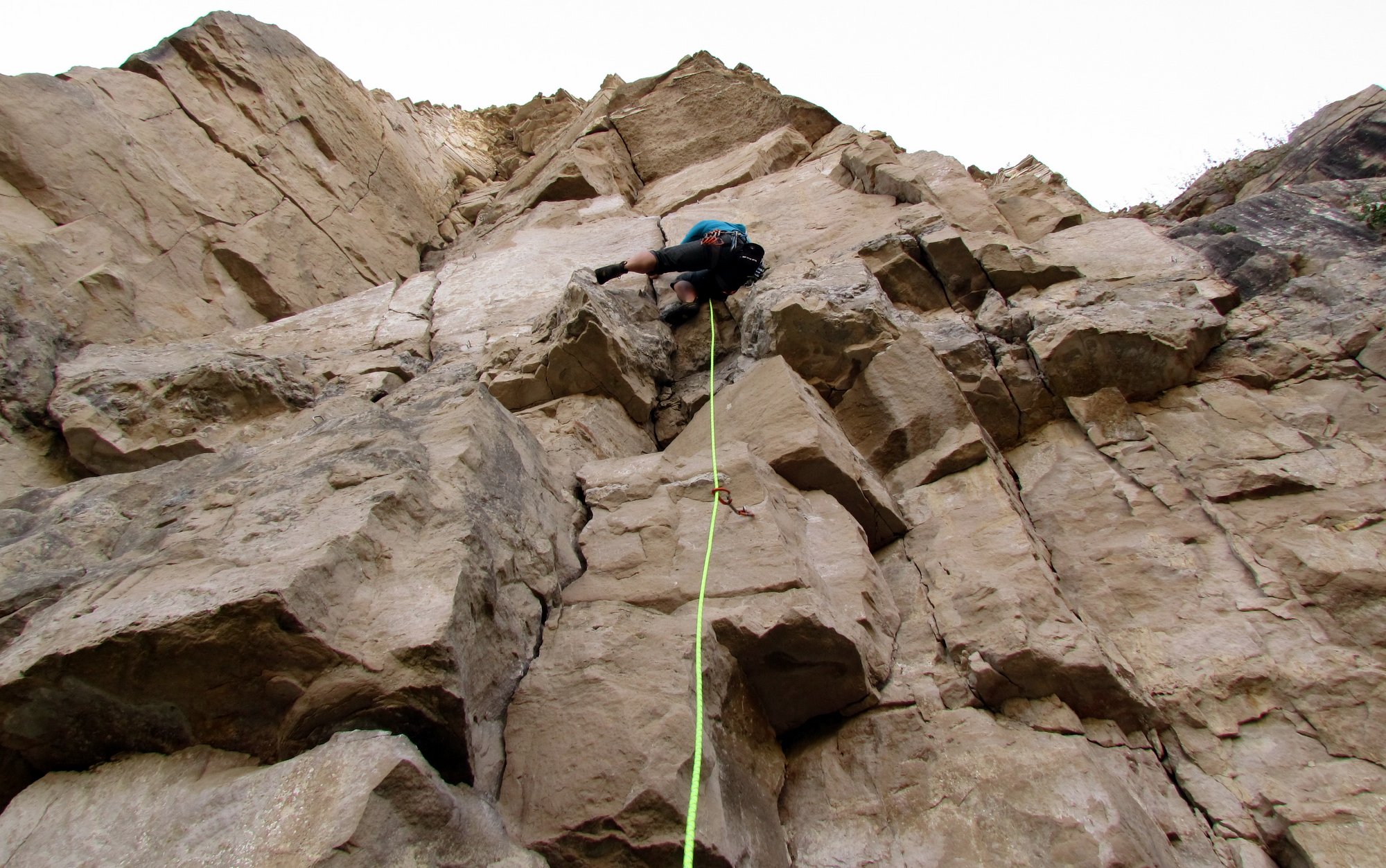 The sun was plotting its own suicide-by-sea by the time our draws were down from Post Coital Snooze. We packed up and headed inland, straight north to the town of Worth Matravers, home of the famous Square and Compass pub.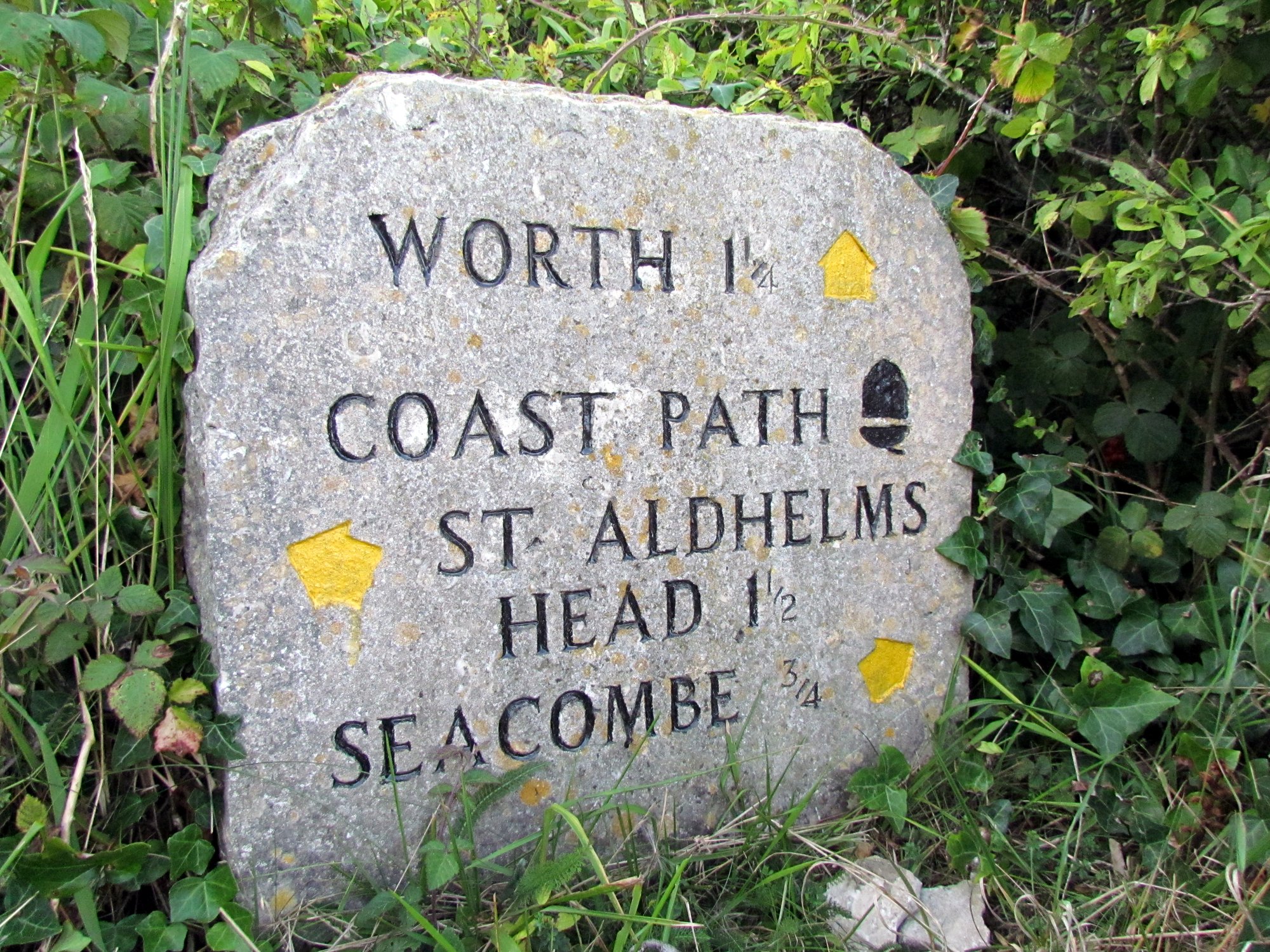 We stood in line, ordered ciders and pasties, ate pasties and drank ciders, got back in line for more pasties and ciders and walked home along the road in the dark.
Something happened on that walk home in the dark - maybe we got lost, maybe we encountered aliens, or maybe I wet myself. It's been so long now, I can't tell you what.
The Quarry at Dancing Ledge
The next morning we awoke to greyer weather.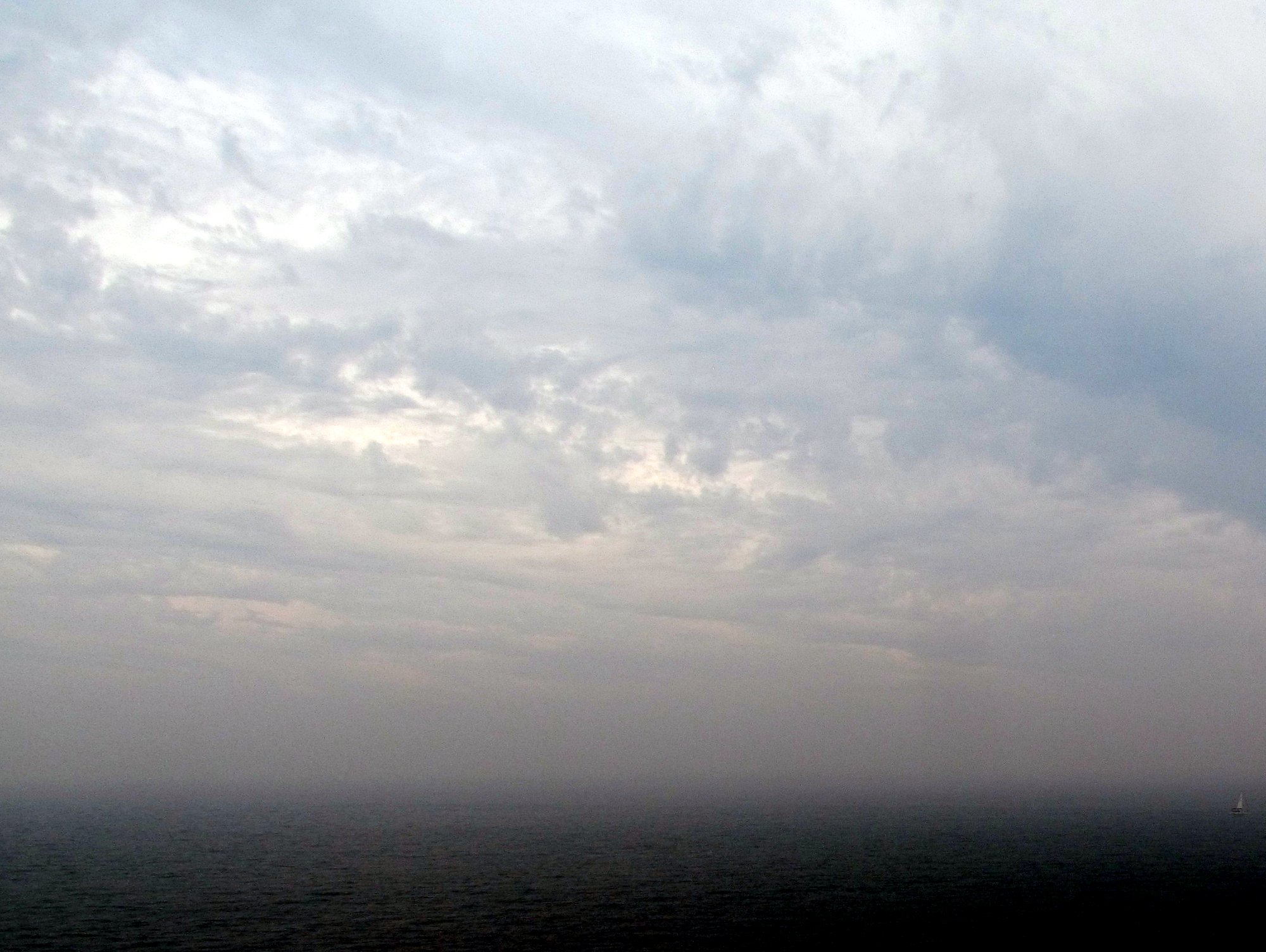 A short hike took us to the seaside cliffs comprising the Quarry at Dancing Ledge. A full day of climbing lay ahead of us, but that's not quite how things went down...
Borra Ring: 5+ was our warmup. "Greasier than lubed sausage," my notes say.
Chicago Pipe Dreaming: 6a was immediately next to it, and a step up. There was a strange traverse to the second bolt, and while the third bolt looked intimidatingly far off from there jugs brought it in range easily enough.
Date with a Frog: 6a was "really fun!" with a "high first bolt." I cruxed on it, but Alyssa cruised.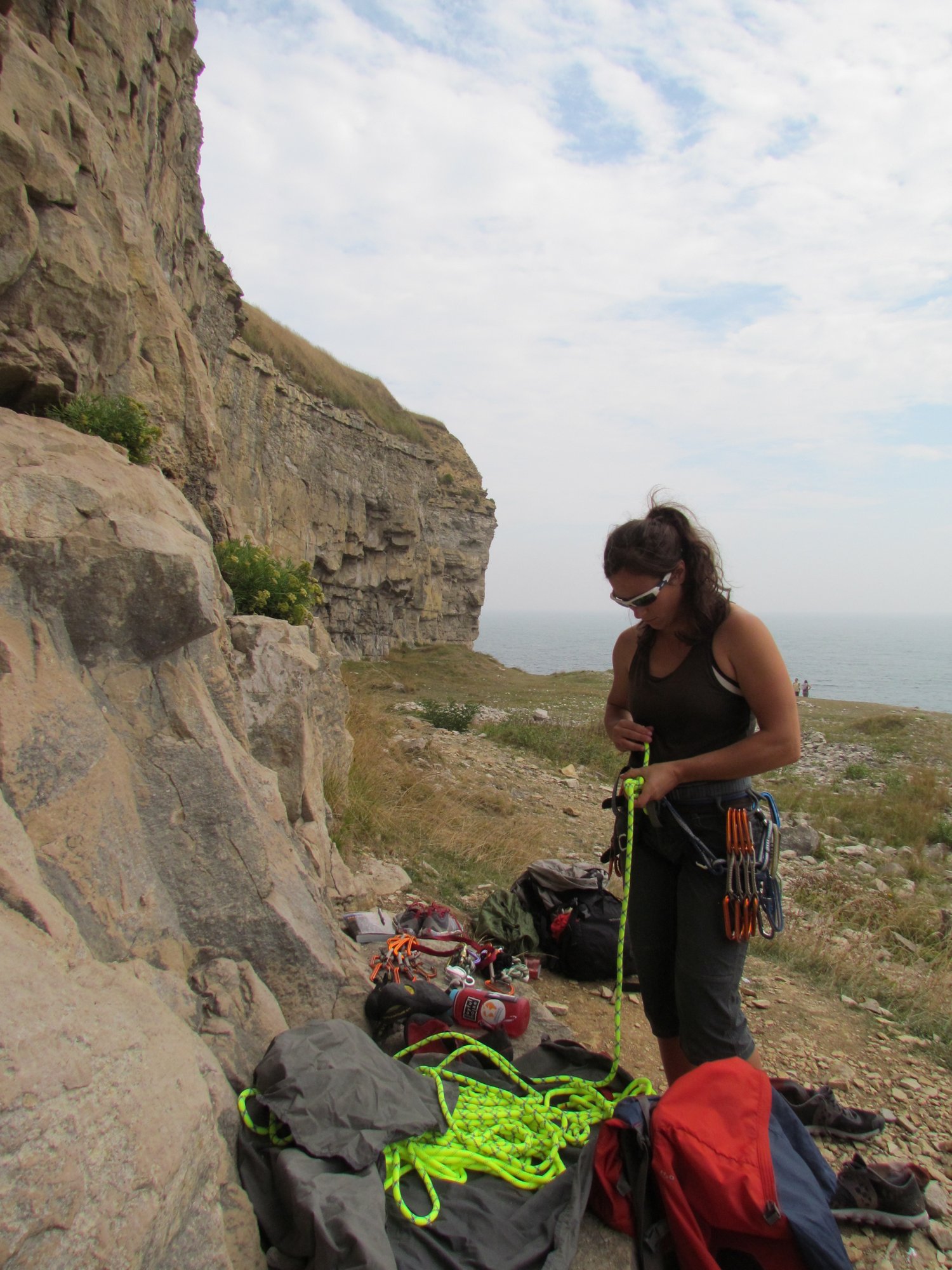 Alyssa was feeling weak, so we took a break after that third route. When she wasn't feeling better we hiked out to call it a day. I remember taking her pack from her at the top of the hill, as she turned to the side and retched. Uh oh.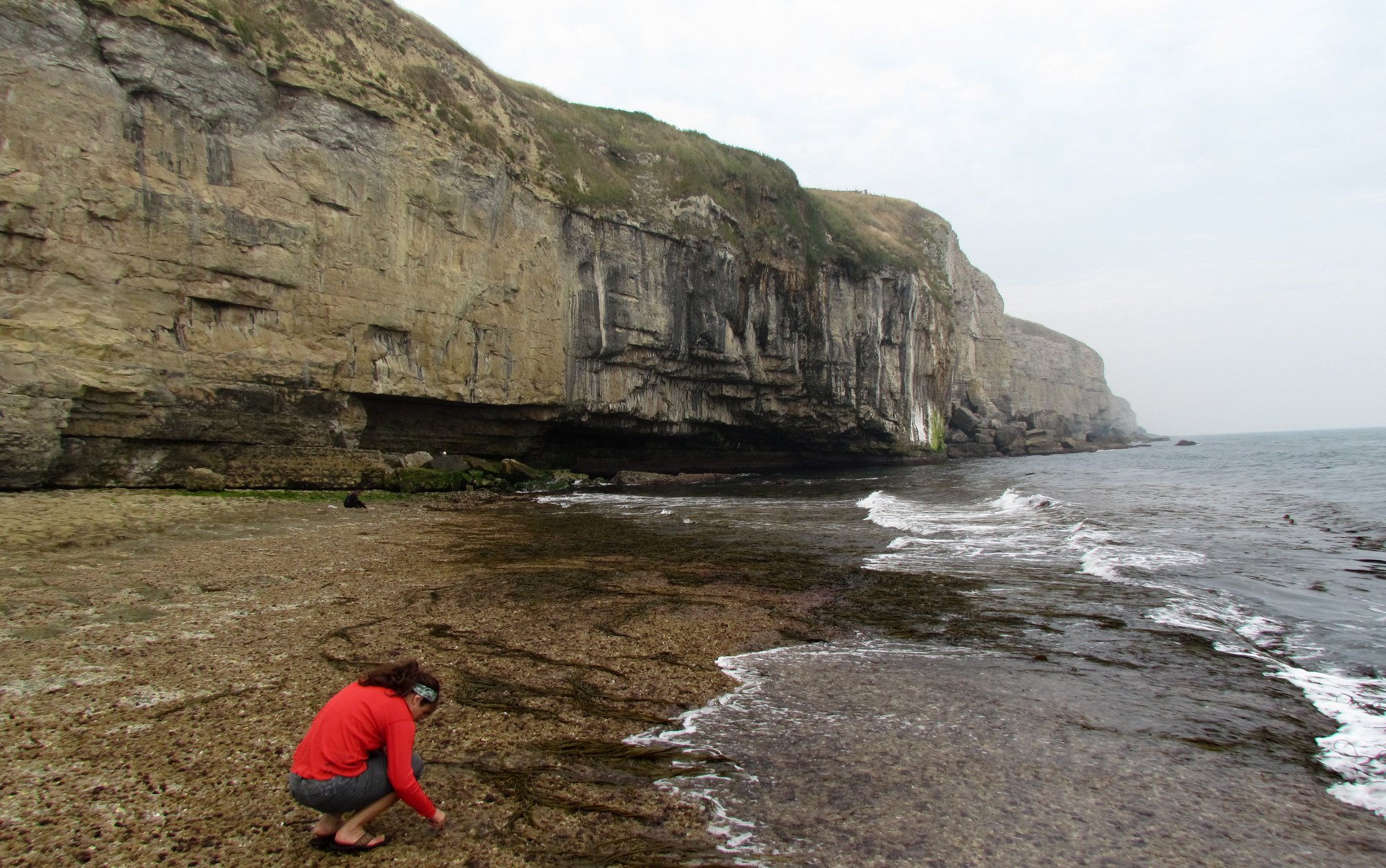 The next day perhaps had incremental weather, but it certainly wouldn't've made a difference - Alyssa was out for the count. We didn't climb any more that day, either. Still, we'd enjoyed the sites well enough.
On our way back to London we incurred some karmic debt when we desperately were attempting to hitchhike into town to catch our train. The gentleman who picked us up took us all the way to the station itself. Not to worry though, we payed it back in France.
Before we went there though, we had us a birthday bash. Next time, in: England, Karaoke District?